I did not have an eventful week... Instead, I was plagued by the WORST stomach virus ever! I missed Easter and spent about 4 days in bed. Therefore, I did not cook, bake or go anywhere, so I do not have much to report (unless you want to hear about super
gross
stuff
...BUT I can tell you about a few things coming up that WILL be exciting!
This weekend (starting 4/25) is
C2E2
! This is a comic and entertainment convention in downtown Chicago. Lots of celebrities and vendors and madness. We will be going on Sunday, as it's an easier day to bring Gunnar. Last year we brought him as well, and dressed him as a little Darth Vader. I even had a button that played the Imperial March when we walked by. (We take this stuff seriously, don't ya know?) I think we may do a Star Trek theme this year, even though I was going to save that outfit for the Star Trek Convention...yes! We are convention NERDS! But I love it! Seeing people in their crazy outfits is fun, but also the opportunity to get some great art from independent artists is awesome. I will definitely be blogging about this next week.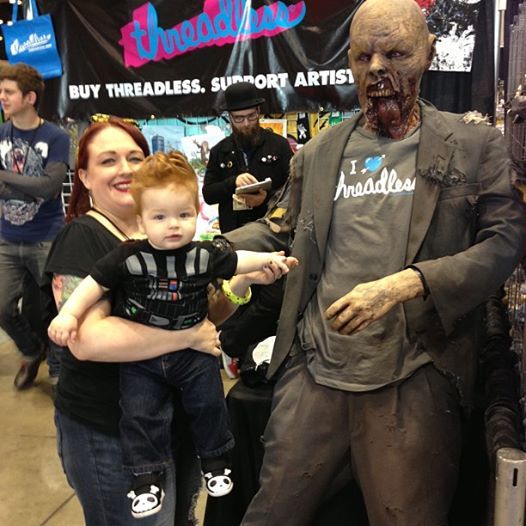 Here we are last year at C2E2 with the Threadless Zombie!
Another thing that looks awesome is the
Lagunitas Beer Circus
. The Lagunitas brewery is new to Chicago and this event will be May 17th and 18th. I love their beer so much. The
Lagunitas Sucks
is so delicious, pair that with some circus freaks and I am there. I need to get my tickets ASAP! So forgive me this week on being boring! It happens!