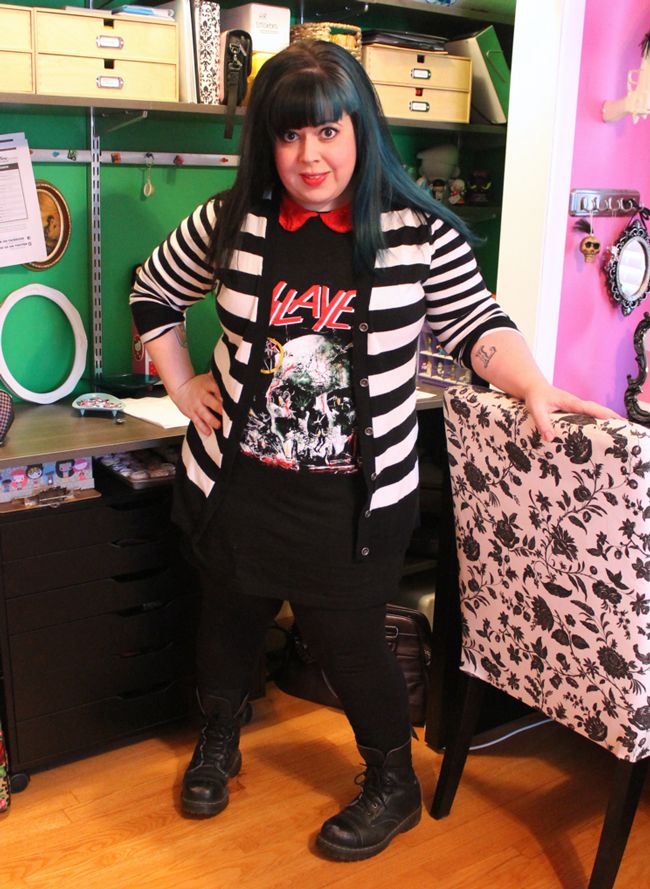 dress - Vera's Eye Candy / boots - MooShoes / leggings - Torrid / cardigan - Target / socks - stolen from husband
I love this dress, and I wish I had the guts to wear it to school, but I have some religious, um, excitables, and so I probably shouldn't... so I like to wear it to things that are not for work or on weekends. LIKE THE JUSTIN TIMBERLAKE CONCERT! I went to the Chicago show on February 16th with my sister-in-law (you know,
the one who took me to the New Kids on the Block concert?
Ah, now it all makes sense...), and we had seats as far back as you could possibly get at the United Center. And tickets were still $100 each. Geez. Good thing the show was still good. Because those prices were ridiculous.
So,
I first showed you my Slayer dress in August
, and explained how it's a custom piece form Vera's Eye Candy. Did you buy one yet? If not, please do. I'm still dreaming of an Iron Maiden one next. And that one, I'll be able to wear to work!
I really like how this dress paired up with my stripey Target sweater, even though I've worn it a bunch lately - I super love stripes and anything black and white, and it was just too perfect! And I could never compete with the rest of a JT crowd in their "clubbin" wear and 4-inch heels like they were all gonna meet up with him after the show. Ha! So I just do what I do. And that = Slayer dress. And steel-toe boots.
And then I always freak out when I go into a show and they don't pat you down. However, they did check in your purse at Justin Timberlake! So it was somewhere in-between a New Kids and a metal crowd (according to security?)...
You'll have to reference the photos up above a few, but this is the first photo set where I have my black ankle wrap on. I found one on Amazon, it's called a
RavenWrap
, and I figured it blends in with my outfits a whole lot better than that beige ace bandage from before. You can't even tell!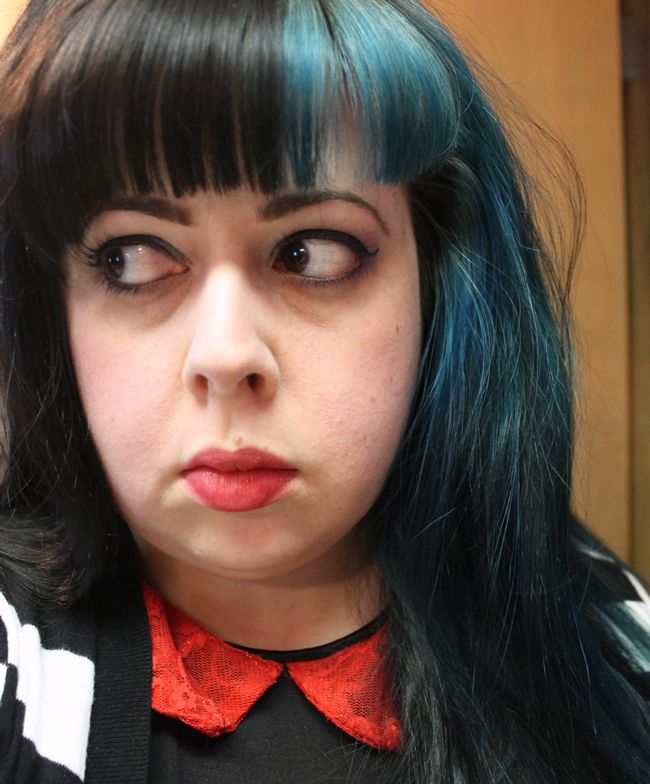 Obligatory concert makeup shot. Red lips, matches the red peter pan lace collar. Yep.

So, here are my crappy cell phone shots from the show. The first one on the left is to illustrate how far away we actually were. The shot on the right shows you my view of the SCREEN when I zoom in on my camera. Justin Timberlake is still a tiny pea ant. But he played us a piano song here. I was surprised by how few songs of his I actually knew. It was still fun though.
Okay, here comes the crazy part. The front of the stage, like the part where he's playing the piano in the top shots there, was on hydraulics, and freaking raises up and ROLLS OVER THE AUDIENCE TO THE BACK OF THE UNITED CENTER. What?!
So, above left, you can see my real-life (no zoom) view of the traveling stage as it creeped towards our end of the stadium. That must've been wicked to be in the crowd and have the stage literally hover over your freaking head!
Then they danced and sang a bunch more and eventually the stage rolled on back to its home before the end of the show, but that was pretty extreme. Not pyrotechnics-crazy-Rammstein-extreme, but extreme nonetheless.
Oh, and I would be remiss if I didn't mention the extreme and excessive amounts of horrible white lady dancing (you know, the kind where they honestly think they're being sexy, but it just looks dopey and sad?) all around me and I was embarrassed to be a white lady. I have no illusions that I am a good dancer. I am not. I will not let that stop me from dancing and having a good time - don't get me wrong. But the whole "I will draw you in with my sexy dance moves?" Um, no.
Rock On,
Jen @ Hell Razor
now playing: