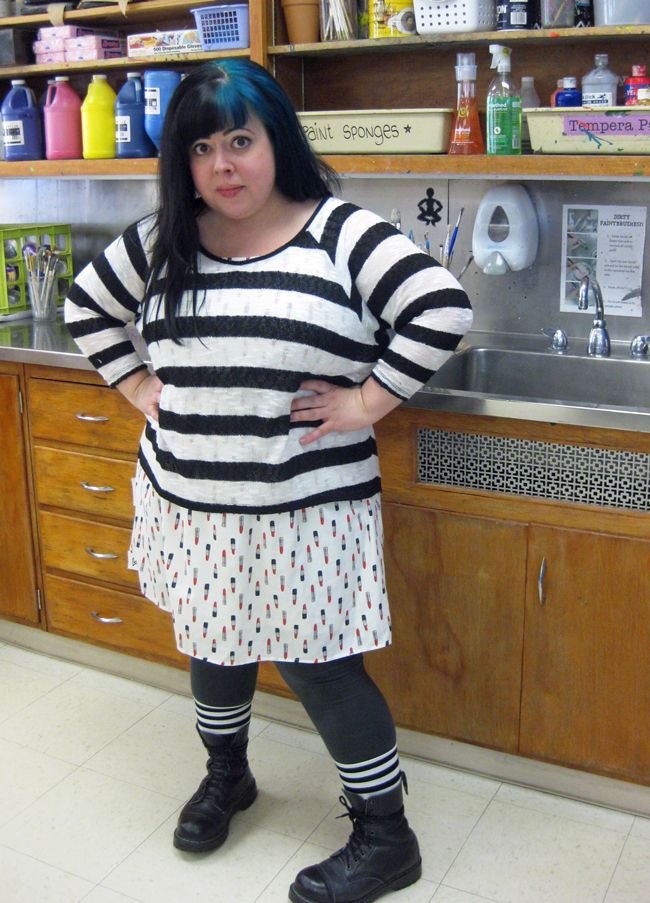 dress - Forever 21+ / boots - MooShoes / socks - halloween store? / leggings - Torrid / sweater - Target
I've been getting lazy lately on the OOTD posts, and I need to hop back on the bandwagon with doing these more regularly. The problem with slacking off is that I get lazy in getting dressed in the morning and I start to feel like "ugh, what's the most comfortable thing that I own that I can just throw on and get through the day?" and that's kind of a horrible attitude, but it's also reality. I'm dragging.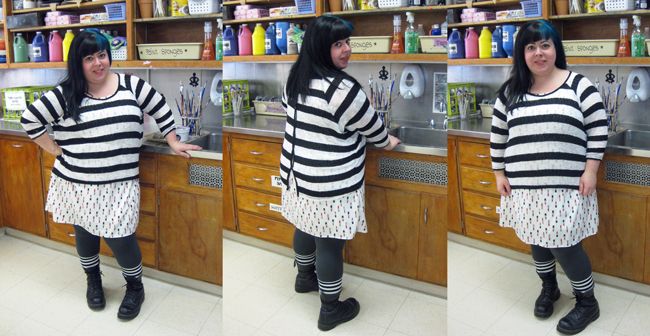 A lot of it has to do with my foot. I found out that I have fibrocartilaginous talocalcaneal coalition - which basically (in English) means that bones in my ankle never fully separated when I was in the womb... they're still connected via fibers... apparently this is not a rare thing, and some people have this issue where there is an actual bridge of bone connected. But my body has decided that it wasn't an issue that was going to bother me at all until I was 34 years old. Yeah, I don't get it either. Also, I learned that this congenital issue is bilateral, which means that I actually have it in both feet. But only my right foot has decided to freak out... so far.
I was given a cortisone shot in my ankle a week ago, but my foot still hurts. So yeah. I was told to wear my combat boots because they're more supportive of my ankle. So expect to see these babies for a while. But otherwise I have no clue what's to happen next. I'm out of Derby Lite for the time being, and hey, next session just opened up registration, and I can't sign up since my foot still hurts. I just want to throw a major little kid hissy fit.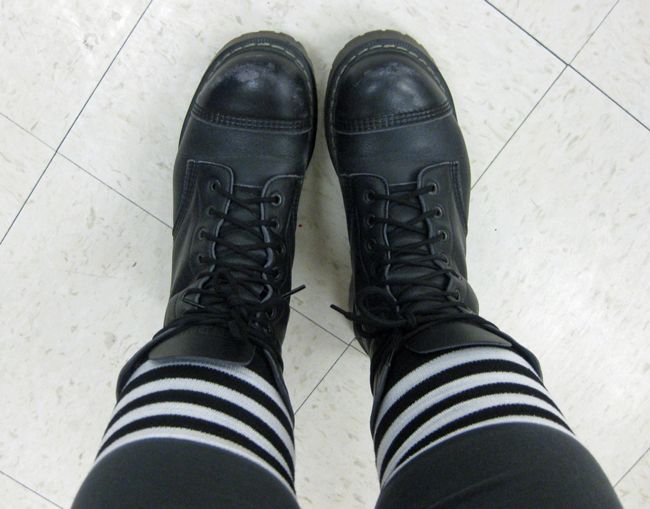 I've worn
this dress before
, it's an older one. The sweater is a newer (post-Christmas) purchase from Target... I liked the sheerness and the stripes (of course), and the buttons down the back. I wish it wasn't so boxy... and maybe that it was longer, like a tunic. Someone needs to hire me to design their plus-size fashion, seriously...
On this day I was just "whatever" and threw it on over my lipstick dress even though stripes and lipstick are two different patterns and "shouldn't" really go together. I am caring less and less these days about that kind of stuff.
Rock On,
Jen @ Hell Razor
now playing: