It might sound weird to be so attached to something like a hairdryer. But I am. I LOVE my hairdryer. And a few weeks ago, it died. I was beside myself. But there's a happy ending here, and I want to share the story with you - because when you find a company with AMAZING CUSTOMER SERVICE, you share it. Because it is so rare these days.
I was NOT given anything for free, nor was I paid to write this post. This is my honest 100% true story that I wanted to share because I love this product so much
.
My story begins in 2006 in Las Vegas. I went on a girls' trip to go see
NIN
play at the Aladdin. We lucked out upon checking in and were granted this primo rockstar room with an amazing view and like five rooms and a spa bathtub that opened up from the living room area out into the bathroom and bedroom. What the heck were we gonna do with that? Whatever.
But with all of this amazing stuff, we still had a crappy little dinky hardly-working hotel hair dryer. Argh! I hate those things! I would've at least expected our rich-people suite to have had a full-size model... but fate was waiting for me...
While out shopping, I went into
Sephora
and picked up this little
T3
travel dryer (see above). It wasn't cheap. I think I paid $100+ for it. But hey, I was in Vegas, I needed a good dryer, and you do weird things in Vegas, right?
It was AMAZING! It worked so well! This sucker dried my hair SO fast, and it made it look so good! Static electricity be gone! Weird cowlicks be gone! Awesome straight hair with volume! Heck yeah! And bonus: The handle folds up on itself for easy packing - how cool! See below: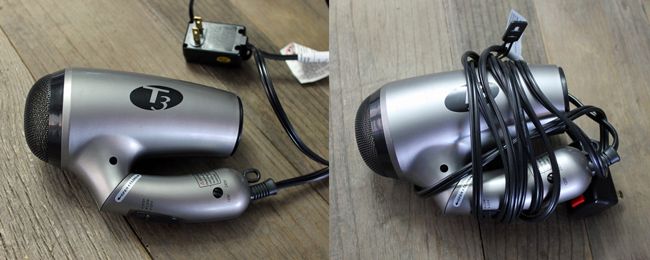 When I got home, I used this thing. To death. I burned it out within three months, I think? So I wrote to them online (it has a warranty). I expected I'd probably hear nothing back, which is what I get back from most companies. But to my surprise, they responded back really quickly, with instructions on how to send it back and get a replacement model! So I did. The one in the photos above is that replacement guy, that I've had ever since. (
Here's the current version of this dryer, FYI
.)
I realized my mistake. The little travel guy isn't meant for everyday hard labor that is my thick long hair - it's a
travel dryer
, after all. So I decided that I needed to invest in a full size dryer. I went to
Ulta
and checked out the other T3 models available. Turns out that they've won all kinds of Allure awards for beauty and stuff.
I bought the top-of-the-line model, which in 2006-07 ish (I can't even remember exactly when I bought my original full-size dryer) was a white dryer with rhinestones embedded in the handle. Fancy! It cost $250+, but I wasn't married, didn't have kids, and was sick of paying $50-$60 for hairdryers that were sub-par and still made my hair look "meh."
I have never once regretted my purchase. This has been my ALL TIME favorite hairdryer and I gush about it to anyone who will listen. I hate going anywhere without it.
So, as I stated up top, a few weeks ago, Todd plugged it in, and POP! a huge mega-spark and a fuse blew in the house. Turns out that I'd worn the cord through right where the plug is and the wires had become exposed. Oops.
Knowing full well that my dryer was no longer under any kind of warranty, I went online to see if T3 had any kind of repair service. I figured it'd be easier to pay to send it in and have the plug/cord repaired than to buy a new dryer.
Even though it's been 6-7 years since I've last needed customer service, and a lot can happen with companies during that time, they responded to my inquiry within 48 hours, telling me to send it in, and that although my warranty was expired, they would offer me 50% off on a replacement model of equal value (my model is, understandably, no longer available)!
Whoa! How cool! Seeing as they didn't "owe" me anything, I was really impressed with their customer service. I sent in my old dryer, along with a form they provided and payment for a new dryer at 50% off. Within a couple of weeks, this arrived:
A
T3 Featherweight Luxe 2i dryer
! It comes with a barrel brush and a concentrator attachment. Not long after my initial T3 full-size dryer purchase, I bought a set of three T3 hair brushes (including
one of these
), so I was pretty stoked to see this extra accessory!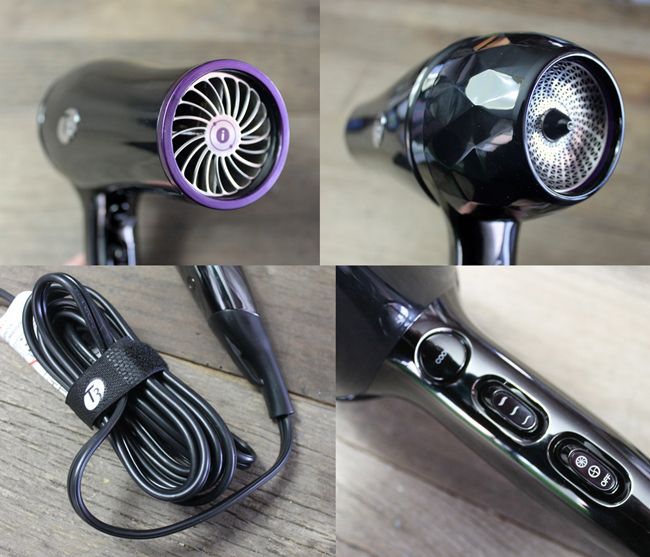 I'm such a fan of good design, so I love little details like a velcro strap to hold the cord when it's all wound up, or a loop at the base of the handle, if you're the type to hang your dryer. The handle has high and low settings, plus three levels of heat and a "cool shot" button. The only part I haven't quite figured out yet is the back of the dryer, which kind of reminds me of a jet engine. My old dryer had a plastic vent that was hinged with a filter that I could open up and clean every so often. If I can't clean out the dust and lint on this, I do worry that I'll burn out the motor sooner than I want to. I showed it to my friend Megan and she said that maybe because this is a newer model, it vents more efficiently and it's not a concern? But I am skeptical.
Here are some close-ups of the concentrator piece and the brush. Megan said that the concentrator is very good to use because you shouldn't put the barrel so close to your hair anyways. But I'm not sure if I like using it just yet. The brush, however, I love very much. Especially for my bangs, because I always dry them with a slight roundness thanks to a barrel brush.
Do you have an appliance that you just can't live without? Even more importantly, have you had a super awesome experience with a company that really impressed you? I start to feel like it's more and more rare these days!
Rock On,
Jen @ Hell Razor
now playing: