So, I played a vanishing act for a couple of weeks… a broken computer, and a crazy trip to see my parents on Long Island in NY will do that. But I am back and have so many things to share in the next couple of weeks. First, I will tell you a little about my trip!
Shane, Gunnar, and I flew in to visit with the family, but very importantly to tie a lot of the wedding details down! It will be in October this year and on Long Island, so we really needed to complete a ton of the important tasks so it won't be too crazy for us. I REFUSE to become a "Bridezilla" and have given my bridesmaids and family permission to smack me if any "Zilla-ness" comes out of my mouth.
The first detail was seeing where the ceremony and reception will be held. My parents booked it with my OK, as I only had seen pictures and heard good "word of mouth." Well, I was blown away! It is going to be at
Raphael Vineyard
, which is just beautiful and the wines are delicious. We did the tour and chat one day, and then returned another day for the food tasting. Well, I can tell you this… my guests will eat well! I cannot wait to see it all come together!
I also tackled the photographer, florist, and the ordering of my dress all in one week! My dress is a custom piece from an amazing place -
Wedding Dress Fantasy
. I will not tell any details, of course, but I will tell you that I did not try one dress on. I feel like I may need to be silly and head to David's Bridal or something just so I can have that weird moment when all the ladies fuss over you, but I am happy with my decision. I brought my headpiece with me, and WOAH! I am excited!
So, that is the wedding stuff. Other than that, I enjoyed time with friends and good food (so hard to keep the diet up last week, NY pizza and all!) My family lives on the North Fork of Long Island, so I was able to see Buffalo, goats, sheep, turkeys, and horses every time we drove down the road. On top of that, they are right by the outlets and a ton of other wineries, so I am never bored out there. It really is a great place to visit - I just wish I was not so cuckoo crazy every time I go.
My favorite things I found this trip were the
Riverhead Farmers Market
, which I went to twice. You can get fresh seafood, growlers of craft beer, fresh cheeses, pasta, and more. They even have local chefs doing food demos every week. I was lucky enough to grab a delicious seared tuna salad. I fell in love with a local company that makes Greek yogurt… when I took a bite I was like "forget the wedding cake, let's have yogurt!" Yep, it's that good! I picked up pickled pumpkins and wasabi sauce there as well. I cannot wait until my local farmers market starts again.
Another favorite was going to
Greenport
. About a zillion years ago (1996), I owned a store in this town called
In The Buff
, I carried bath and body products and cosmetics. Sadly, it did not last long, but part of my heart still lives in this town. They have an amazing coffee shop where the owner roasts the coffee on site and bakes the best biscotti ever. I remember mornings that the town smelled of those biscotti! In the center of the town is a carousel that I love taking Gunnar on.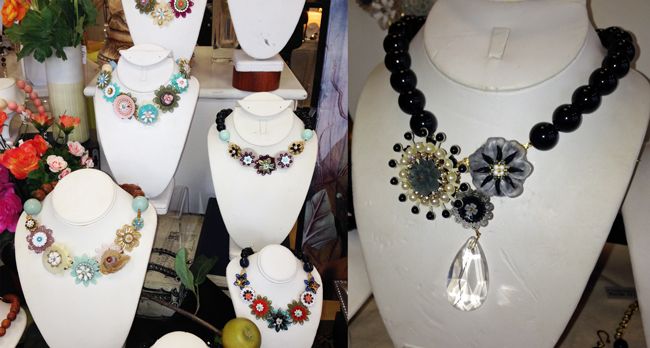 Also in Greenport, there is
a jewelry store that I love
. They have pieces with mixed media and vintage elements. I always love to pick something up for myself there - this time I selected this beautiful black necklace. My aunt also bought me a pair of earrings for the big day that are made with Jadeite from the 1950's. (I may or may not have picked up Jen a present here as well.) Seriously, check out their baubles!
And that is the short version of my trip home! I look forward to going back in August to see my dress and attend my shower. Right now, I am just trying to screw my brain back on! Being gone for almost two weeks will do that. Next week I will share a fun recipe!
Stay Sweet,
Lisa
now playing: