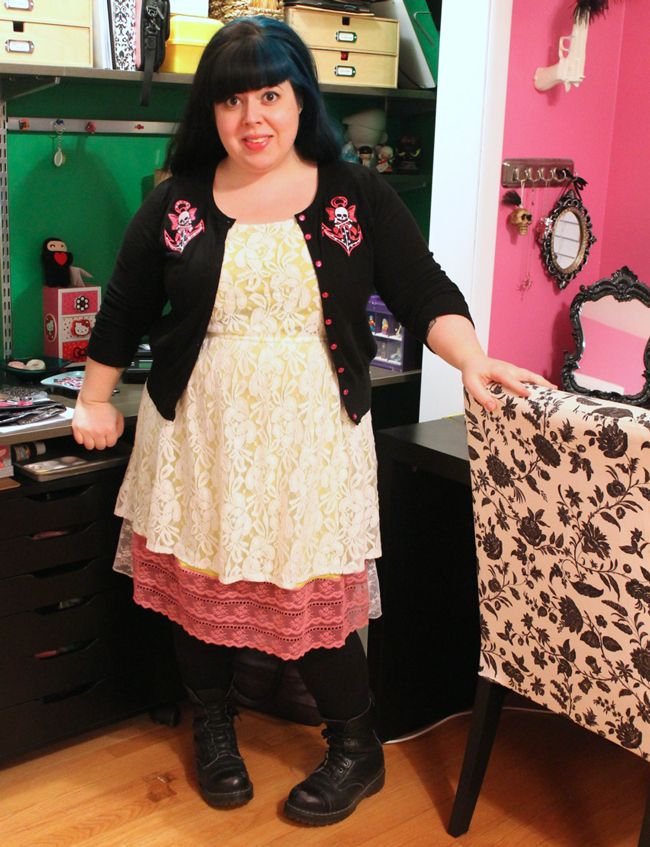 dress - Target + DIY alterations / boots - MooShoes.com / cardigan - Hell Bunny via Hot Topic.com / leggings - Target
I'm really excited about this dress today and I want to share with you what I did to make it! I've worn
this dress on the blog before
- it's a white lace dress with a yellow-green underlayer, but the exact same style as my favorite black lace dress. Well, I'm not sure why, but the length of this dress seemed to shrink up more in length than the black one, and I felt weird wearing it, so I stopped. I even put it in a bag destined for donations, and I offered it up to Lisa with a bunch of other stuff. When she rejected it (just because it was white lace), I wondered if there wasn't something that I could do to fix it... everything else about it was fine, it was just too short.
Then I remembered that I had a pink lace slip from a thrifting outing with Steph a long time ago. It was a size large, so it was too snug to wear, but I had always loved the color and lace trim, so I had kept it. Ooh! I wondered if I could just add the pink lace to the bottom of this dress!
And an idea was born.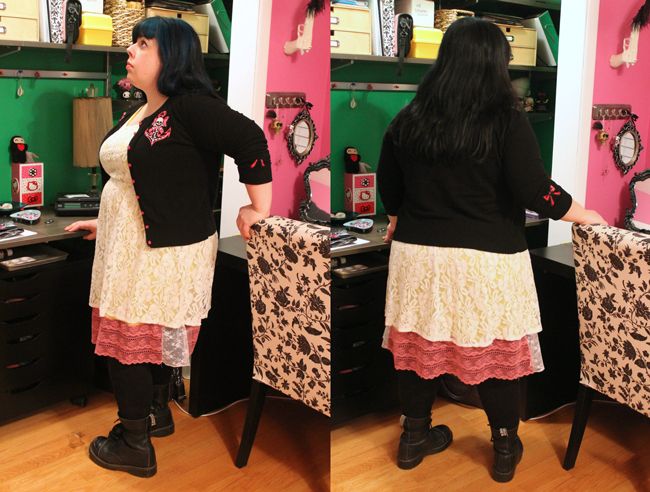 You can see here that I did not have enough pink lace to match up to the hem of the white lace dress. Thankfully, the FCS (aka Home Ec) teacher at my building had some fabric in a closet I could root around in, and I found this white lace, which I used to make little side inset pieces so that the bottom hem was wide enough to go all the way around. I kind of like how it turned out!
Now, if you're the layering type, and you had a slip the right length, you could just layer a longer lace slip under a shorter dress, thereby creating a no-sew version of this look. But I like that this is all-in-one, and that I now saved two pieces destined for the donation bin and turned them into one awesome dress that I love to wear - for just a couple of hours of my time! (I'm an amateur sewer - if you know your stuff, you could probably whip this up in like 30 minutes I bet.)
Here's a close-up of the lace:
And the white lace inset pieces on the side. I think I did a pretty good job! Luckily, I had access to a sweet serger machine, which makes awesome finished edges and trims off the excess, which is amazing and handy for a job like this (see detail below right). But if you are patient, a regular machine will do the job, too.
My black leggings needed something black on top, so I paired this dress with my Hell Bunny cardigan that has pink accents, matching the pink lace trim of my dress. I love the bow details on the wrists of this cardigan!
Oddly enough, I just realized that
the last time I wore this cardigan
, it was also with a different lace dress. Huh.
Rock On,
Jen @ Hell Razor
now playing: