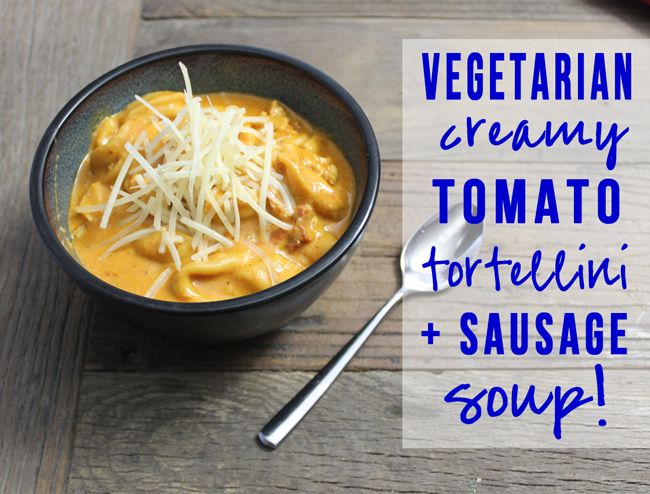 Todd and I have actually had DAYS off of work due to the extreme cold out here in the Chicago suburbs this winter. I get cabin fever, so my big hobby has been cooking. Last time we had a day off, I made pretzel bread (I used
this recipe, if you're interested)
and soup! If you've read my recipes before, you know I'm not a big "complicated" chef - I'm more of a "dump stuff into a big pot and heat it up" type. This is no different.
I adapted a tortellini soup recipe I found online to make it
crock-pot friendly
, vegetarian friendly, and I added some faux sausage, because why in the heck not? It was amazing! If I'm going to eat soup as a meal, it's gotta have a lot of stuff in it and be pretty thick so I feel full. I'm a girl who likes to eat, if you haven't noticed... :)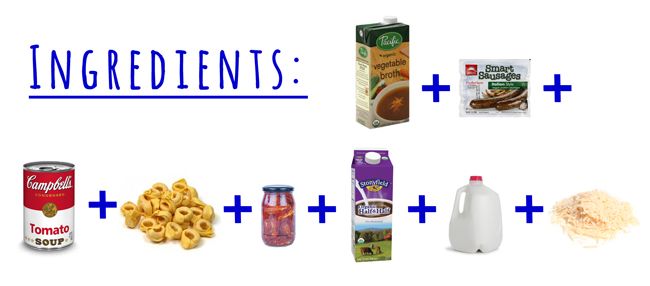 Vegetarian Creamy Tomato Tortellini and Sausage Soup
(for the crock pot!)
Ingredients:
1 package meatless Italian sausage (refrigerated or thawed)
1 package (9 ounces) refrigerated cheese tortellini
2 cans (10-3/4 ounces each) reduced-sodium condensed tomato soup, undiluted
4 cups vegetable broth
2 cups 2% milk
2 cups half-and-half
1/2 cup chopped oil-packed sun-dried tomatoes
1/2 tsp onion powder
1 tsp dried minced onion
1 tsp garlic powder
1 tsp dried basil
1/2 tsp salt
1/2 cup shredded Parmesan cheese
1 tbsp olive oil
1 clove garlic, minced
Additional shredded Parmesan cheese, optional
Directions:
Turn crock pot on low (8 hours). Put olive oil, minced garlic, and meatless Italian sausage into crock pot. Using a fork or other "mashing" device, break up sausage into small bits. (Coincidentally, I bought
this weird mashing tool from a Pampered Chef party that's meant for ground beef
but I bought for mashing veggies and it works great for this purpose.)
Then, add the soup, broth, milk, cream, tomatoes, tortellini, cheese, and seasonings to the crock pot. Tortellini does NOT need to be pre-cooked; it will cook in the broth! If you're around, stir it every few hours. If not, that's ok, too. Lazy cookin' - my favorite!
Stir before serving. Ladle into bowls. Sprinkle each serving with additional cheese, if desired. This tastes good with bread served on the side. Like my pretzel bread. Mmmm...bread...
This makes a bunch, like 8-10 gigantic bowls, so it's good for parties or groups. Make sure you have a big crock pot!
Rock On,
Jen @ Hell Razor
now playing: