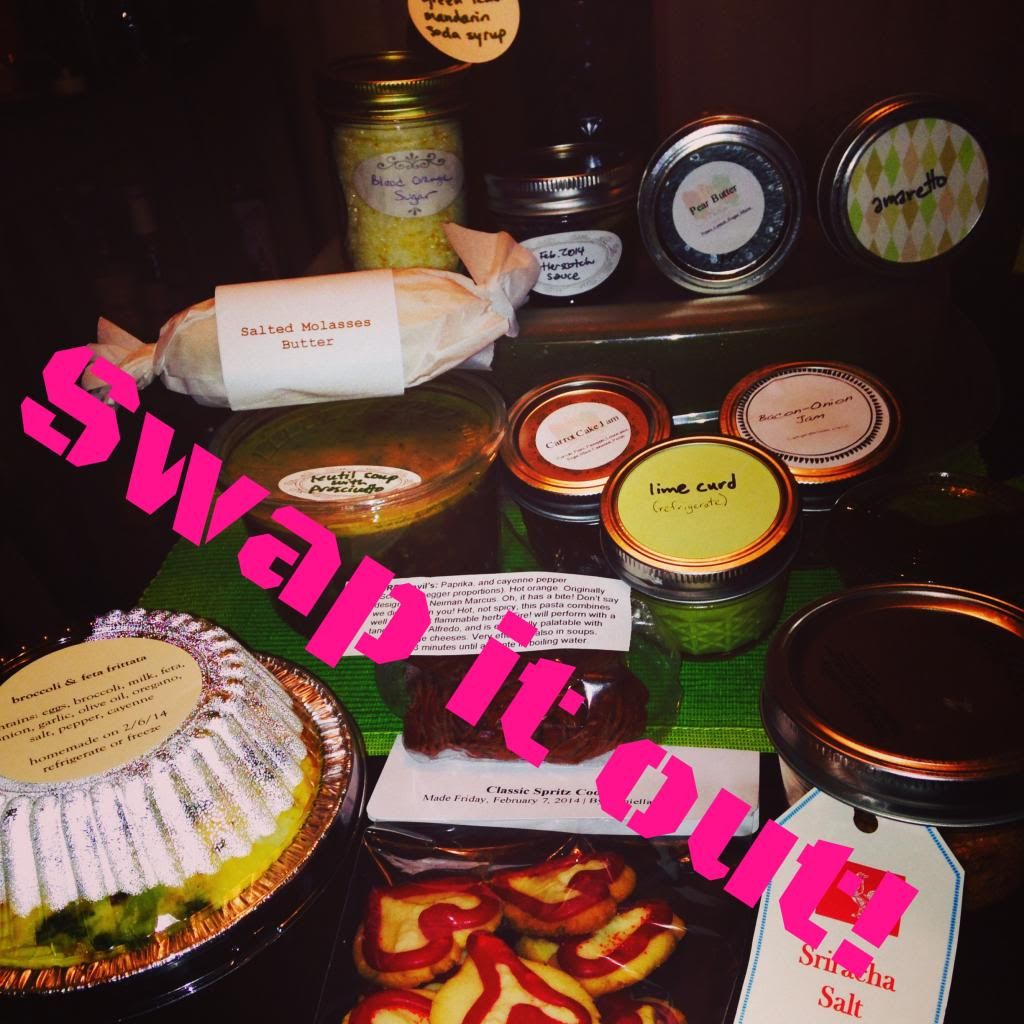 Last Saturday I did something new - I attended a food swap! ...What is a food swap, you ask? Well, it is like going to the best bake sale ever, but you do not need any money!
It works like this; you make something (I brought chocolate and blueberry balsamic caramel sauce, neapolitan marshmallows, and candied dark chocolate dipped lemon peels) and then place it upon a table. You fill out a swap card that lists the ingredients and usage of the product, then other attendees that are swapping come around - if they have an interest in your product, they jot down what they have brought and would like to swap for your item. When the official swapping starts, it can get a little crazy, and you do not always get what you want, but you still will come home with amazing home baked items!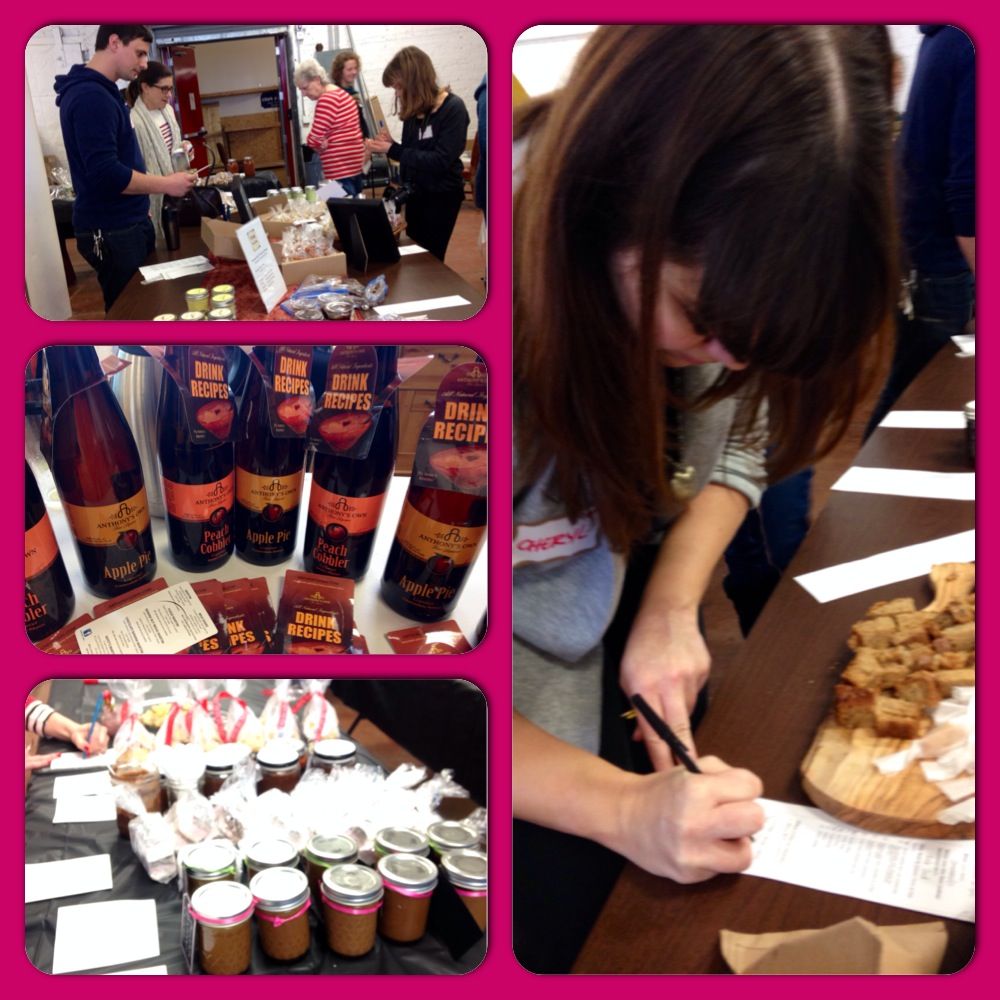 This was held at
All Natural Chicago Catering Service
, which was an amazing space. Very big, open, and even had some video games to play (I cannot believe I did not ask to play the table top Ms. Pac-Man!). The owners of this location are a husband and wife team that does fantastic catering. If you need catering in the Chicago area, check them out!
I was so excited to participate in this event! My friend, Cheryl, had done one before, so she was my guide (and the one that clued me in to the fact that this even existed!). It was great to be in a room with other passionate cooks and bakers that just want to share something awesome that they made with others. Everyone was so nice, and it was a pleasure to meet everyone. There was a large group, so I was almost fearful for the chaos of when the swapping officially began, but it ran nicely. I learned a tip from seasoned swappers - they put their goods in a box and walked around and swapped...smart! I will try this next time.
So, by the end of the swapping, I had gotten rid of everything I had brought except for a few lemon peels, and came out with this stash: green tea mandarin soda syrup, blood orange sugar, pickled beets, butterscotch sauce, pear butter, amaretto, salted molasses butter, lentil soup with prosciutto, carrot cake jam, bacon onion jam, lime curd, hot fudge sauce, fresh "fire" pasta, spritz cookies, matzo toffee, dark chocolate wine cookies, Punjabi choley garbanzo beans, quinoa salad, vegan cookies, siriacha salt, Thai peanut soup, vegan split pea and barley soup, taco filling, broccoli and feta frittata, and sweet potato muffins. What a haul!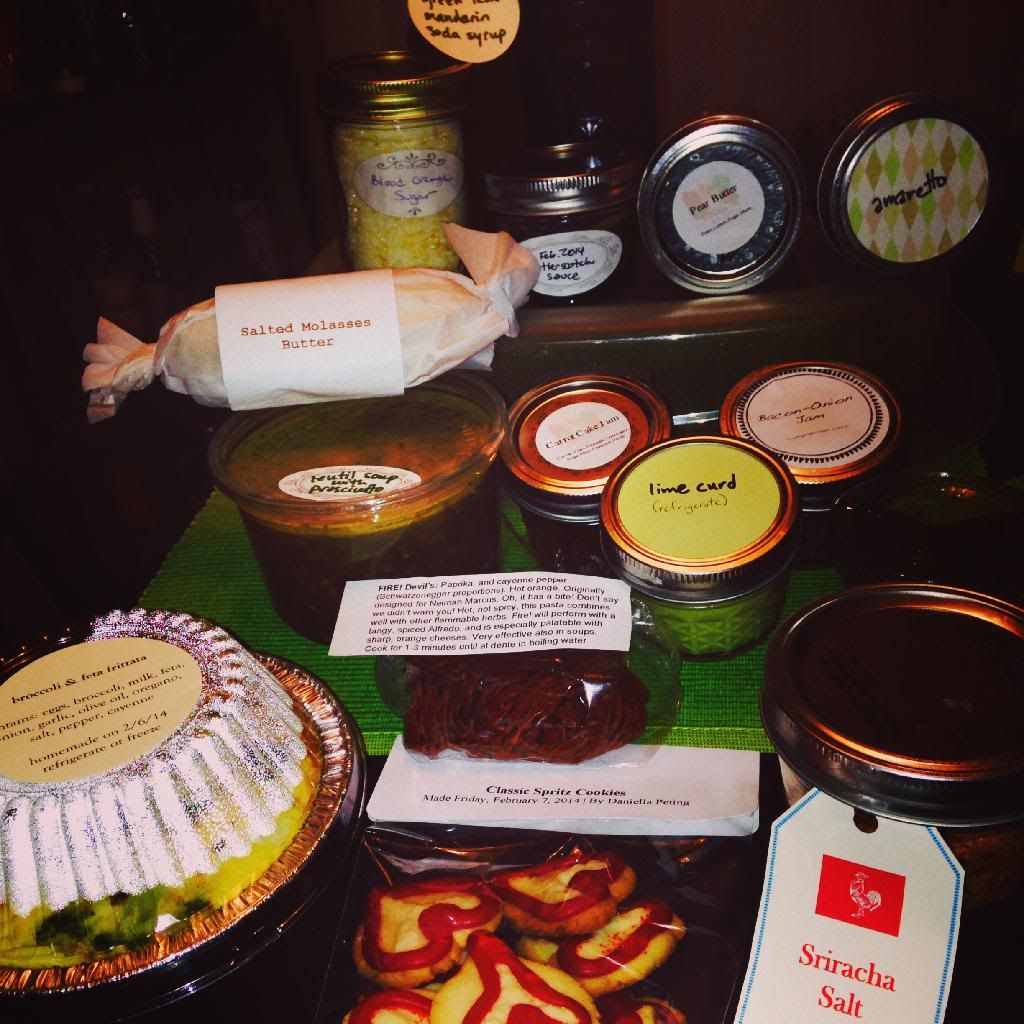 If you live in Chicago, check out Emily and her amazing team and join. You can
follow the Chicago Food Swap on Facebook
or via
their website
for information to when the next swap will be. Just be like me and set your alarm to register, because it can fill up quick! And if you are not in Chicago, I would search around online, I bet something like this could be going on in your area or better yet...start one up on your own!
Stay Sweet,
Lisa
now playing: