skirt - ModCloth / tank - JCPenney / cardigan - Target / tights - We Love Colors / shoes - Danskos via Zappos / necklaces - Hell Razor and MoLGifts via Etsy
I've had a lot of stuff to talk about, and it's kept me from doing outfit posts as much as I used to! But I'll still keep popping in with stuff every so often. Always willing to share. This is what I wore for Iggy's birthday "party," which wasn't really a party. I just had family over for dinner and cake. And dinner wasn't really dinner - it was pancakes. But I'll save that for another post. It was fun.
I also thought I'd let you see a little bit more of my crazy, cluttery studio space in these OOTD posts. Just because.
I bought this awesome skirt on ModCloth at 70% off! It was a bit of a risk because it was a final sale, but I read the reviews and sized up and took the risk. Worth it! Lace with skulls? Aw yiss!
I bought myself an early Valentine's Day present this year, too. A
Lego heart necklace
from Etsy! I'd been wanting one for a while, and although it would be really easy to make one myself, I'd have to source the pieces... easier to just pay the $10-$15 bucks and buy a finished necklace, I say.
I paired my new Lego heart with an older rosary necklace of mine... actually, the very FIRST rosary necklace I'd ever made! Todd taught me how to cut and file metal to make a pendant, and I made myself this little lightning bolt. It took me forever, so I could never actually mass produce ones just like this. I'll probably never get rid of this one. I love it too much. I do make lots of
other rosary necklaces though
! Check them out in the
Hell Razor Etsy shop
!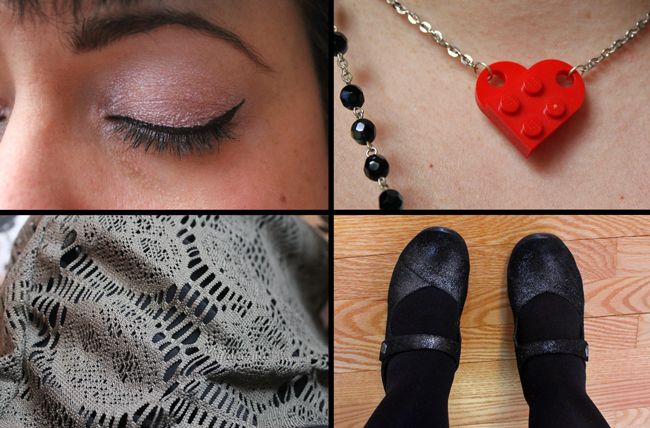 I had some fun with makeup on this day, too. For Christmas I had gotten some Sephora gift cards, so I picked out
Anastasia Beauty Genius clear waterproofing gel
to apply glittery pink pigment (saw it used with glitter on
Keiko Lynn
), and this amazing lipstick: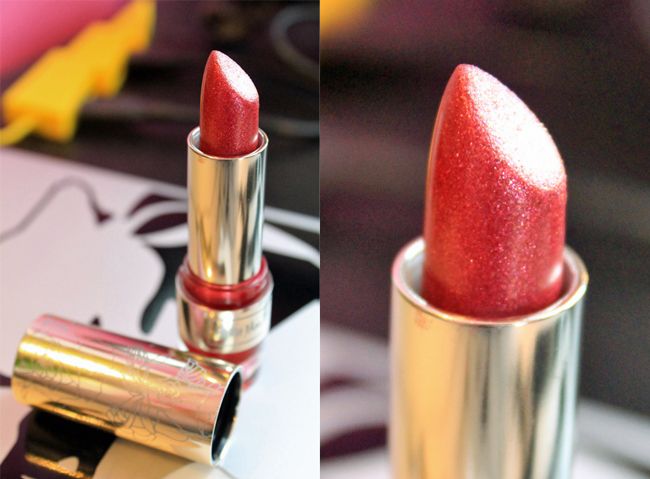 Kat Von D Foiled Love lipstick in Valentine
! It's metallic hot pink with glitter! Like everything good all rolled into one lipstick tube.
Rock On,
Jen @ Hell Razor
now playing: