Just this last month, I received my very first
Art Snacks
box! Art Snacks is similar to other subscription-box services, except it caters to artists and creative-types. Every month, you receive 4-5 full size premium art products! And it's $20/month. I actually had to sign up to be on a wait list before I could actually begin to subscribe!
...Worth it!
This is the February box, which shipped out on January 20th. I love the Art Snacks logo, and I hope I get that cute little sticker every time, because there are a zillion little places I can put them (or give them away as prizes to students)!
So, in your box, you get your 4-5 items (the one pen this month was a 2-piece deal: the pen body and the ink section come separate), a little treat (the conversation hearts), and a logo sticker. There's also a "menu" card that details each item in your box.
You can make unboxing videos and vines, and there's a special hashtag for Instagram and Tumblr (#artsnackschallenge) where you create an artwork using your Art Snacks supplies.

Palomino Graphite Pencil + Prismacolor Kneaded Eraser
This month had a Palomino graphite pencil and Prismacolor kneaded eraser, two items I am very well-versed in (in general) as an art teacher. But I appreciate the attention to quality brands, as I am very partial to my #2 Dixon Ticonderoga for all-purpose pencil writing needs. The graphite pencil is a "B" grade, which is a nice softness for sketching and shading. It pairs nicely with the kneaded eraser, which you can shape to the area/size you need to erase from.
Copic Ciao Marker
What I know about Copic markers are that they're super fancy (as in expensive - I can't afford to buy them for my art classroom) and professional. I received a red double-tipped marker, which is kind of appropriate for Valentine's day. One end has a broad chisel-tip, and the other end is a "brush" tip with a varying width based on how you use it. Now, I'm a Sharpie girl, so I think that this kind of marker has a bit of a learning curve... but I imagine that once you get the hang of it, it's amazing. And the tips are replaceable and the ink is refillable? Crazy! So, worth the investment then.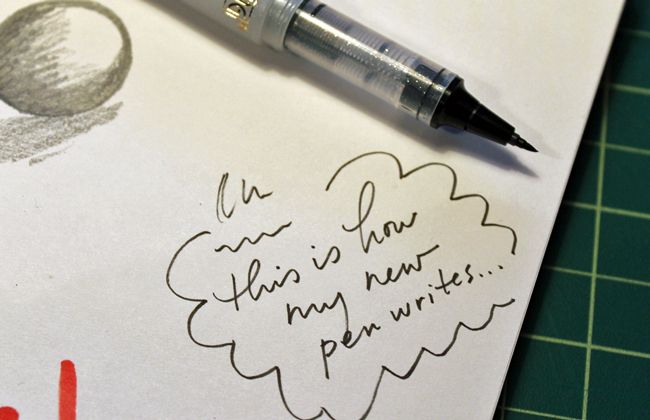 Zig Cocoiro Lettering Pen + Body
This was my favorite item in my Art Snacks box this month. I love new pens and writing tools, especially things that can be customized and have special options. I was however, slightly disappointed after I discovered that there are different colors for the pen body and I received the crystal white? Aw man, how about a
summer apple green
or
rose komachi pink
? At least the
crystal white
body has a very subtle glitter in it? Hey, the important part is the pen itself - I can always buy myself my own new body, they're only like 3 bucks. I really like the black ink pen. The width of the line is nice for general writing as well as sketching, and I can see myself carrying this pen around in my purse and using it all the time. Score!
Oh, and not only can you buy different pen bodies, but you can buy different inks, too, like pink, mint green, blood red, and cobalt blue. Excuse me, I have to go shopping now.
Rock On,
Jen @ Hell Razor
now playing: