dress - Target / boots - MooShoes / socks - Betsey Johnson / leggings - Forever 21+ / sweatshirt - Leslie Hall / necklace - ?
On this day, I decided to design my outfit around my giant hooded sweatshirt that I purchased at the Leslie Hall concert on the previous weekend. It is so giant and comfy and warm, and I'm so fed up with this lousy cold and winter snow that is never-ending, I just didn't want to take it off.
This day was also just before Valentine's Day, so I incorporated a heart motif into the theme. I could have sworn I'd worn this dress on the blog before, but as I'm typing this, I just sifted way back through posts, and I can't seem to find this dress anywhere! How weird! Because I've had it for a long time. And I've worn it a bunch. Sometimes I get dressed and I have every intention of taking outfit photos for a post, but it doesn't happen. I'd bet that's what happened here, too.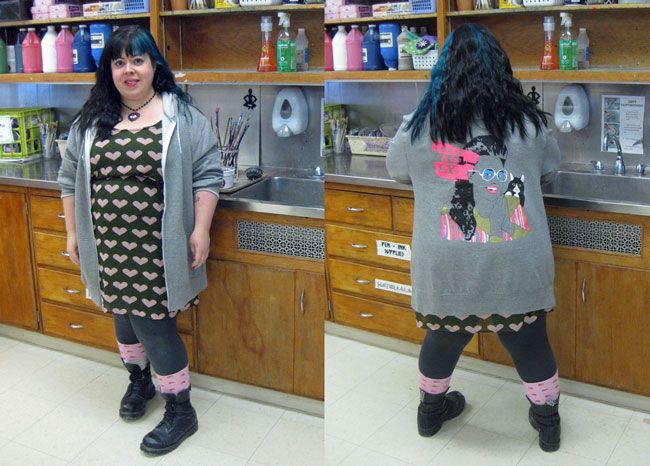 Did you notice that the hearts on my socks are upside-down? That's because these socks are actually super super long (like over-the-knee), so I turned them inside-out before I put them on. Then, I pulled them up all the way, and turned them down so they'd be facing right side out. But also upside-down.
I can't even remember where I got this necklace from... if I had to guess, I'd say it was from Kohl's junior's department or something like that. I have a pretty good collection of necklaces that are heart-shaped things. It gets hard to keep track of them all.
I like the army green and light-pink color combo in this dress. Normally I can't pull off light pink too well because it's so close to my skin tone and makes me look all washed out, but the green makes it all ok. Did you notice that I still have my ankle all wrapped up? I'm still waiting to see the podiatrist. My doctor told me that I have something called "fibrocartilaginous talocalcaneal coalition," so I Googled it and found little to nothing that matched those exact three words together.
I will finally see the podiatrist at the end of this month (pretty soon) and I just want to have an answer as to how to fix this because I'm pretty miserable. I've actually had to take a hiatus from roller derby class and that just makes the miserable-ness even worse. Ugh.
Let's talk about something happy and good. My sweatshirt from the Leslie Hall show reminds me of the best night ever. Lisa and I had a double-date with our special men and we sat in the only bar stools in the entire place. Then, right at the end of the show, Leslie came out into the crowd and I got to hug her and it was one of the most awesome things in my whole life ever. You know, after having Iggy and getting married and stuff.
If you have not heard Leslie Hall before, please take a minute or two to check her out:
Rock On,
Jen @ Hell Razor
now playing: