For Iggy's birthday, I decided to not have a big party, and instead just invite immediate family over for dinner. Since Iggy is a somewhat picky eater, and it's his birthday and all, I decided that we would have one of his very favorite foods for dinner - pancakes!
Now, I LOVE having breakfast for dinner. But not everyone in my family likes doing things in a non-traditional way, and not everyone enjoys eating the same foods. I decided that the best way to make lots of people happy was to have some type of DIY buffet where everyone could customize their food (in this case, pancakes), to best suit their own tastes!
...Enter the DIY Pancake Bar! I make the plain pancakes, you top them any way you like!
I searched around online and made myself a list of lots of different pancake topping options. I picked the ones that I thought would be most popular with my own family, and that would be readily available.
I like being able to pull out all of my weird serving pieces and use them for these types of things. You've probably seen a lot of these pieces serve a purpose in my
DIY bloody mary bar
a few weeks ago too!
Here are some items you can include in your own pancake bar:
Syrups: real maple, faux, flavored...
Peanut butter
Nutella
Jam
Caramel sauce
Powdered sugar
Honey
Butter/margarine
Sprinkles
Tiny M&Ms or candy pieces
Mini chocolate chips
Shredded coconut
Slivered almonds
Crushed walnuts
Cinnamon
Cinnamon sugar
Bananas
Strawberries
Peaches
Cream cheese
Whipped cream
Crumbled bacon bits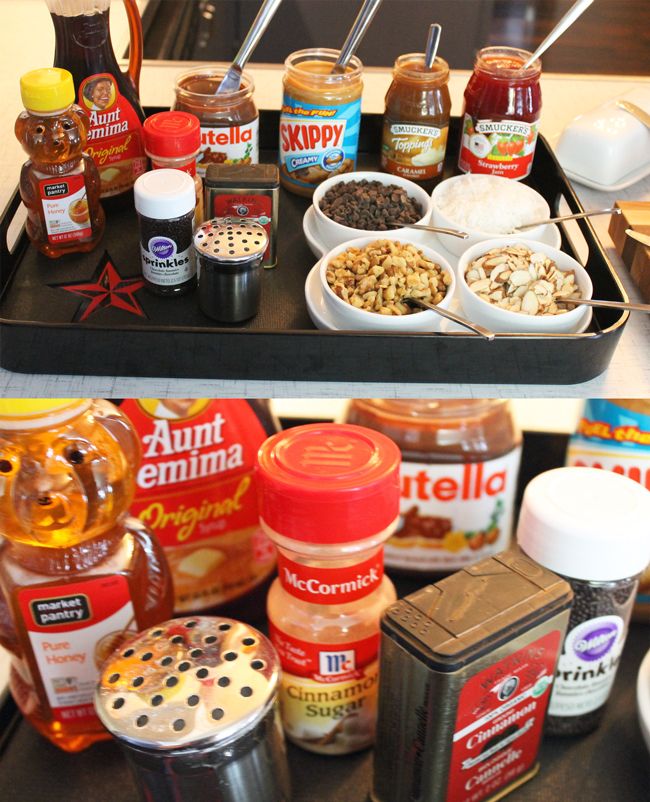 Although I neglected to take photos of my actual pancakes (we were hungry and ate them very quickly!), here is the recipe that I used. I found it easiest to mix all the dry ingredients in one bowl, all the wet ingredients in another, then mix together. I made several batches (3-4) in order to accommodate everyone the night of the party. I got lots of compliments on my pancakes, and it was just as easy as using a box mix!
Easy (From Scratch) Pancakes
Ingredients:
1 egg
3/4 cup milk
¼ cup water
2 tablespoons vegetable oil
½ cup white flour
½ cup whole wheat flour
1 tablespoon sugar
1 tablespoon baking powder
½ teaspoon salt
Directions:
In a medium – sized bowl, beat egg with whisk until fluffy. Mix in milk, water and oil. In a separate
bowl, combine all dry ingredients and mix well. Add dry ingredients to liquid ingredients until smooth, do not over-mix.
Preheat skillet on medium heat. Test that skillet is hot with drops of water. Skillet is ready to use
when water sizzles. Spray skillet with cooking spray. Using a ladle, pour about ¼ cup batter into
middle of skillet. Cook pancake until bubbles form across the top and pancake is brown on the
bottom. Flip with flipper/turner and cook on other side until pancake is set.
Makes 6-8 pancakes.
Everyone seemed to really enjoy having pancakes for dinner, and also seemed to enjoy trying out something new or unusual on their pancakes and comparing their choices with others, which made for some fun conversation!
Rock On,
Jen @ Hell Razor