So I found
this pin
on Pinterest that showed a wire name bracelet, but I couldn't find an actual tutorial for it, just a series of pictures. "Hey, I'm smart, I can figure this out," I thought to myself. And I did. So I thought I'd give you a few pointers based on my experience making a wire name bracelet. I liked mine so much that I made a couple for my mom and sister-in law!
Here's my original bracelet below: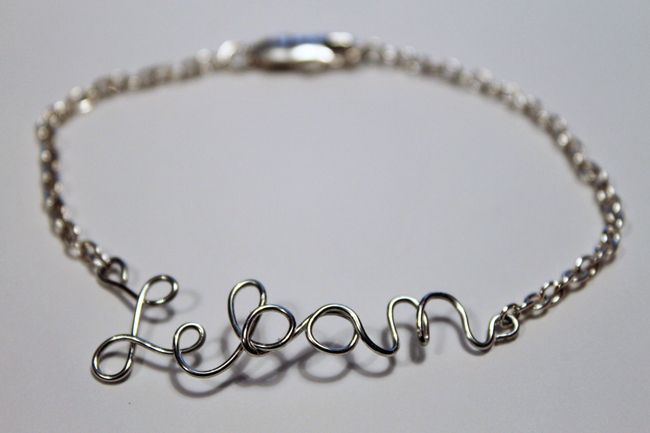 I kind of like the uneven/kookiness of the letters on my bracelet. I've been wearing it now for several days since I made it, and it's held up really well, too! I was worried that the wire might get caught on stuff or bend really easily, but nope! So far, so good!
Here's the key to a good wire name: 20 gauge wire. You can use silver or gold-tone wire, but whichever you choose, you might wish to have the rest of your findings (chain, jump rings, etc) match the same metal finish.
The other key component to this project is
a pair of round-nose pliers.
These pliers allow you to make tight, smaller bends in the wire without it getting kinked or dented, just by wrapping the wires around the rounded nose pieces.
I used three different types of pliers for this project total: round-nose pliers, flat-nose pliers, and wire cutters. Most of the work/bending is done with the round-nose pliers. Wire cutters were only used for cutting the wire at the very end, and the flat-nose pliers are used for opening and closing jump rings, and some tight wire bends, like on straight lines.
Once you've collected all of your tools, start planning out how you want to write out your name. Draw or write it several times on a piece of paper. Practice writing it out in one long line, since you'll be writing the name out in one long line of wire. For the letter "i," I just left the dot off, but you'll need to take certain letters like "i" into consideration and figure out how you'll tackle them.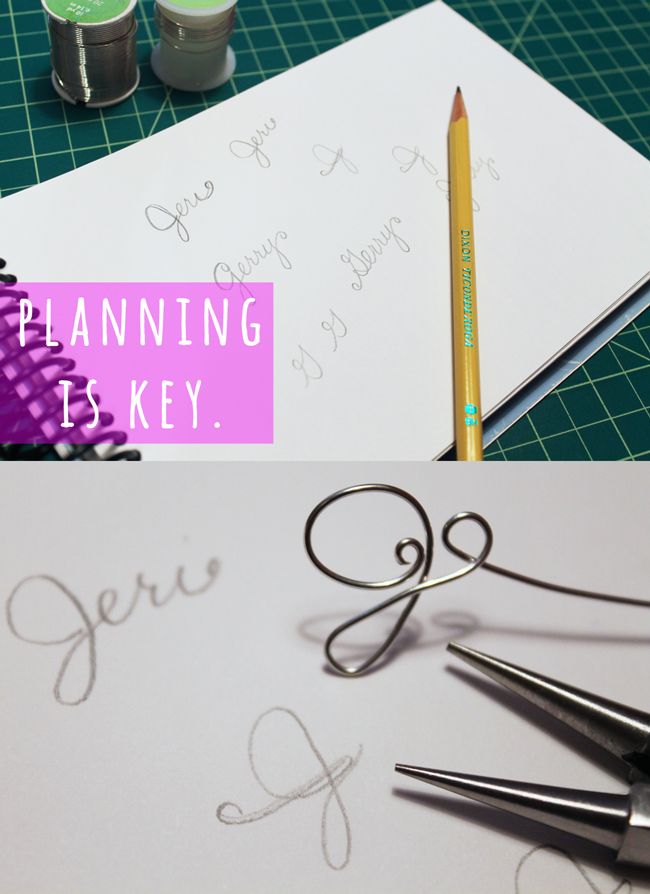 You can see above that I had to figure out how to handle a capital "J" as far as how to begin it - usually, you'll want to have a loop before and after the word/name so that you have something to attach the chain to. You can see how I chose to handle this further down the post.
Cut off a length of wire at least 3-4x the length of the name that you're trying to write. I'd rather have to cut off extra wire at the end than to not have enough to finish. If you buy
a little spool of wire
like I have, you can scrap your design and re-try several times with new wire until the name looks just right.
Take your time and work slowly, bending the wire to form letters. I primarily used the round-nose pliers, but I utilized the flat-nose pliers whenever I needed to "pinch" wire to form a line, like on the letter "y" or the tops of the "r." The "r" bends were made by pinching the wire, then opening the bend up to form a sharper angle. End your name with a round bended loop to attach chain.
Now you need some additional supplies to finish off your bracelet: small jump rings, one small clasp for each bracelet you're making, and some chain. All of these things can be purchased at your local craft store, like
Michaels
. I tried to choose chain that was small and delicate to match the delicate-ness of the wire name. I also made sure to use all silver-toned findings to match my silver wire.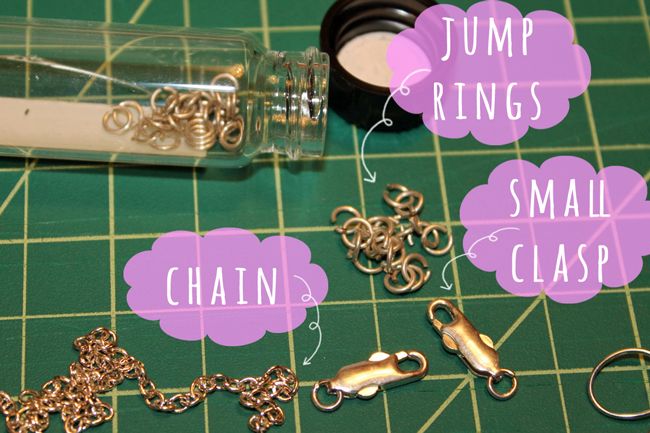 (Please excuse my photography. I'm testing out a DIY light diffuser on my flash, and I'm still not 100% happy with it, but it's better than a standard flash...)
Depending on how long your wire name is, you'll need two short lengths of chain to form the rest of your bracelet. Again, I tend to use pieces that are longer than I know I'll need, since it's easier to trim the chain shorter than to try to extend the length. I just used the round-nose pliers to open up the end loops, slip the chain on, and close up the loop.
On the capital letter "J," I used a jump ring on the large loop of the "J" to attach the chain on the left side.
Once I trimmed the chain to the right length (hold it around your wrist to get the custom-size that you need), use jump rings to attach the clasp closure to the ends of the chain, completing your bracelet. Then put it on and flaunt your new creation proudly!
Rock On,
Jen @ Hell Razor
now playing: