dress - Hell Bunny (via Hot Topic.com) / tights - We Love Colors / shoes - JB Steel (very old) / hair flower - Hell Razor
I was really excited last week when Steph and her husband Dave asked if we wanted to go out to
Three Dots and a Dash
- I've been dying to go there since the summer time when I first learned that it had opened. It's a tiki bar in the city, and it's hidden - you enter from off of the alleyway, and you have to go down into a basement where it's located. Very secret!
I was so excited to go and I didn't want to stand out as a tourist-y person, so I didn't actually take any photos while we were there, but I can assure you that it was very very cool. Dark and mysterious, with tiki-themed interior design, candles, and super outrageously garnished tropical drinks. It wasn't cheap, but definitely worth taking the trip at least once to see it for yourself!
In honor of actually having a night out (yayy for dates!), I got very dressed up in my best rockabilly style appropriate for a tiki bar. I bought a Hell Bunny dress from Hot Topic during the holidays when I was able to snag it for 30% off, and I absolutely LOVE it! If you haven't been to Hot Topic's
Hell Bunny Plus Sizes section
, go go go!!! I know I've already worn
the cardigan in another OOTD post
... and I even bought a second dress which I hope to get to wear to another special occasion soon so I can show you!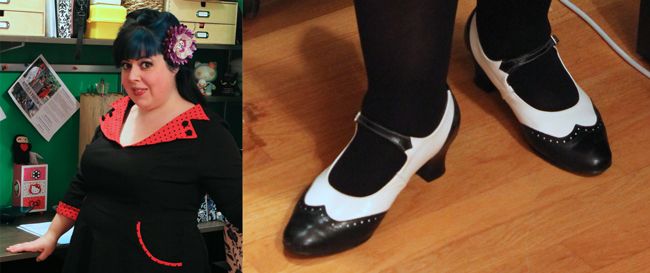 I tried to find information about my shoes online, but I'm coming up short here, guys. The brand is JB Steel, and I know that these are a ballroom dance spectator-style "swing" dance shoe... but that's all I've got. I can't find them to buy anymore, and the best (similar) I can find is
an ebay search for "swing dance shoes"
- assuming that you were interested. What I do love about these shoes is that they are comfortable beyond belief! The heel is slightly lower and wider than a traditional "high heel," but also there is a significant amount of padding in the shoe itself. So nice. I was able to walk around the city all night in these shoes!
I successfully put my hair up in a retro victory roll-ish style for the evening, too. And I accessorized with one of my favorite recent Hell Razor creations: this one has tiny black feathers on it. I made it in preparation for the
pin-up and burlesque craft fair at Vaudezilla
studio last month, and it was one of the left-over pieces, so it made perfect sense to pair it up with my rockabilly 'do.
Here, I tried to take a better picture of it, but I'm still not quite high enough. I put the roll part flat against the top of my head, as opposed to up and viewable from the front. My technique was based on this video from Twila Jean on You Tube (I love
her blog
, even though she hasn't posted in a while):

...Okay, I did sneak one photo from the powder room at Three Dots and a Dash, since Steph was doing the same: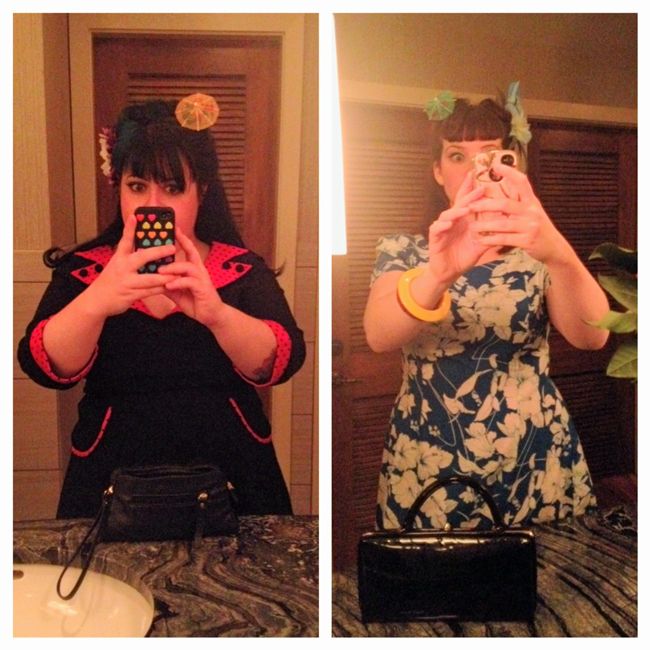 Nerdz.
Rock On,
Jen @ Hell Razor
now playing: