dress - ModCloth / leggings - Torrid / boots - Moo Shoes / socks - xmas gift / shirt - Macy's / scarf - Kohl's?
Here's another one of my awesome "Black Friday" scores from ModCloth... I had some help from my FCS (Home Ec) teacher to shorten it and take in the bust a little bit, since I ordered it a little bit too big (better too big than too small, right?). This will be a great dress into the spring/summer since it's lightweight and a fun springy pattern. But in the meantime, in this horrible cold, I'm pairing it up with leggings in black and grey stripe and a black 3/4 length tee. And a scarf. Now I'm warmer.
The actual name if the dress is "The Lady Brunch Dress," so this isn't even my own clever blog post title. Sorry about that. But these houses totally look like the Brady Bunch house.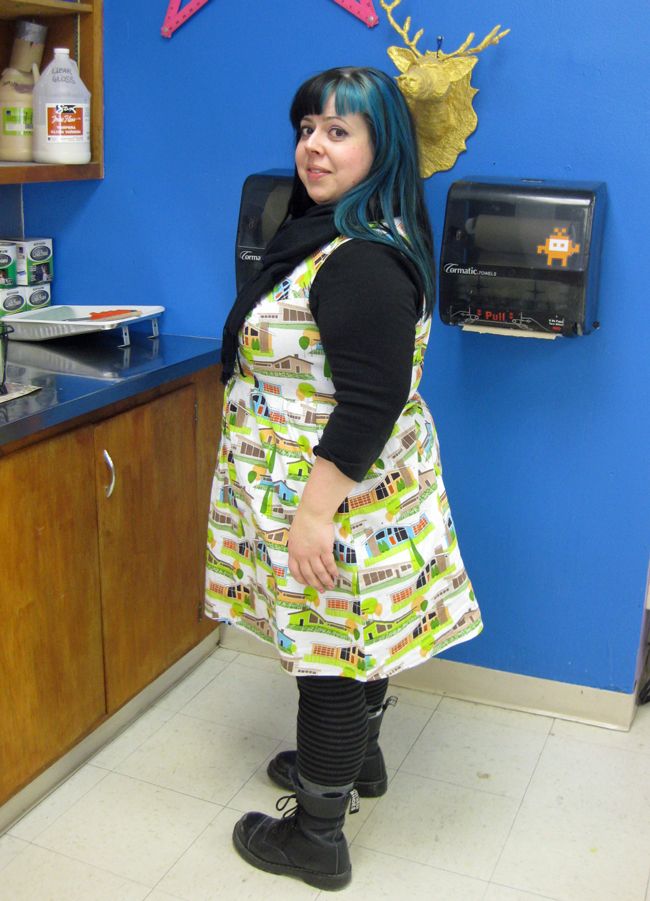 Here is a side pose, taken especially for
Erin at Zero Style
, who said that there needed to be more outfit poses taken from the side. For all I know, she doesn't read my blog, but I'm putting it out here symbolically anyways.
I have to re-dye my hair in these photos. Thankfully, I've since had time to do it.
Close-ups of outfit details. It's always hard to see the stripes on these leggings in outfit posts until I take my close-up detail shots.
Also in my detail shots you can now see my ace bandage on my ankle. Still no details on what's happening there. I'll let you know soon.
Rock On,
Jen @ Hell Razor
now playing: