Recorded right here in Chicago, Reverend Horton Heats long awaited new album came out this week! I have been anxious to get my grubby little paws on this album since I saw them last summer. If you are looking for old-school RHH with screamin' guitar riffs and a rock n' roll beat that simply HAS to be danced to… "Rev" will not disappoint! 13 tracks of pure psychobilly pleasure! My favorite songs on "Rev" are Smell of Gasoline, Never Gonna Stop It, and Let Me Teach You How to Eat." Although, I really enjoy each song on the album (which is not the norm for me)!
My friend was lucky enough to win tickets to the Reverend Horton Heat show at the House of Blues last weekend. HOB is not my favorite venue, but we had a ton of fun dancing our butts off! We got there in time to see the Necromantix. I hadn't really heard a ton of their music, but it was enjoyable and I now have a huge girl crush on their drummer. She is KICK ASS. If you've never seen her drum, you should
check them out!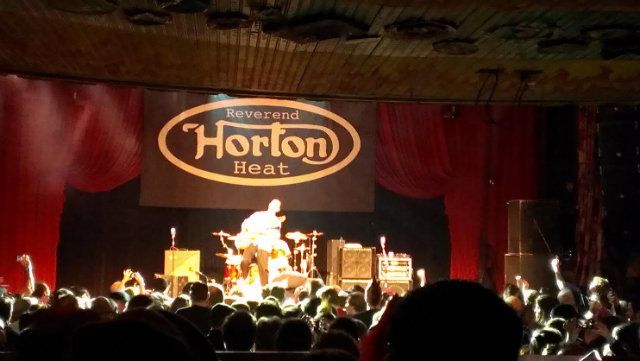 I was also excited to see that Deke Dickerson is still touring with the Rev so we got to see him as well! It was a big treat for my friend because she'd never seen him before. He is a little more traditional Rockabilly than the Rev, but he did a KILLER cover of a Ramones song at the show!
If you're looking for some new music that will make you a happy camper and want to move your feet every time you listen, check out Rev by Reverend Horton Heat! It's available in iTunes OR you can buy it on VINYL
here!
Until next time!
~Steph @ Calamity Layne