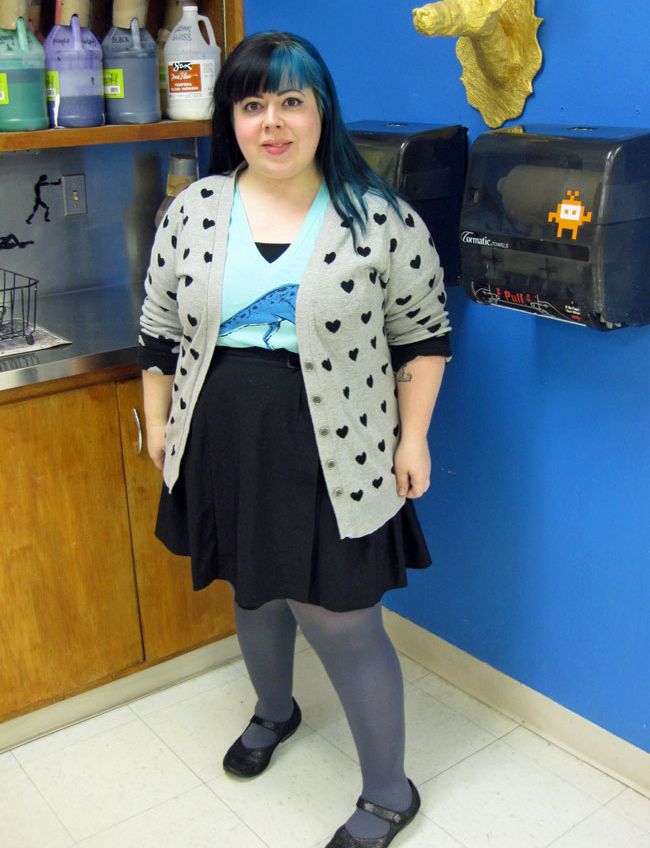 skirt - ASOS curve / tights - We Love Colors / shoes - Danskos via Zappos / cardigan - Forever 21+ / t-shirt - Megan Lee Designs / tank - JCPenney
Well, it's back to outfit posts from work time! I'm finding it harder to snag a few minutes before work to take photos lately, so I clearly need to either get here a few minute earlier, or plan my time a little bit better. I have several new things to show you, too! I've been pretty good at shopping the sales over the holiday season. I snagged some skirts from ASOS.com after I saw
Erin from Zero Style totally rock a skirt with a t-shirt
and I fell in love with the look. I was all "hey, I think I can do that, too."
The best part about the skirt + t-shirt thing is that now a bunch of t-shirts I wouldn't have worn before now have totally new life in my wardrobe! For instance, I love this Megan Lee dinosaur design, but it's a v-neck t-shirt. A v-neck XL t-shirt. Not a style I normally wear out, like with jeans and such, but now, tucked into a skirt, it's amazing!
By the way, this dinosaur is a vegetarian. He likes strawberries. Even better. I love this dinosaur, so I wore my heart sweater. I'm not sure if I've even worn it on the blog since
this post
? But I've had it for a while, and I have worn it a lot. In fact, the cuffs are staring to come apart! :(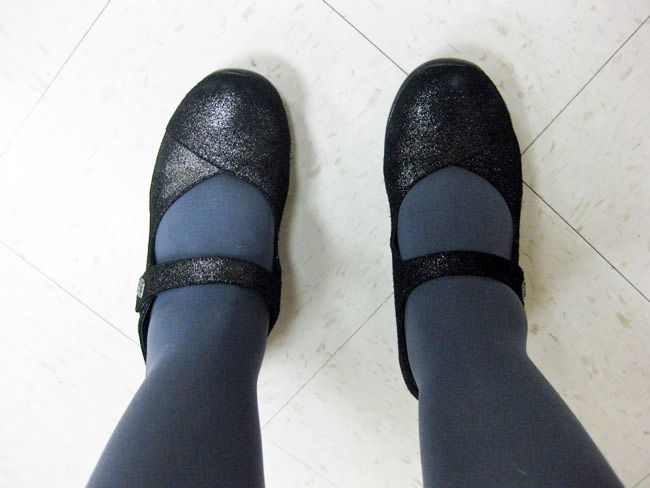 These shoes represent my descent into actual old lady-ness. They're Danskos, which are orthopedic for people with crappy feet like me. At least I was able to get glitter ones, right? So that's cool.
Although I have special shoes, I screwed up my right foot somehow (previous to the shoe purchase) and I'm in the process of finding out what exactly it is. I had an x-ray done over winter break, and it showed nothing, so now I have to have an MRI done on my foot. My right ankle is swollen and I'm supposed to stay off of it, but I'm going to skate anyways. Skating doesn't hurt. Walking does. Go figure.
Rock On,
Jen @ Hell Razor
now playing: