Hi! I'm Lisa…you may have heard me mentioned on a couple of Jen's posts. We met at a craft fair and realized with how much we have in common it would be stupid of us to not become friends. I had been asking Jen for advice on starting my own blog so she invited me to join Betties N Brimstone to get my feet wet…so here I am.
A little about me? I lived on Long Island, NY till 4 years ago when I moved out here after completing pastry school to work at a certain bakery that is not worth mentioning. After that fell through, I worked with a couple of cool bakers, met some great people and started my own company and Etsy store …read about that here:
http://www.dailycandy.com/chicago/article/97370/Brass-Knuckle-Bon-Bons-Fudge-Malt-Balls-and-Gourmet-Chocolate
I am in the process of setting up
my Etsy store
again, but until that happens, I want to share a great recipe with you for a classic…Chocolate Chip Cookies!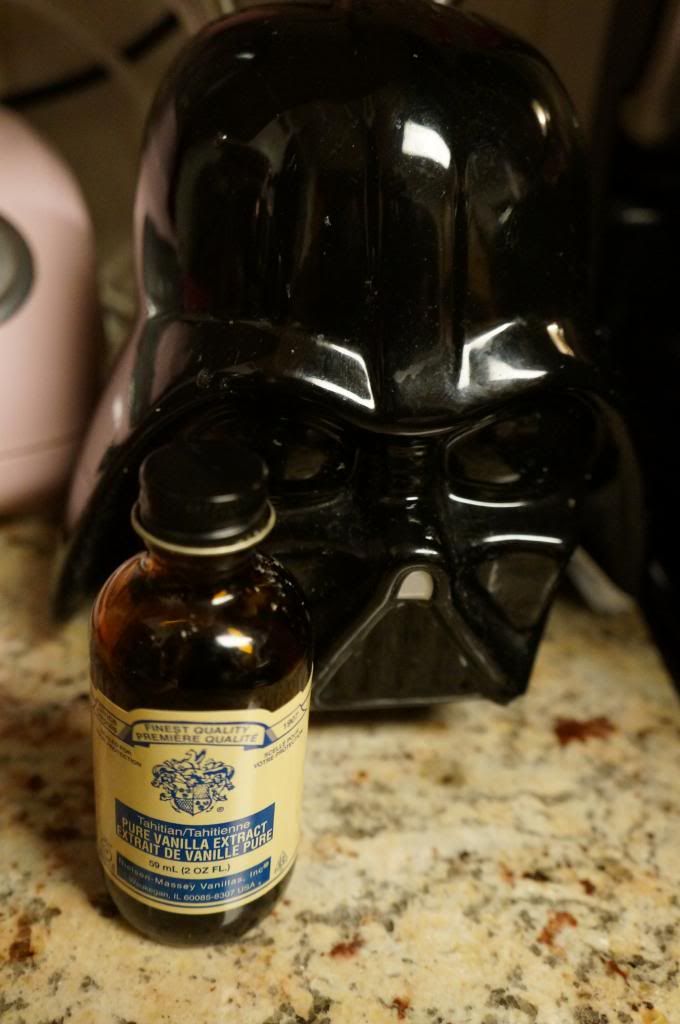 Lisa's Chocolate Chip Cookies
Ingredients:
3 2/3 cups AP flour
1 1/4 teaspoons baking soda
1 1/2 teaspoons baking powder
1 1/2 teaspoons coarse salt
2 1/2 sticks unsalted butter (room temp!)
1 1/4 cups light brown sugar
1 cup white sugar
2 large eggs
2 teaspoons vanilla extract (invest in good vanilla - as pictured above - it's worth it!)
1 ½ pounds bittersweet chocolate chips… (I prefer the dark baking square chips from whole foods. They look fancy and are tasty!)
Sea salt (for the top of the cookie!)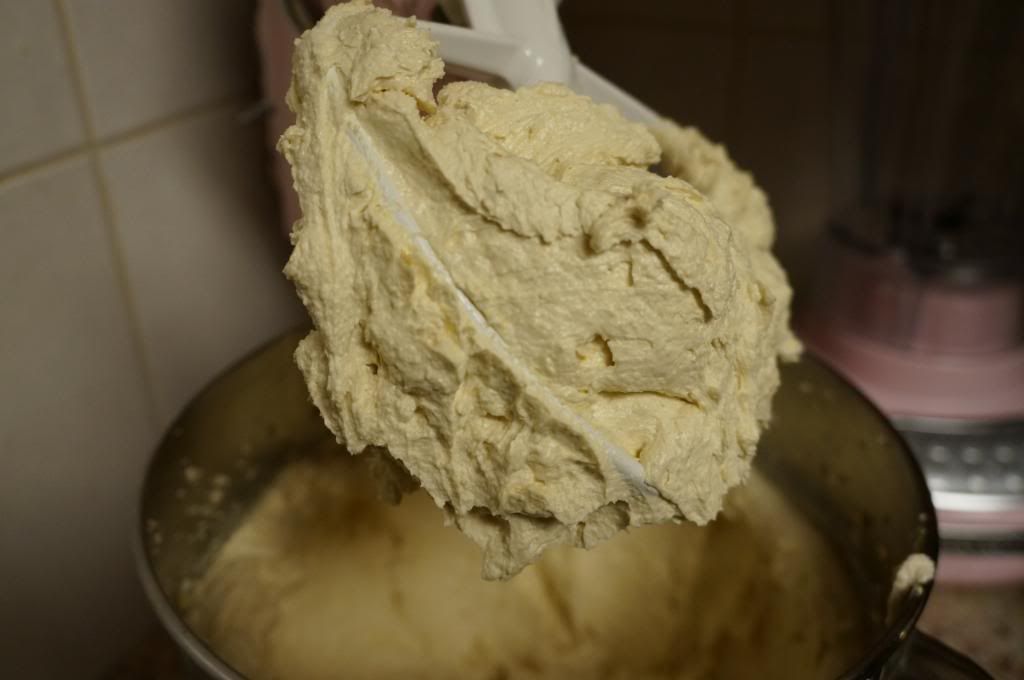 First step.. Grab your mixer and cream that butter with the white sugar and brown sugar. Start slow and then let it spin. I learned a trick that you can cream that butter for 8 minutes so it gets really light and fluffy. At minute 8 add your two eggs slowly and the vanilla and then scrape the sides and mix again for another two minutes.
While all that creaming is going on start measuring your dry ingredients. Stop your mixer and slowly add the dry in. Give it a slow spin till it's incorporated and then use a spoon for the rest. You do not want to overwork the flour as it can result in a tough cookie. Then add all the glorious chocolate and give it another stir.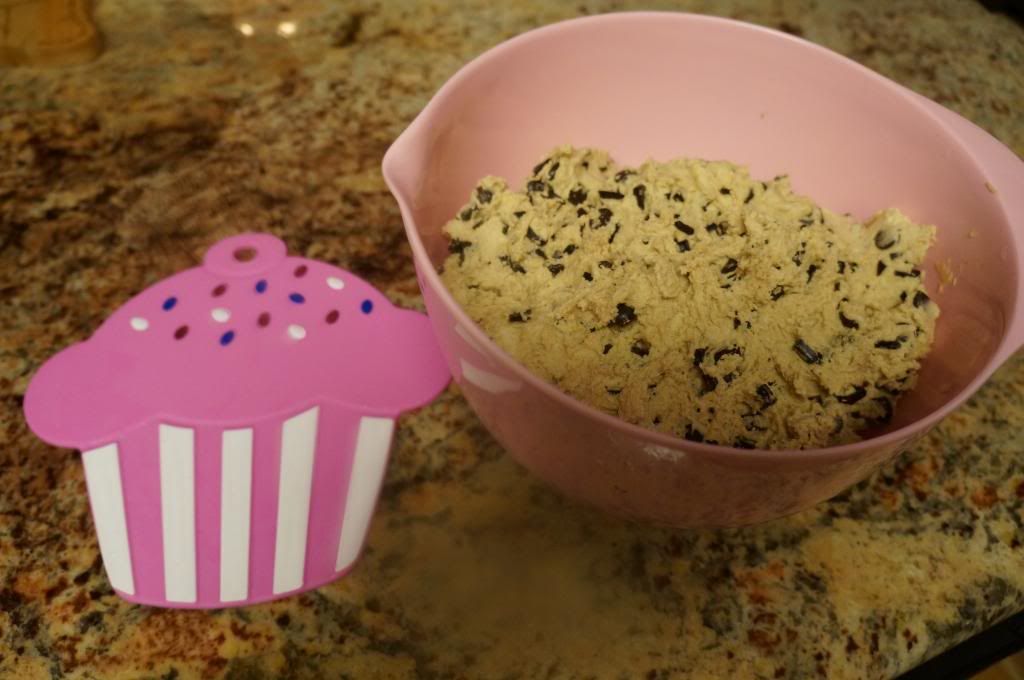 Then you may hate me…but, if you want, take a mouthful of the cookie dough, and then cover the dough with cling wrap and refrigerate for at least 12 hours! I KNOW! You want immediate cookie gratification but trust me…letting this sit gets the dough ready for amazing cookies! Don't believe me?
Read this
.
Ok...its later...get ready to scoop! Preheat the oven to 350. Take out your dough and let it get a little softer so you don't hurt yourself while scooping. Line your cookie sheets with either
a silpat
or parchment paper. Mine are from IKEA and were a great find...PINK, super cheap and when making smaller cookies shows you where to place them…but we are making BIG cookies...so grab a large ice cream scoop and get a scooping! Then take a pinch of the sea salt and sprinkle on the top...see my cute salt pig? I love fancy salts...and now I have a fancy home for one: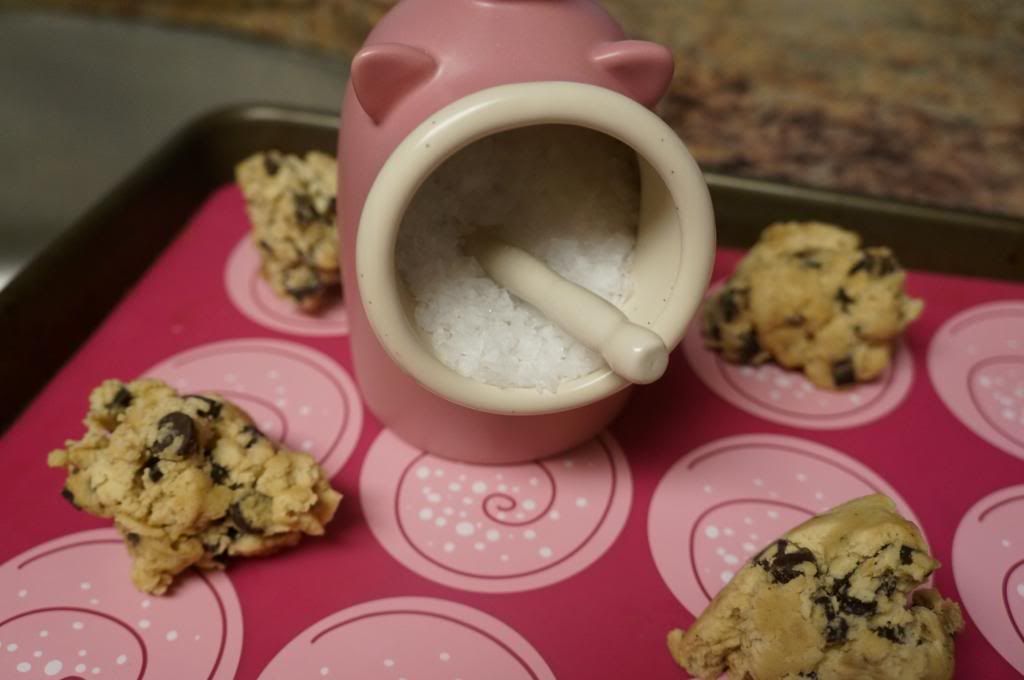 Place the cookies in the oven. These can take up to 15 minutes to bake..But all ovens are different, mine was 12. You want to be a light golden brown. This way they have a crispy bite but are soft and melty in the middle with that zip of salt…sooo good! When done let them sit on a cooling rack and devour!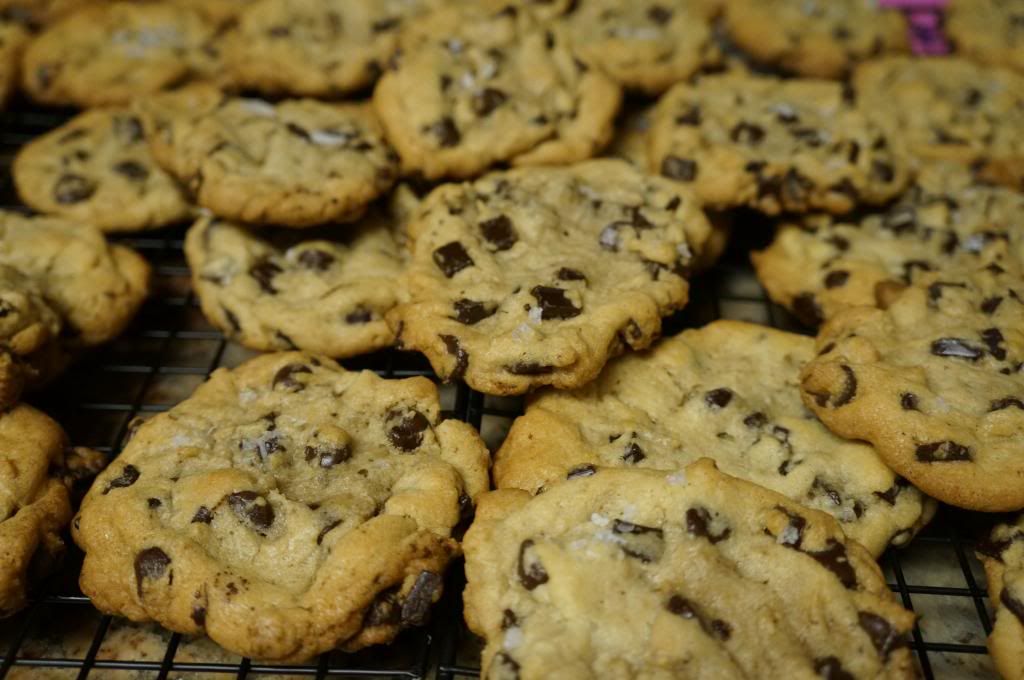 So that is that...feet are officially wet! I will be posting on Saturdays with recipes, cool things I find and what not…
Stay Sweet,
Lisa
now playing: