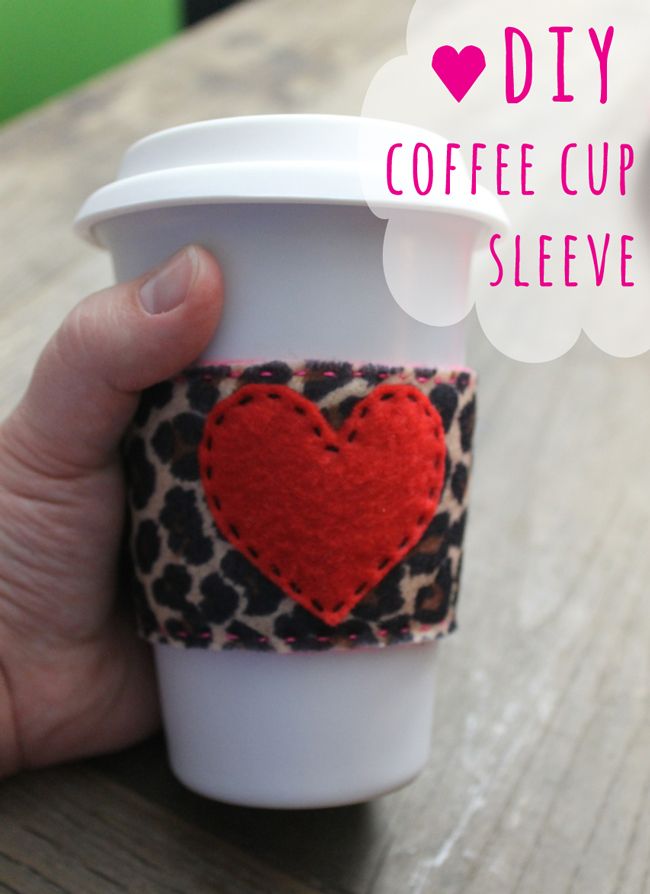 I've started to drink tea at work in the mornings, and I like any kind of activity or hobby that allows me to customize my tools and accessories. In this case, my
ceramic coffee cup
(turned tea cup) was screaming for something personal. Enter the reusable sleeve.
I'd actually been browsing Etsy for a few months - I'd been admittedly lazy and was willing to pay for a sleeve if I had found one that was just right... but I never did find one. I ended up having to supervise a bunch of computerized testing at work and had a chunk of time on my hands, and suddenly sewing up a coffee cup sleeve seemed like the perfect way to pass the time. And I already had all the supplies that I needed!
Here's what I used:
Felt: main sleeve color, inside (lining) color, scrap felt for any decorations.
Embroidery floss in a variety of colors.
Needle, scissors, straight pins.
Sleeve template (see below for info).
Safety pin (optional)
I chose a fun leopard felt for the main sleeve, a bright pink for the inside lining, and a red heart for the design!
I prefer two layers of felt on my sleeve for a couple of reasons: 1. it is the most insulating, and 2. it will hide/protect the underside of any stitching from any decorations that you might add to your sleeve.
For the shape of the sleeve, you have a couple of options:
Trace an existing cardboard sleeve from your local coffee shop.
Download/print a free pattern available online, such as this one from Martha Stewart (see page 2).
I cut the inside lining layer of felt (the pink) slightly shorter than the front (leopard) layer, since I noticed that when they wrapped around the cup together, the leopard layer needed to be a slightly longer length.
The first thing to do is to stitch any designs (in my case, the red felt heart) to the outside felt layer of the sleeve. I purposely used black embroidery floss because I like the stitching contrast details to show up. You could also embroider your name or initials, or even use a cool embroidery pattern from
Sublime Stitching
on your sleeve!
Once your design is finished, you can stitch the two layers of felt (the outside and lining pieces) together on all four sides. Again, I used bright pink embroidery floss on the leopard felt so that the stitching detail would show.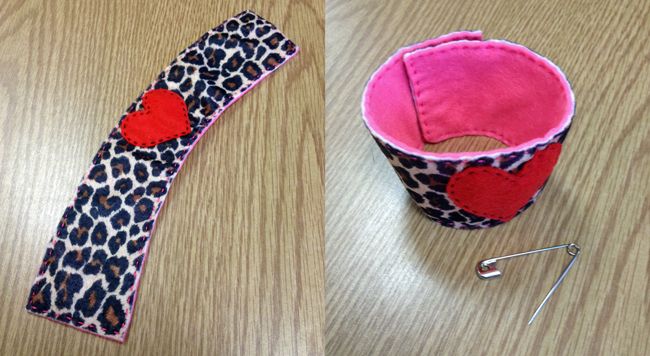 When the entire piece is stitched all the way around, you're now ready to bend your sleeve into a circle and close it up. I decided to use a large safety pin because I like the aesthetic of it, and it also gives me some flexibility on size (I can switch it up, if need be).
If you're not digging the punk rock safety pin vibe, that's cool, but you'll probably still want to mark where to close up your sleeve with a pin for now. Wrap your sleeve around a cup to get the sizing accurate, and then stitch it closed!
Now, enjoy a nice hot cup of tea (or coffee, or hot chocolate) in your awesome new custom cup! Yayy you!
Rock On,
Jen @ Hell Razor
now playing: