So, my fiance and I are going on an "eating better" mission…I hate the word "diet," so I am re-focusing on eating "clean" as much as possible, and making tasty and healthy food. My becoming a pastry chef and having lil G… there is more to me than I would like, so here we are. Don't worry! I will still post some delish desserts... everything in moderation, of course!
I found this recipe and I was excited about it - cauliflower is one of my favorite veggies.
When Jen and I went to the Spice House
, I sought out a good curry to use, as that was one of the few spices that I did not have. When I was shopping, I was debating out loud (I am ALWAYS talking, even if it's just to myself) if I should choose the sweet or hot curry. A girl that worked there told me to add a little cayenne to my sweet curry, as that is what they do there. This was a great tip - I love things with just a touch of heat!
So here we go. I doubled the original recipe, because I feel that if you are taking the time to make something yummy, then you should make enough to freeze so you can have a night off! If you do not want a ton, just cut this in half.
Curry Cauliflower Soup
Ingredients:
2 heads cauliflower, cut into pieces
4 yukon gold potatoes, diced
2 tsp. olive oil
1 onion, chopped
4 cloves garlic
8 tsp. curry powder, divided (add a nice pinch of cayenne)
8 cups unsweetened almond milk
½ cup sunflower seeds
4 tsp. fresh ginger
salt/pepper
Directions:
Preheat your oven to 400 degrees.
Take your cauliflower, cut it from the stem, and rinse. Now, chop up the flowers and set aside. Next, wash and peel your potatoes, dice them, and set aside. Also chop up your garlic, onion, and ginger. Grab a large bowl and mix these all together with your olive oil and add your curry/cayenne mix on top. Place all of these veggies in a baking dish and place in the oven for 35 minutes.
When the time is up, check your veggies - they should be able to be pierced easily by a fork. Dump them all in a large pot, and pour the almond milk on top. Chop it all up with an
immersion blender
. (You say you do not have an immersion blender? You are crazy! One of the best kitchen tools! If you do not have an immersion blender, you can place all the veggies in a food processor and puree them, then add to the milk. If you do not have a food processor, then go to the store and buy some soup! I give up on you.)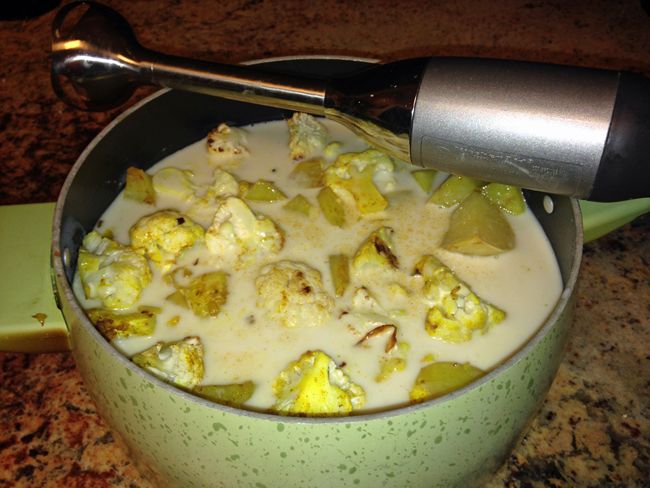 All blended? Cook on medium heat till simmering. Here you can add a touch of salt/pepper or even extra curry to taste.
Depending on how much soup you will serve...grab some of your sunflower seeds and roast them. You do this by placing them on a dry skillet over medium heat. Stir often so they do not burn but get all roasty good.
Ta da! Ladle out your soup and put some roasted seeds on top. Enjoy!
Stay sweet!
Lisa
now playing: