On New Year's Day, I went out for brunch with my husband, and there was a bloody mary bar, which is always pretty exciting. They had three different kinds of Bloody Mary mixes: regular, smoky chipotle, and spicy curry. They also had a whole bunch of different things to garnish your drink with!
This was not my first Bloody Mary bar experience. Lisa had one several weeks ago at her Tupperware party that was pretty darn impressive. So I decided to re-create my own version at home this past weekend when we were expecting company.
I only had one bottle of "mix" to use, but I had several options for vodka available. Sometimes I make my own Bloody Mary mix from scratch (
here's a good one
if you're interested), but I really love
this Tabasco brand version
.
You'll also want to have some long skewers available, to encourage folks to load up their drinks in a ridiculous fashion. It's all part of the ceremony.
I've seen some really outlandish examples of garnishing a Bloody Mary, including a recent friend's Facebook post with a photo of her mini hamburger skewer on her drink!
Not sure what to put out? Here are some ideas below.
List of possible Bloody Mary Bar items include (but are not limited to!):
Large queen olives
Blue cheese olives
Feta cheese olives
Olives stuffed with garlic cloves
Jalapeno-stuffed olives
Jumbo black olives
Kalamata olives
Dill pickle spears
Lemon wedges
Lime wedges
Cherry tomatoes
Jalapenos (fresh or jarred)
Red pepper strips
Pepperoncini
Celery stalks
Flavored salts (to rim the glasses)
Celery salt
Tabasco sauce
Sriracha sauce
Cheese cubes: cheddar, colby jack, swiss...
Beef jerky or veggie jerky
Bacon (or faux bacon) strips
One of my favorite parts about the Bloody Mary Bar concept is that I get to use a bunch of my fun and funky dinnerware/serving pieces that don't usually get used... like my 4-bowl serving plate (see above), or two olive dishes. I just don't get that fancy when it's just me, but it's TONS of fun fancy-ing stuff up for friends!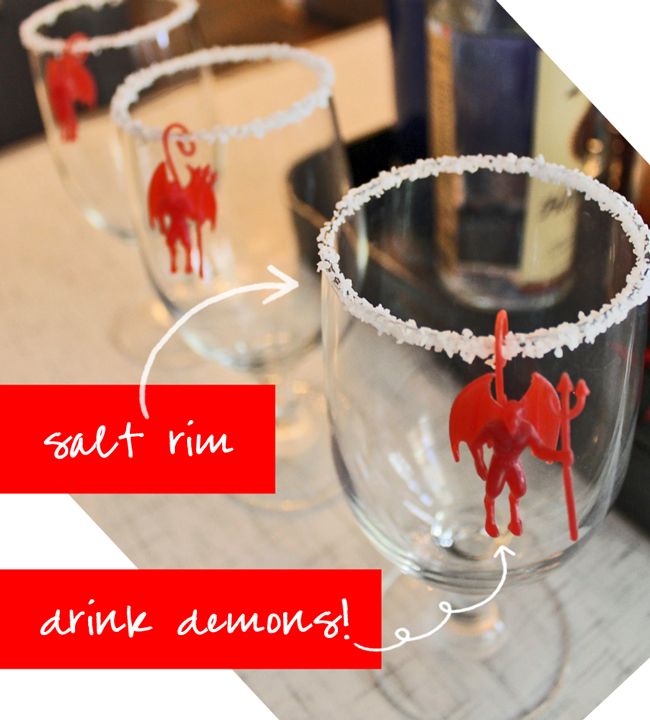 Now is the time to use up some of your fun drinkware and accessories, too! I have these "drink demons" and I hardly ever get to use them, so it just seemed natural to have them hanging off of some spicy hot Bloody Mary brunch beverages! (Oddly enough, I could not find them online, but I did find plastic
monkeys
and
mermaids
. What a fun souvenir for your guests, too!
Rock on,
Jen @ Hell Razor
now playing: