Jen and I have been discussing a kid-free day for a while, so I was happy when we were texting about stuff... spices, nonsense, etc... and the day finally presented itself. She wanted to get more fun things for cooking, where I needed an excuse to do so. The plan was to go to the Spice House and Old Town Oil and then I threw some more fun into the mix.
If you live in Chicago and love to cook, you need to head to Old Town and go to the
Spice House
, as it is magical! When you wander down the street towards it, you can smell all the spices lingering in the air. Inside, everything is in all different types of bottles where you can get as much or as little as you like. There are some to test and smell and I encouraged Jen to do the official "lick the hand" test. If you cannot get there you can order online. I would definitely suggest getting the porcini mushroom salt, as I am now using it daily.
Next, we headed to
Oil Town Oil
. I know these oil and vinegar stores are popping up everywhere, and they never disappoint. I love that you can taste all of these first-hand in teeny cups. Jen grabbed chili oil, and I purchased some blueberry balsamic, which is going to go into some caramel sauce very soon. They also have a chocolate balsamic here…get it! On vanilla ice cream, this is just heavenly!
Ok, enough with smelling things that can be food! Time to eat! Chicago is pretty well known for its
Chicago dog
, as well as a ton of other kinds of specialty hot dog places, so we headed to one of my favorites:
Franks N Dawgs
in Lincoln Park. I just LOVE this place! Their version of the classic Chicago dog is a little different, and they even do a fun twist on one made out of ice cream, but the BEST are their unusual dogs. As you see here, Jen got the veggie-friendly Singhing Fu, and I, being the NY girl that I am and missing my lox and bagels, got a Slammin' Salmon, which is a play on that. If you come to Chicago, this is a must stop, I take almost all of my out of town visitors here!
Time to wash it all down…we completed our food tour with a trip to the HUGE Whole Foods in Lincoln Park. They have a great area where you can do wine tastings, so we treated ourselves each to a flight of wine. They also have three other bars in this location - it's just that big!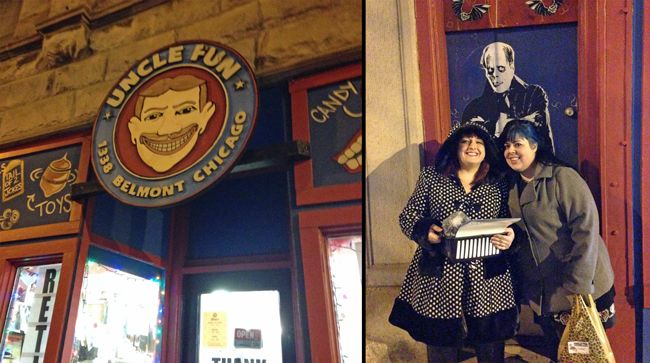 Happy, full, and relaxed, and we ended our day at
Uncle Fun
in Roscoe Village. This is a store that has been in Chicago for 38 years and sadly, it is closing. Going to this store is like visiting your SUPER WEIRD uncle's attic... I mean really weird, yet FUN. I knew that I wanted to get here and check things out before the doors closed forever. We met Natalie from
Bake and Destroy
. Together, we fought the crowds and pillaged through some crazy stuff… as you can see here... this box of dirty Ernie's will haunt me and I cannot even imagine where a gigantic moose came from!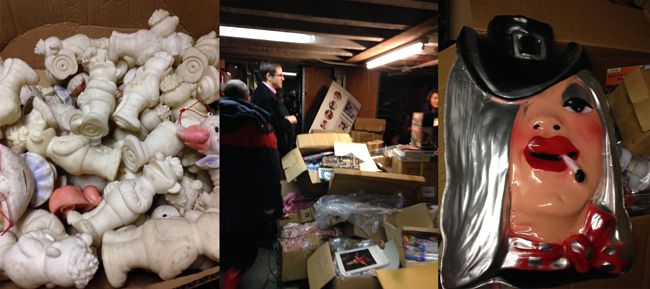 The day ended with some crazy good gelato from
Black Dog Gelato
, also in Roscoe Village. I indulged in cup of strawberry-balsamic and graham cracker gelato and ended a sweet day with fantastic friends. I know I needed a day off from "Toddler Time," and it was fun just roaming around the city.
Tell me your favorite places where you live - I would love to know!
Stay sweet,
Lisa
now playing: