This weekend, Todd and I are taking Iggy to his first ever concert:
Yo Gabba Gabba LIVE
! And I'm super excited. We all are. Todd is going, and my friends Lisa and Shane are going with their son, Gunnar. I can't wait to see Iggy's reaction once he realizes where we are. He already yells "YOOO GABBA GABBA!" when he watches on TV. Too cute.
Lisa is a super festive person, so when she said "you need to make me a Brobee flower" many weeks ago, I thought to myself, "hmm I could DO that!"
And hence this project was born:
The Muno flower is the one that I'm going to wear and keep. He and Brobee are my favorites, so I'm glad that Lisa picked Brobee.
Plex is my next favorite YGG character, and the flower on his design is one of my favorites, because I found SILVER flowers to incorporate! This time of the year is pretty good for glitter and silvery things, and poinsettias... but not so great for finding black flowers, blue flowers, or spring colors. Argh.
The Brobee flower didn't photograph well for the green colors here - it looks kinds washed out, even with my attempts to Photoshop it a little bit better. He was definitely one of the more fun characters to make!
The Toodee character gave me SO many headaches, trying to get it just right! I'm still not 100% satisfied with it, but the flower part came out really great (I got to incorporate some more of the silvery petals into it, since she lives in the ice land...)!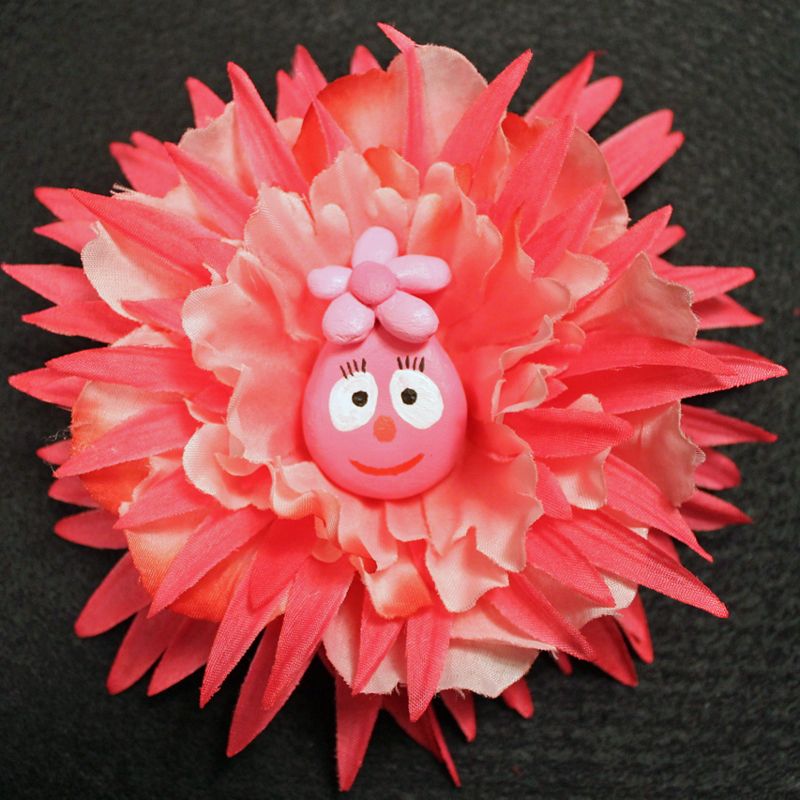 Foofa is my least favorite of all the YGG characters (she's such a wussy stereotypical girly girl - did she really need to play the TAMBOURINE in the band?!!!), but her character turned out really nice, and with the flower added, it's pretty damn cool.
I'm going to be selling the remaining three pieces (Plex, Toodee, and Foofa) at a couple of the shows I'll be at in person this holiday season, but if they're still around after that, I'll probably throw them up on Etsy.
By the way, did I mention that I'll be selling at the Vaudezilla Burlesque and Pin-Up Craft Fair on December 21st? If you're in the Chicago area, you can RSVP for free VIP treatment when you attend! See more here on the Vaudezilla website.
Rock on,
Jen @ Hell Razor