socks - Betsey Johnson / boots - Target / leggings - Torrid / hoodie tunic - Megan Lee Designs
This is my OOTD from Christmas. Notice my messy messy studio in the background... I decided to just go with it. I hadn't done any outfit posts in a while, so I decided to stop slacking and get back on the horse. Hey, considering I started 2013 with a goal of doing more outfit posts, I think I succeeded pretty gosh darn well, don't you?
My outfit was inspired by a desire to be really comfortable, and not going anywhere on Christmas day! I bought this Megan Lee long tunic hoodie at a Craft/Open House show in Berwyn in early December. I'm a big fan of
Megan Lee Designs
for a while now, but I was always kind of sad that her woman's shirts stop at size XL, and are kind of "junior" - you know, small-ish in size, to start with. But this hoodie is an XXL and is a unisex style, so on (short, plus-size) me it becomes an awesome tunic! I didn't even see any in the shop, so I think that I just I lucked out in coming across this at the Open House.
...and yes, those ARE cats on my shirt. Bonus!...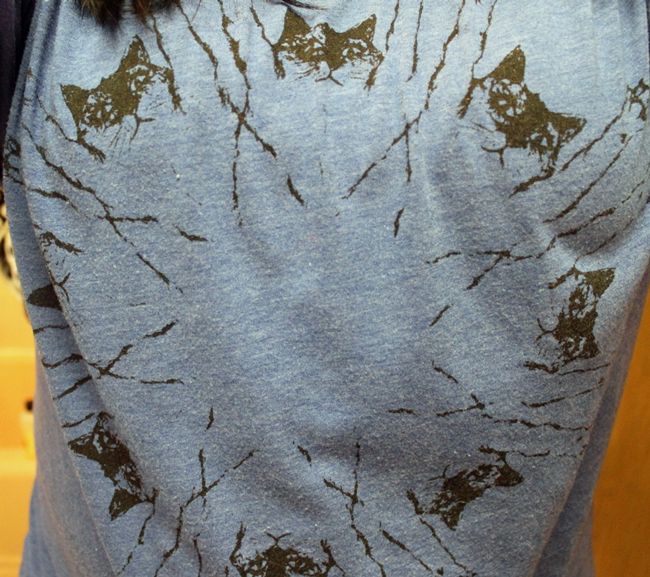 I had a really awesome Christmas day this year. We stayed home! Iggy opened up presents in the morning, and had time to hang out and play with them! I made breakfast (soy-rizo and eggs), and we did a little bit of cleaning up around the house and re-charging for a family celebration on the 26th. I finally had time to re-dye my hair:
Then, after Iggy went down for his afternoon nap, I took a long bath! It was such a nice treat!
I bought myself a little gift this year from
Circa Ceramics
:
It's a small bowl, which I asked to have in bubblegum pink stripe, with the star decal. The inside has a pink circle on the bottom, which is pretty darn cute! I bought it specifically for the purpose you see here: an amplifier/speaker bowl for my phone! Have you ever tried this? Put your phone into a bowl when you're listening to music, and the sound is much louder! What a great (and good-looking) solution for your desk - store your phone fashionably, and hear your music better!
Rock On,
Jen @ Hell Razor