At Lisa's surprise party a couple of weekends ago, we had food from
Big Star
in Chicago. It was freakin' delicious. The taco that I built had potatoes in it, so I went to their website to investigate, and they're called "Tacos de Papas con Rajas," which is a potato/pepper combination. So good.
I quickly became obsessed with the idea of putting potatoes in my tortillas and making my own homemade version (translation: not as good, but an acceptable substitute). I did think that they were pretty gosh darn yummy, and easy to make. I would also be remiss if I did not mention the heavy influence of this recipe from
Bake and Destroy's Brussel Sprout Tacos
, one of my all-time faves.
I'm not sure this even really counts as a "recipe"... because it's just frozen stuff combined together... but here, I'll share it with you anyways:
Vegetarian Potato Tacos
Ingredients:
1- avocado
1 - dozen corn tortillas
1 - bag frozen diced potatoes with peppers and onions
1-2 tbsp. olive oil
1 - envelope taco seasoning
sliced almonds
shredded lettuce or cabbage
Directions:
1. In a large skillet over med/high heat, sautee frozen potatoes in oil.
2. Add packet of taco seasoning mix. Stir, and continue cooking potatoes until completely heated through. (
Please note: If using Trader Joe's brand taco seasoning, only use about 1/3 of the packet. It is EXTREMELY spicy. And I like spicy food. You've been warned.
)
3. Warm your tortillas (I use a small skillet for this).
4. Peel and slice avocados into slice/wedges and set aside.
5. Set out the almonds and lettuce/cabbage alongside the avocados, potatoes, and warmed tortillas so that everyone can assemble their tacos as desired.
If you can't find frozen diced potatoes that already have onions and peppers, you can always just use plain diced frozen potatoes and add your own onions and peppers (fresh or frozen). You can also omit the additional veggies if you're weird about it.
I find that these tacos do not need cheese or sour cream (hey, that means that these tacos are actually vegan as listed), but I suppose if you felt that you needed it, go for it!
In searching for potato taco recipes online (I was unsuccessful in finding anything that didn't require frying or fancy roasting of peppers, which would surely cause me to start the kitchen on fire), I did come across a really easy side dish idea for rice with corn (shoot I can't find the original link anymore - I'm sorry!), which Todd loved, but I would jazz up a bit, along the lines of this listed below...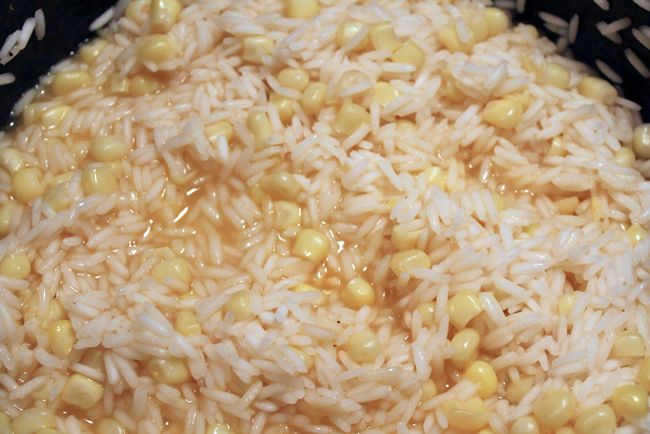 Cilantro-Lime Rice with Corn
Ingredients:
2 cups vegetable broth (I used one small can)
1 cup rice (I used white Jasmine rice)
1 cup frozen yellow corn
1 lime
fresh cilantro, to taste
Directions:
1. In a medium-sized saucepan on med/high heat, boil vegetable broth.
2. Add rice and corn to boiling broth. Stir.
3. Turn down heat to simmer, cover.
4. Simmer rice for 25 minutes or so, stirring every so often until broth is fully absorbed and rice is tender.
5. Sprinkle rice with chopped cilantro and garnish with lime wedges.
Note: the photo above is one I took while the rice was mid-simmer; the broth is not yet fully absorbed... and I didn't have the cilantro/lime juice combo in there.
Todd said that he really enjoyed this dinner, and even went up for seconds, which is my meter for whether or not it really is good - because he's pretty nice and doesn't usually complain if I cook. This would be a pretty good dinner for having friends over, too, since they can build their own tacos, and you can throw the rice into a crock pot to keep it warm. Yum!
Rock on,
Jen @ Hell Razor