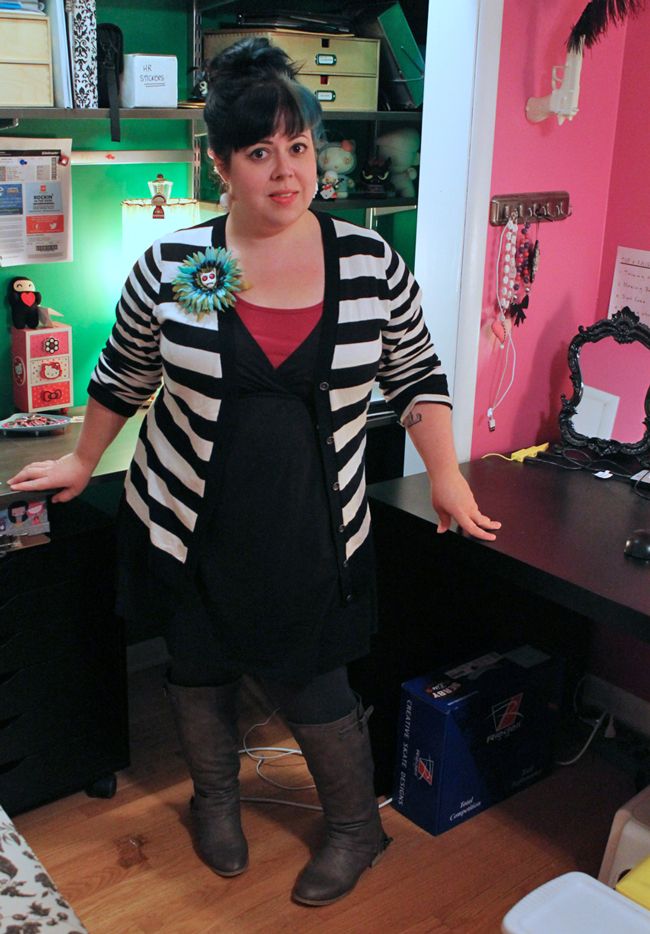 sweater - Target.com / boots - Torrid / leggings - Forever 21+ / dress - Target / tank - Old Navy / cat skull flower - Hell Razor / earrings - Nordstrom
Hey, I took outfit photos at home in the art studio this time. Must've run out of time that morning before school. Sigh. It's been so busy at work, even though I feel like your job should get easier the longer you do it... right? But no. The more I know, the more it weighs on me. Both literally and figuratively.
But at least today I had a cute new sweater. It's black and white striped, and I totally bought it online after I saw my friend Lisa wearing hers and it was too cute on her. So I give kudos to Lisa for this ensemble. Even the flower brooch was her styling choice that I copied. Oh, and we have the same earrings, too. Dorks.
One day when we hang out I think I'm going to ask her what she's wearing, so that we don't wear the same thing, only I'm totally going to wear EXACTLY the same thing. Just to make it
awkward
awesome. :) So be prepared, Lisa!
When I get a little bored making skulls, I mix it up by adding other things, like in this case, cat skulls. I also paint eyeballs when I get bored doing too many of something else. There's always different things to do, so I can mix up the tasks on the ol' to-do list.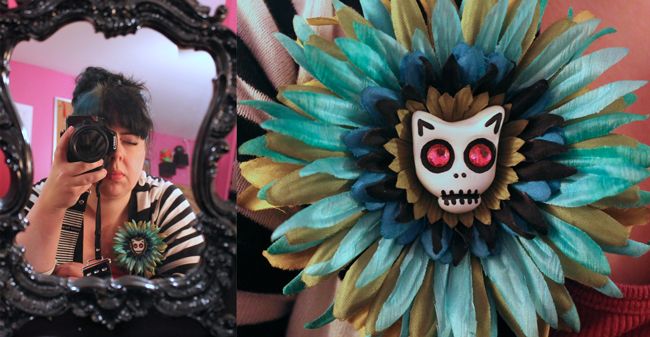 I have a LOT of things going on right now, actually, in regards to Hell Razor:
I really can't say enough how much I love these boots from Torrid. See
similar styles here
.
Rock on,
Jen @ Hell Razor