shoes - Shoe Carnival / dress ASOS curve / tights - We Love Colors
Today is kind of a plain OOTD. But I love this dress. You first saw it
here, in January
, with black tights and some real swanky shoes. I've been brainstorming ways to wear if differently, but because it has long sleeves, I worry about it being too bulky with a sweater over... also, if I wear a scarf, I'll lose the awesome collar detail. So we'll see. I'm sure I'll wear this on the blog again.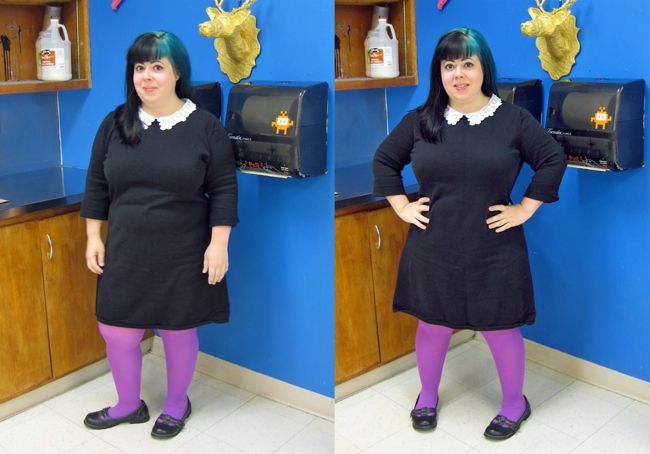 I got lots of compliments on my purple tights this day. I like wearing colorful tights with my otherwise-neutral dresses.

These shoes are a nice break from my usual ballet flats. But they have a nice sturdy sole, so my feet aren't aching terribly by the time I get home.
I had an okay kind of week last week. I've been really busy, as in, I had something (if not several somethings) to do every night of the week, and I don't really enjoy that. I did a vendor event last week that was ok (in the sense that I made my money back for the table fee), but I didn't really do well overall. I clearly didn't fit in amongst the other vendors, and many of the women shopping simply passed me by, if even giving me a fleeting glance - as though if they came "too close" to my table, they might "catch" it - my tacky tacky halloween skull and eyeball merchandise. Ugh. I hate feeling like that, and I kind of would have preferred to just have my night at home. But live and learn, right? If I didn't try it, I wouldn't have known that it wasn't really for me.
I hate feeling like I don't fit in. I don't feel like that around my friends, which is why they're my friends, and I love them! But stepping out of my comfort area is hard to do, and when it doesn't go well (like at a vendor event where I clearly don't fit in!), I'm really quick to retract back into my shell, and it's hard to take chances again.
Ok, done feeling sorry for myself. I had a LOT of awesome things this past week, too. A surprise party for my friend Lisa! It was so much fun. I felt very lucky to be there, a part of her group of close friends. It made me feel special, and I was so happy for her and to see her get surprised by everyone!
I also went to a derby class on Saturday morning and had ACTION SHOTS taken of me skating! So, assuming I'm not horribly embarrassed by them, I will share them with you real soon, too. That was really fun.
Rock on,
Jen @ Hell Razor
now playing: