dress - Forever 21+ / sweater - JCPenney / leggings - Torrid / scarf - gift (Kohl's?) / boots - Torrid
If you caught my nod to the
Three Amigos
in the post title, twenty gold stars for you! :)
I think I've mentioned wanting a red-orange sweater for a while now, so I decided to go and hunt for one. To my surprise, JCPenney.com actually had one - AND it came in an XXL. Kudos to you, JCPenney! You can also have twenty gold stars. It's that kinda day.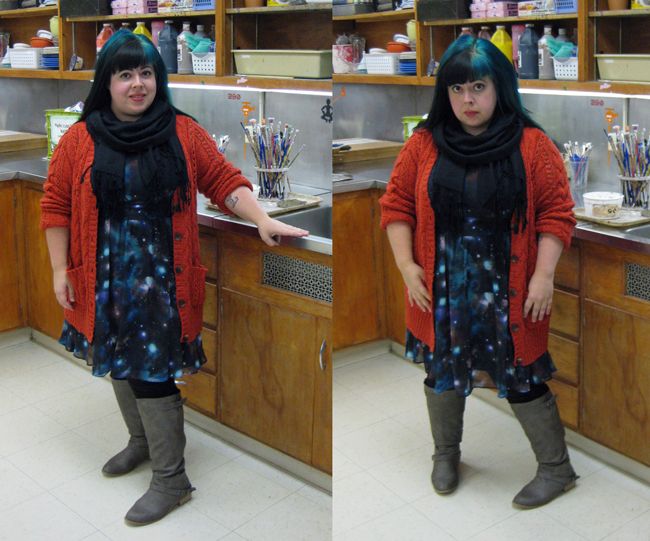 I bought this sweater very purposefully to wear with my glasses dress, but since I've already shown you that dress twice, I'll hold off on styling it up again, even though I super love that darn dress...
This sweater goes well with a LOT of my clothes, which surprised me since I do not own much of anything orange, and it's not my favorite color (although this red-orange shade is growing on me quite a bit...), but it complements lots of the other colors I own, like black or blue or purple. I have a lot of those.
So today was the galaxy dress. This dress is very lightweight and flowy and layered, so I enjoyed juxtaposing it with a heavier and chunky knit sweater, which made the whole ensemble very fall-appropriate.
Art teacher pro tip:
blue and orange are complementary colors, which means that they are opposite each other on the color wheel, and make each other look the most vibrant, which means it's always a good pairing!
The first time I wore this dress, it was still way too freaking hot outside. I like this second version way better. And it's comfy, too! The sweater + scarf combo is like wearing a blanky all day. Ready for a nap at any time!
On this day, I decided to get a little crazy on the eyeshadow front, even though my makeup photography is somewhat lacking. Can you see my rainbow lids?
Ah, there's a close-up. Yep, that's pink, yellow, and turquoise shadows, which will give you a slight orange blend/overlap at the pink/yellow border, and a green hue at the yellow/turquoise meetup. So much art teacher nerdery going on this day. Enjoy.
Rock on,
Jen @ Hell Razor