dress - target / shirt - Macy's / leggings - Torrid / scarf - Betseyville (via JCPenney) / glasses - Coastal.com / boots - MooShoes
So this whole outfit comes from the fact that I bought a
Betseyville scarf on clearance via JCPenney.com
, and I thought it was amazing because it has dingle balls. It happens to be a color that I do not have a lot of, so I decided that a more neutral black/white/gray palette would be a good way to pair it up.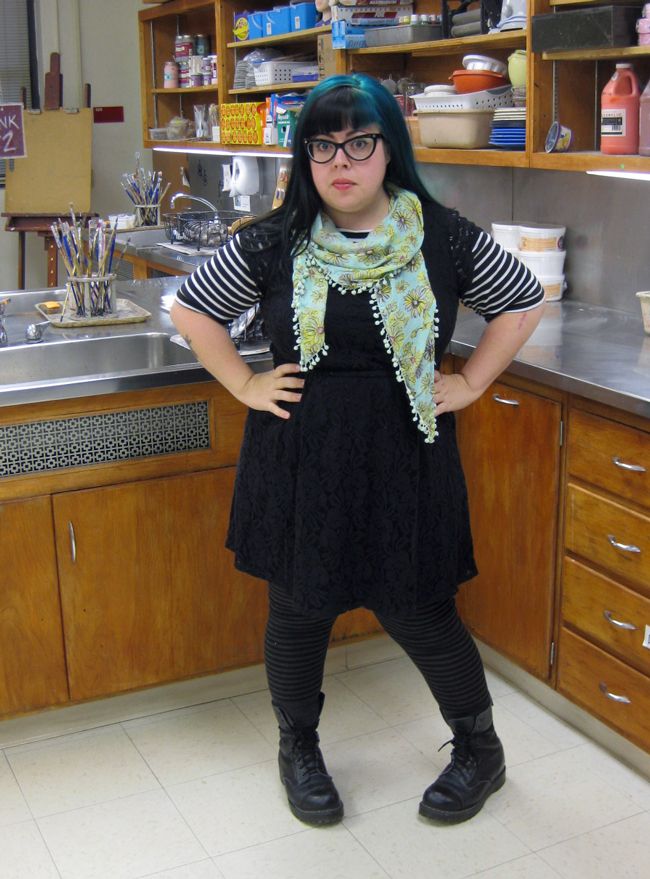 I have been playing around with mixing patterns lately, so I thought I might as well go for it with this outfit - I have two different kinds of stripes, the lace pattern of the dress, and the daisy pattern of the scarf. I think it turned out pretty good! My measure of success is whether or not I feel weird during the day... you know those days when you walk out the door, thinking "hmm I don't feel 100% about my look today but I think it's ok?" but then all day you just feel like you want to go home and change (your outfit/hair/shoes/whatever) because you're just uncomfortable with it? Well, this was NOT one of those times, so that's how I decided that this was a successful combination.
I really hope that my train of thought makes sense to at least someone who reads this. Sometimes type, and then I read my narrative back to myself and I just think "my god this is kind of weird..."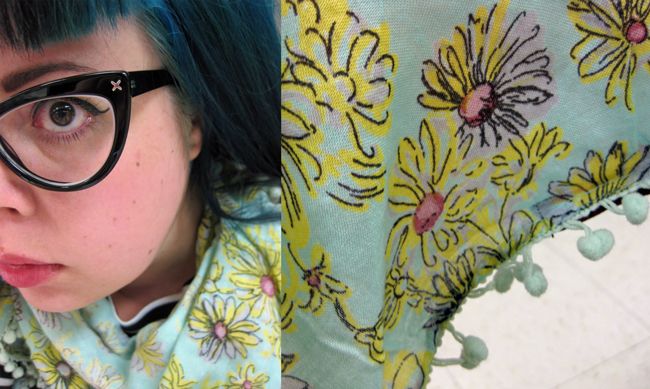 Now that the weather is chilly I like to wear my glasses sometimes. I really like my glasses, but if it's humid or kind of warm or I might get sweaty, then forget it - no glasses. I can't stand when the bridge of the glasses gets sweaty and gross on my nose. Another glasses indicator is sunny-ness. If it's too sunny and bright out, then I want to wear my sunglasses, so it's a no-go.
So, the advantage of overcast chilly days = glasses. At least there's something good about those days, right? My glasses are from
Coastal.com
, where they have one of those "first pair free" offers. That wasn't the case for me though, because my lenses are SO THICK that I had to have the thing done to them that makes them thinner (but in the end they're still pretty gosh darn thick) and I ended up paying around $100 for these. Still a steal. And I get compliments on them all of the time.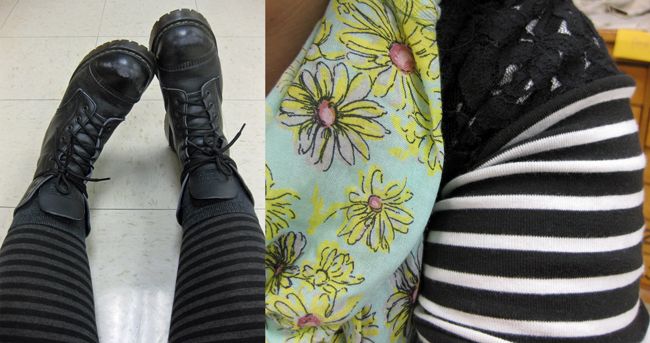 Here are some outfit detail close-ups. I love my combat boots, especially now with my new insoles!
Rock on,
Jen @ Hell Razor