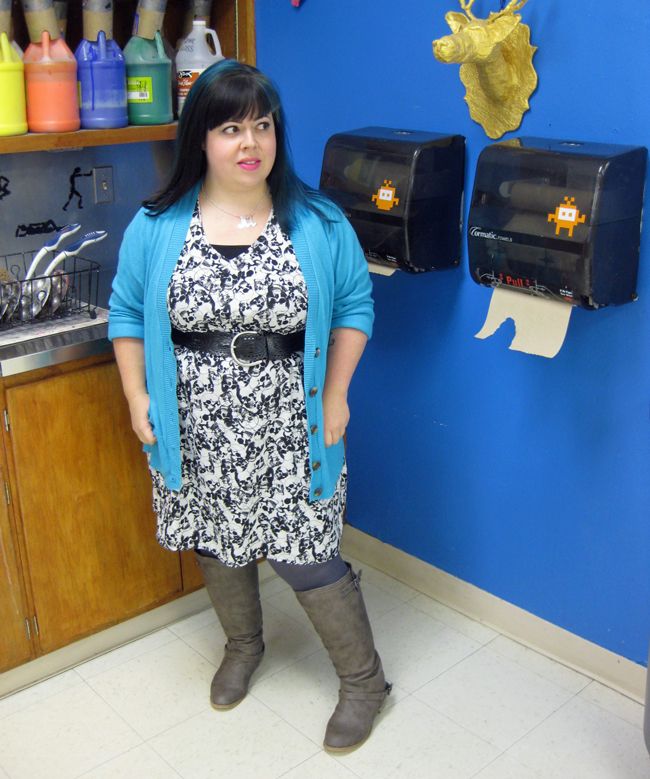 dress - Torrid / boots - Torrid / tights - We Love Colors / sweater - JCPenney / belt - Target? / necklace - handmade from Todd / black tank (under dress) - Kohls
Last time I wore this dress, I was really critical of myself/kind of unhappy with the result, so instead of getting all down and sad and mopey, I decided to go for a round two and challenge myself: how could I style this dress in a way that I'd want to wear it again?
I think I did a pretty darn good job!
I took my own advice and decided to put a belt on over this dress. It's very white, which is out of my comfort-zone, and the print just needed to be broken up a bit. I also prefer the slightly longer length of this blue sweater to the shorter, boxier cut of my denim jacket over this dress.
Ooh you might also notice that I have NEW BOOTS on, too, but then I mixed up the order of my blog posts, so I'll show and tell you more about them in my next blog post. Below, you can compare the two versions of this dress for yourself:
And below, DETAILS: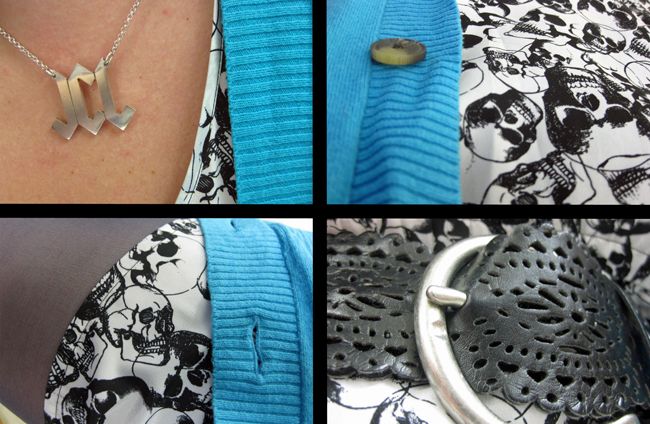 I'm wearing my heavy metal monogram necklace from Todd again. And you can see the gray color of my tights against the blue sweater and black/white print of the skulls dress. Also, my belt, which is quite old and I can't seem to remember where it is from... it's starting to fall apart. Fake leather is separating into layers. Meh.
Any tips on where to find a cool new belt? Let me know!
Rock on,
Jen @ Hell Razor
now playing: