I have a really cool jewelry box.
I bought it at Pier 1
several years ago. I remember saving up to buy it, because it was a little pricey. But I also remember daydreaming about how much stuff I could fit into it! It's perfect for me. It's still one of my favorite furniture pieces, and you can still buy it!
It's not really a jewelry "box," exactly, it's more like an accessories cabinet. There's a ton of drawers. The cabinet doors are like long shadow-boxes for hanging necklaces without having them get tangled. The top lifts up to reveal a velvet-like lined storage area, with a section for rings. It has a mirror on the inside of the lid, so you can check yourself out - but the whole front of the cabinet is mirrored, too. I liked that part because it looks fancy, but also because it fits in with furniture from really any kind of finish. We have dark brownish-black wood furniture in our bedroom. And yes, the walls are blue. I haven't done a tour of our bedroom yet... but maybe soon.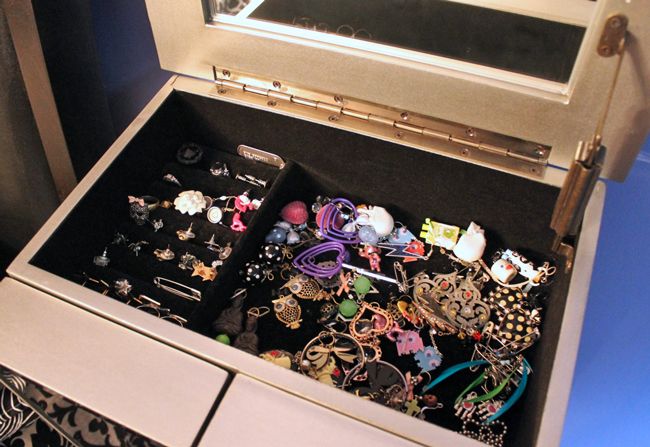 Here is the amazing lovely mess that is the top of my jewelry box. The little ring section mostly holds smaller stud-like earrings. There are a few rings, but I don't wear them often. If I was going to wear rings, they'd be my wedding rings. But they're a little tight right now. And I always end up having to take them off to wash my hands at work. Argh what a pain.
The top of the jewelry box is kind of always messy because I toss whatever jewelry I was wearing that day into it. So it tends to be mostly the jewelry I wear most often.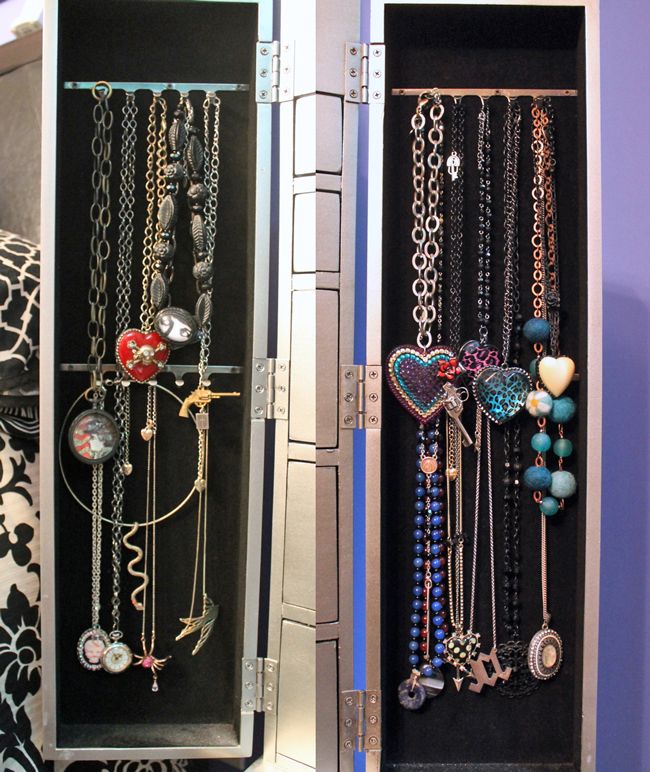 Looking at these necklaces hanging reminds me that I haven't really work a lot of necklaces lately. I wore
my Muggy Tuesday necklace last week for open house
, but a lot of these need to get back into the rotation!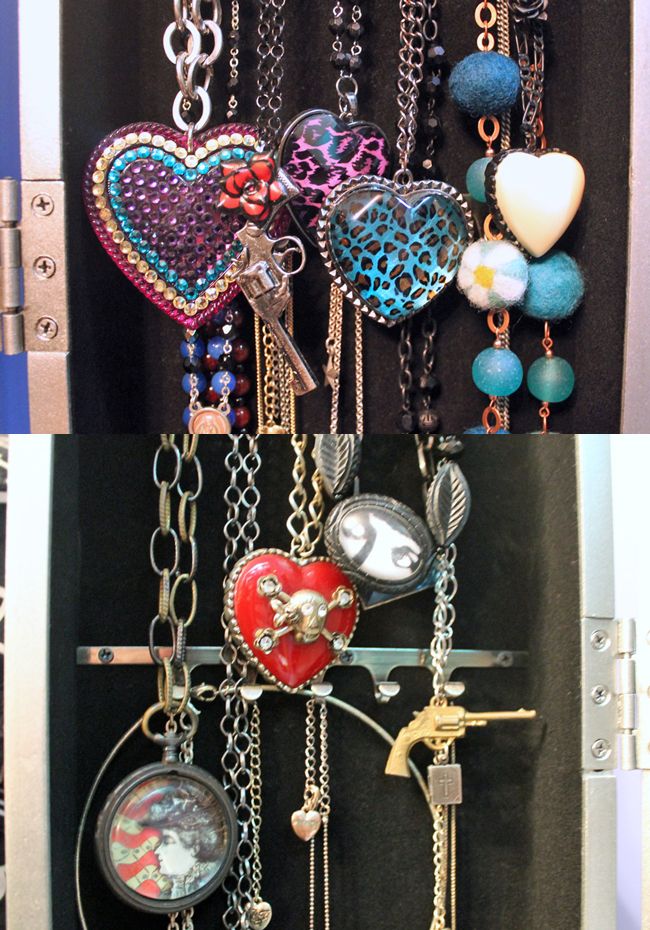 Here are some close-ups of some of my faves. Have you noticed that I have a lot of heart necklaces? A few of them are
Betsey Johnson
, and the
big sparkly heart is a Tarina Tarantino
. A couple others are knock-off generics from places like Kohl's or Torrid. I do have some handmade pieces there, though. The pocketwatch-like necklace with the woman's profile is a
Cristina Beller piece
, and the
Guns & Roses necklace is from Etsy
. The black beaded necklace with the eyes is from
Hotcakes
, and you're already well acquainted with the Muggy Tuesday yarn ball piece. The necklace with the gun & bible charm is one of my early necklace pieces that I just couldn't part with. It makes me giggle.
Now, on to the drawers: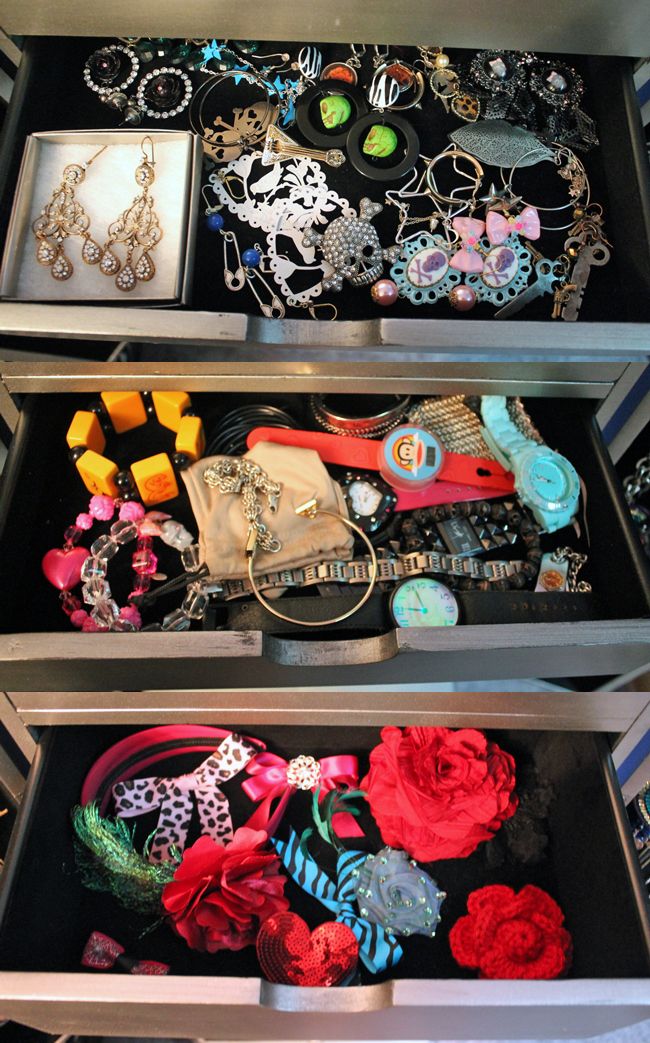 So, I've kind of divided it up into: a secondary drawer for earrings (once the top gets too full!), one for bracelets and watches, and one for some hair accessories (although there's more of those in the bathroom cabinet too... sheesh!). Apparently I haven't peeked into the hair accessories drawer for a while. There are a few "test bows" from when I first started making them. I also forgot about my
Tarina flower
, and there's an awesome crocheted rose from a fellow teacher. I love it!
In the bottom two drawers, I use one drawer for belts, and one for scarves & bandanas:
I thought I'd pull out some of my favorite pieces and share them with you here!
I picked out some of my favorite/most work earrings here, starting with the top left. I own a lot of Betsey Johnson, but I think these two pairs might be my favorites. The lightning bolts are just a symbol I'm always drawn to, and they're filled with sparkly crystals, so even if my hair is down, you can still see them. The pirate dagger earrings are just flippin' sweet.
The
Pixel Party
earrings are from a summer Renegade Craft Fair several years (heck, many years) ago. But I still love them and I always get compliments when I wear them! Plus, they're MS. Pac-Man, so yeah.
You've probably guessed that not only do I love Betsey Johnson, but I also am into Tarina Tarantino. Alas, they are both quite expensive. Betsey I can sometimes find on sale, or at Marshalls... but Tarina, you've gotta save up your pennies! If you watch, sometimes you can catch a 40% off sale - that's how I bought my heart pendant and the light blue skulls with bows. The dangly chandelier earrings I paid full price for, way back before I got married (you know, extra $$$ before you had kids?!) when I stumbled across them at Nordstrom. I guess I'm actually lucky that she does not have a store in Chicago, so it forces me to not buy more stuff. I gotta go online and intentionally buy it. Easier to resist.
I own one single
6% Doki Doki
hot pink unicorn earring. They're sold individually like that. I first saw it on the
Electric Alice webstore
, but they were sold out. This triggered a weeks and weeks man-hunt to find it for sale on another site. The site was half in English, and half in Japanese, but I went for it. I think I paid just as much to ship as I did for the damn earring. I sure wish I'd bought two of them, because they'd be sweet as a set. Alas, the original site I ordered from is no more, and now I can't find it anywhere. So at least there's this guy. I think I would actually cry if I ever lost it.
And lastly, my trusty skull-and-crossbones studs from Claire's boutique. Good old Claires. I never actually shop there normally. In fact, I try to NOT shop there, normally. But, years and years ago, I went to Panera one day and the girl behind the register had these on and I flipped out "WHERE DID YOU GET THOSE?!" (oh I should mention that this was prior to skulls being EVERYWHERE) and she told me that they were from Claires. It was probably around Halloween. I hauled my behind to Claires immediately and bought these. Surprisingly, the quality is excellent! And I've had them forever. And I wear them a lot. In fact, I'm pretty sure they're on me on my staff/school picture this year...
Okay, just a few more. These crazy pastel skull creations come from
Insanely Sweet
, which is a super cute and amazing Etsy shop.
The dangly key earrings with tiny gun charms are from
4 Miles 2 Memphis
, which is
Danielle Colby
's shop in Chicago. Yep, she's the girl from
American Pickers
. She makes cool things from stuff she finds. And I like gun charms even though I can't (shouldn't) wear them to work.
And this rhinestone skull brooch is a really really really old purchase from Urban Outfitters. Don't try to find it there, I think it was like 2004 or something. Ugh I'm old. But I have sweet brooches from long ago.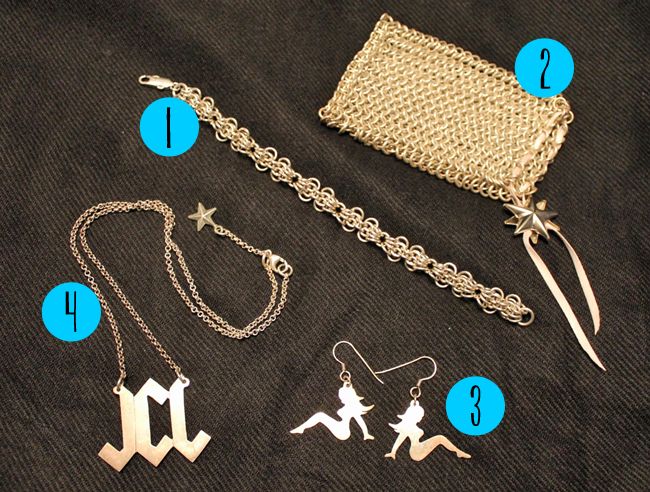 And lastly, here are some of my most favorite pieces ever. They were all made by my husband, Todd.
#1. This is a chain mail bracelet that Todd made and gave to me when we first started dating. He buys silver in wire form, and wraps/cuts/bends his own links. Isn't that amazing?! He also makes me jump rings for my Hell Razor jewelry. They're the best!
#2. This is a small drawstring chain mail bag that Todd gave to me when he proposed. My engagement ring was inside. I'll share the story of the rings another time, but HE MADE THIS BAG! Incredible.
#3. These trucker girl earring charms were cut and filed by Todd from metal sheets. He surprised me with these while we were still dating. The detail kills me!
#4. This might be my favorite piece out of this bunch. It's my heavy-metal-font monogram (JCL), also hand cut and filed from metal by Todd. He had me choose the exact length I wanted before he added the chain, and we even went to the store to choose the perfect charm for the end, which is a nautical star that hangs down the back of my neck when the necklace is clasped shut.
So, there's a zillion other jewelry pieces in my collection, but this is just a quick look at my favorite pieces. It was fun to dig through and pick them out to share! Do you have any unique jewelry pieces, or items with a unique story attached to them?
Rock on,
Jen @ Hell Razor