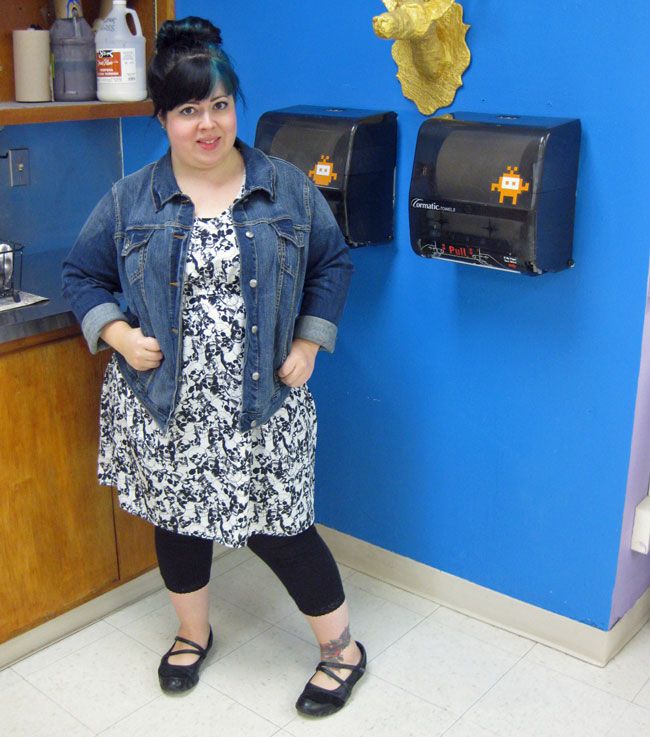 dress - Torrid / jacket - Torrid / leggings - Torrid / shoes - sketchers / earrings - Claires
Today was kind of an awkward day. I had a hard time getting any pictures I felt were even acceptable. You know, one of those days where nothing seems to look or feel quite right? Just a "meh" kind of day. That was this day. Don't worry - they get better though.
Today's uniform: standard leggings + shoes. Skull patterned dress from Torrid. Denim jacket. Looking at these photos, I think there are a few things that I would change: 1.) my denim jacket needs some sweet buttons on it, and 2.) this dress came with a belt, so I need to utilize that next time. The fact that this dress is mostly white meant it was kind of a risk (for me - I'm not usually a "white" clothing fan) when I bought it, and now that I see the photos, I feel like it needs to have the pattern broken up more... via a belt or something.
The pattern close-up is super cute. I love the skulls. Also, this denim jacket is amazing. There are little worn patches, and the fabric is broken into a "just-right" state of softness. And I have short t-rex arms, so I always roll up the sleeves. Plus, ease of hand-washing for the art teacher.
As I've complained about a zillion times before, it has been several weeks of ridiculously hot and miserable and humid weather. Ugh. So today you see my "it's too hot to live" hairdo, which also is the same as my "I don't feel like washing my hair" hairdo. On this day, it was both.
Also, a close-up of my favorite cheap-o but
amazing skull earrings from Claires
. My favorite.
Rock on,
Jen @ Hell Razor