dress - Torrid / leggings - Torrid / shoes - Sketchers / shirt - Macy's / necklace - ? / bracelets - Tarina Tarantino
Are you getting sick of my string of OOTD posts yet? Well, it had been so long since I'd actually done them... I've got a lot of things to show you! Like this amazing dress from Torrid! I bought it online over the summer, but I was at Torrid this weekend, and it's IN-STORE!
It can be a tricky dress to wear due to the sheer back, and I normally enjoy a good cardigan or denim jacket, so I had to think a little bit differently. Enter the striped 3/4 length tee. Did you know how I love stripes? If you've been reading for a while, you're more than familiar with this fact. It sucks when you're a curvy girl though... to wear stripes... but I don't care too much. I do it anyways.
The only thing about dresses from Torrid that I am not in love with is the length. It could stand to be just a couple of inches shorter; but I am a short girl, and I may get some energy one day to fix this a bit.
Lately, my free time is going into making more and more flowers. I haven't listed any new flowers on Etsy lately, but it doesn't mean I've stopped making stuff - by far! I've had a good run making flowers for people I know - custom requests - and trying to re-stock for my upcoming shows!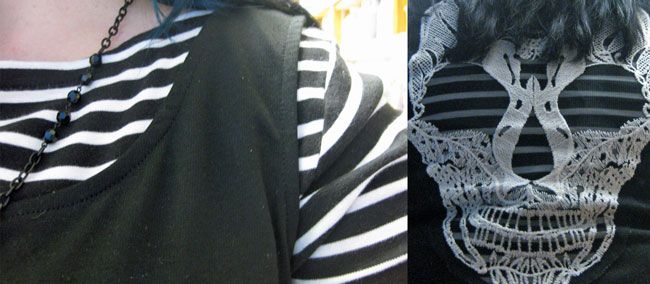 Here is a close-up detail of the super fun and amazing skull back on this dress. You know what else would have been nice? Some type of embroidery on the hem of the dress in white, too. Now that the weather is getting cooler, I can't wait to style this dress up with some colorful tights and a scarf. (Ooh - to-do: find a couple of fun new scarves for the fall...)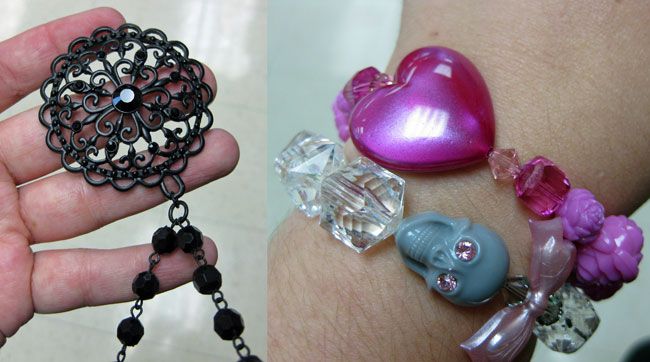 I can't for the life of me remember where I got this necklace from. If I had to guess, I'd say Forever 21... but it might have been Kohl's... or any other chain store, like JCPenney... I went through a "long necklace phase" back before I was pregnant, and I'm trying to re-love them. If it doesn't work out, I'll end up cannibalizing them for new jewelry pieces. Reduce, re-use, recycle, right?
These two bracelets are from my tiny Tarina Tarantino collection. I had not worn them in a while, and they left marks on my fat wrists. Didn't realize it was that long ago... sigh.
Rock on,
Jen @ Hell Razor