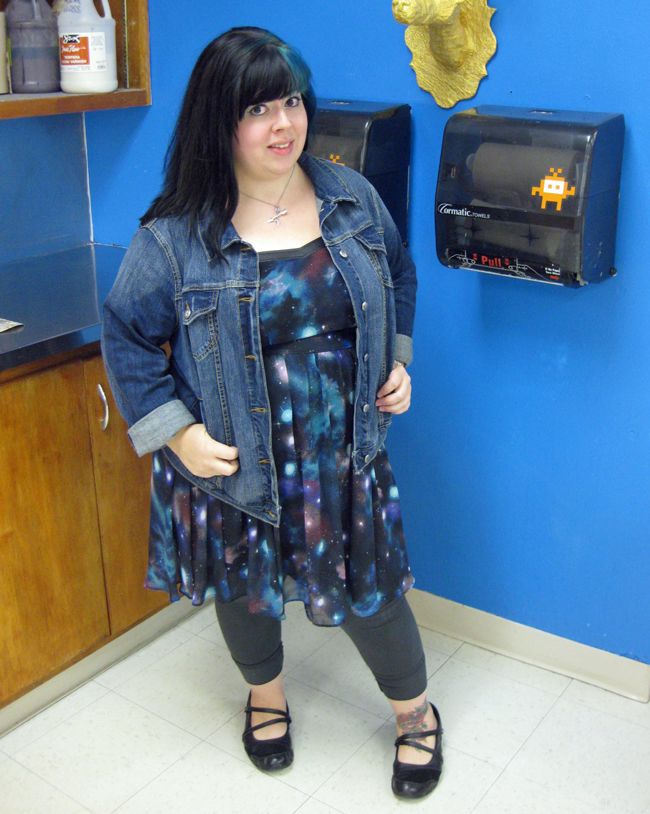 dress - Forever 21+ / jacket - Torrid / leggings - Forever 21+ / shoes - sketchers / necklace - ModCloth
Hey, I'm finally getting my butt in gear to do some outfit posts! Yippee! Basically, if I get to work early enough, I'll snap some photos before the day begins. I did pretty well this week and I have several new dresses to share over the next few posts.

Right before school started, I was browsing Forever 21+ online and spotted at least three different "galaxy" print dresses. I narrowed it down to a couple with prints I liked the best, and then used the online reviews in order to make my final choice. I'm pretty happy with this one. It's very flowy and airy, but there's an underlayer that keeps it from being totally sheer. The dress has spaghetti straps, so I'll always wear something over it. In this case, my Torrid denim jacket that's kind of became my new favorite thing to wear over pretty much anything else.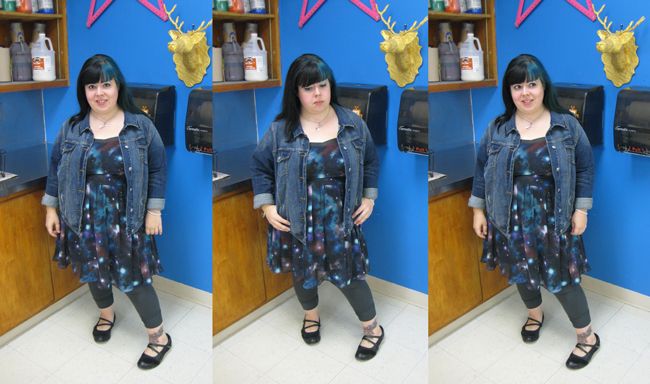 I like having pockets accessible all of the time. I can carry my phone and my keys around with me, and not have to do the whole "oh where did I put my keys?!" spinny dance every time I need them. And if I don't carry my phone around with me, I end up putting it in my desk, forgetting that it's there, and leaving it there. More than once I've had to go back inside at the end of the day because I left my phone in my desk.

Here's a close-up of the galaxy print. And the sheerness. What you can't tell 100% in these photos is that I had to fold my leggings up to make them more capri-style because I'm so flippin short. I wish it would get colder so I could wear my boots. But noooo, because it's September - so why not be 90 degrees?!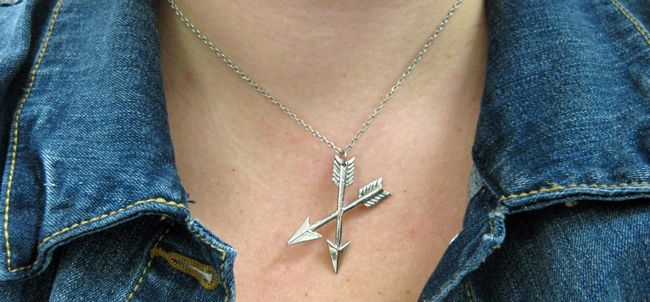 I like this necklace a lot. I remembered that I had it when I was digging around
in my jewelry box for that post
. I think it was a Christmas gift from my mom. But my mom is awesome so I just made an online wishlist on ModCloth and she likes to order online, so that's what happened.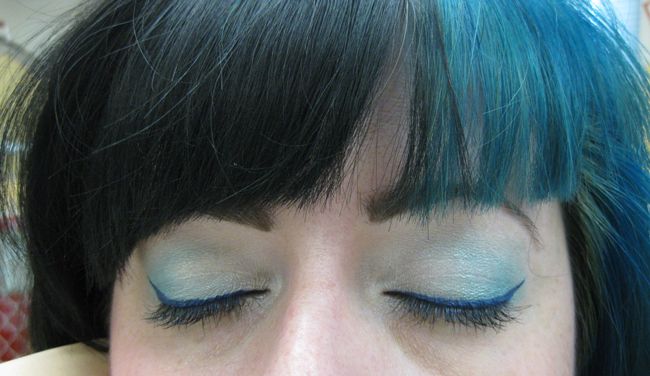 I think that my makeup turned out pretty good today. Silvery and blue shadows with a dark blue MAC gel liner. Right before this, I discovered that my black MAC gel liner is dried up and I need to buy a new one. Sad face.
Rock on,
Jen @ Hell Razor