dress - Forever 21+ / vest - Forever 21+ / leggings - Torrid / shoes - Shoe Carnival / earrings - Betsey Johnson
After reading about fashion trends for Fall, I became convinced that I needed to have a denim vest for the fall. I looked around online (the biggest issue always being the finding of something in a "plus" size) and decided on this lace-back version from Forever 21+. I really like that they have reviews online, because I definitely read them before I place an order, just to see how the sizing is, and sometimes for a little insight on the quality, too.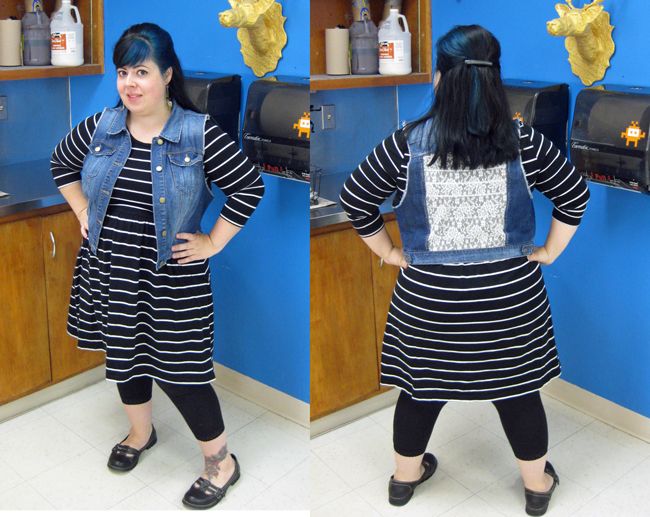 Does something about this seem a little familiar? You have, in fact, seen this dress before
here
and
here
. It is super comfortable, and easy to mix with other things! Plus, my love of stripes. This dress has proven itself time and time again to be an amazing purchase for its ability to be re-styled in a variety of ways.
Above is a close-up of the lace pattern. I typically prefer a darker denim shade, but this works. Also, today I tried to wear different shoes, because it sucks to take outfit photos and ALWAYS have the same leggings and shoes on. Boring. Sorry guys.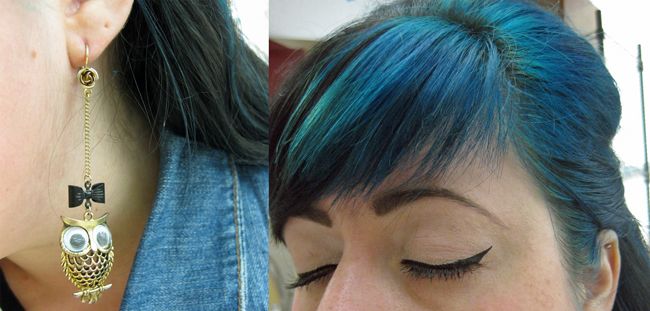 My hair felt kind of dirty, so I decided to back-comb the heck out of it and pull it up, which seemed to work for this day. My eyeliner turned out pretty good - which is a good thing because when I wear super neutral shadow (this is MAC Yogurt), the eyeliner really stands out, along with any mistakes!
My earrings are Betsey Johnson. I've had them for a few years, and they just don't get worn as often as I'd like. Plus, how often can you rock earrings with googly eyes? Today, for sure!
Rock on,
Jen @ Hell Razor