dress - Vera's Eye Candy, via Etsy / leggings - Torrid / shoes - Sketchers
I found
Vera's Eye Candy
through
Instagram
. I don't really remember how, but probably someone I follow posted something that they had posted or something like that, and I clicked over to the profile and I was all "whoa." So I started following them and admiring the designs.
Then one day I left a comment on a post, something like "Hey do you ever make these dresses in PLUS size? Because I'd love to buy one!"
And to my surprise, they (presumably "Vera" herself) commented back that they'll make ANY size, I just needed to send my measurements in when I placed my order. Again, "whoa."
Her dresses run from $39 to $79, depending on the style, and all I had to do was click to purchase the dress that I wanted, and list my measurements (bust/waist/hips) in the comments section. She does carry some standard sizes, like XS to XL, and the measurements of each are noted in the listing.
But I am not those sizes. I'm more like a 16/18 size, which, depending on the store, is more like an XXL or larger. I fully expected to incur an additional charge for this larger size, too, but I received a convo back letting me know that there wasn't!
I chose
the Slayer dress
for my first purchase, but I'm definitely eyeing an
Iron Maiden dress
for the future. Her designs aren't all strictly heavy metal, either. She also makes designs featuring
Bob Marley
,
The Smiths
,
Hole
, and even
satanic pizza
!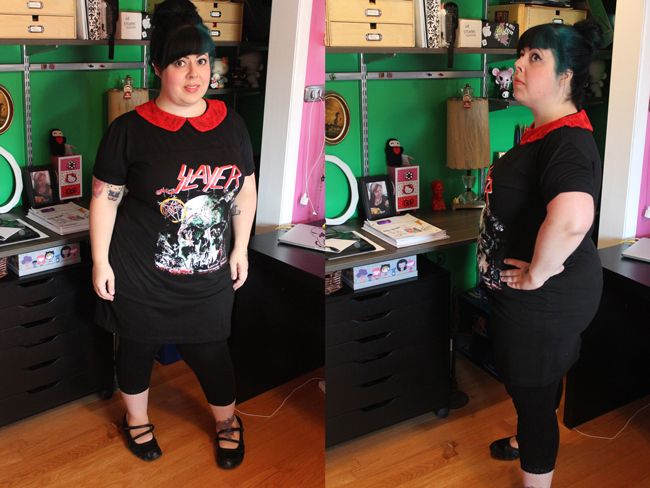 I don't know if Veronica realizes what a goldmine she has here, but by offering custom larger sizing, I want to order like a million more dresses from her and also to tell all of my friends to order from her, too.
The most important/awesome part of the entire transaction was that I wasn't meant to feel weird or "special" for needing a larger size - I was treated totally like a normal person, like it wasn't a big deal, and it's sad that this means so much to me, because hey, shouldn't this be ALL THE TIME, EVERYWHERE?
So, go ahead and admire
Vera's Eye Candy
, but don't be fooled by the slender models! You too can have one of these amazing super fun dresses (and you will look just as cute)!
Rock on,
Jen @ Hell Razor