dress - ASOS curve / leggings - Torrid / shoes - unknown / necklace - Muggy Tuesday
Hey, I think I've seen this dress before!
Yes, you have
. My best-laid plans keep getting thwarted due to this really annoying hot and humid weather we are having in the Chicago suburbs. I'm supposed to be enjoying fall fashion and shopping for boots. Waaaaaaahhh.
Tonight, only one week and two days after school has started, we have Open House. Maybe you call it curriculum night or something along those lines. I introduce myself and say something awkward that I perseverate on for hours afterwards. Put me in front of a room full of kids, and I have it under control. Put me in front of parents, and I'm all "durrrrrrr."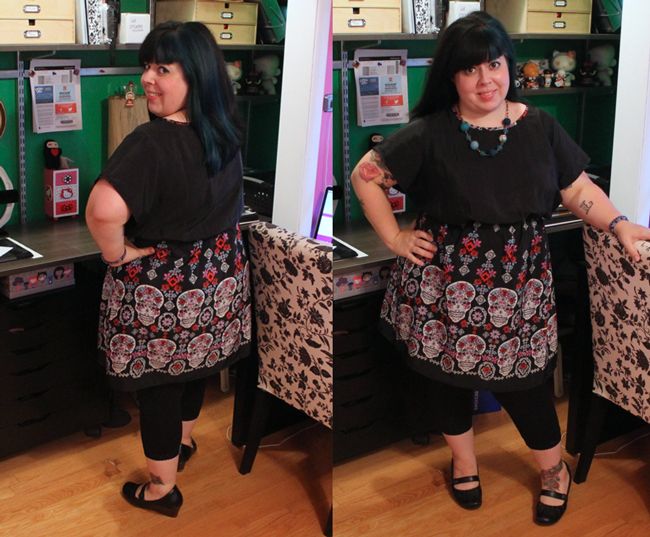 One day soon I will get to show you some of my new work dresses and such. But today you get this one again, only very very slightly accessorized differently. Black leggings vs gray, a slight wedge heel vs flats, and
a necklace
! I've had this one for a while, and I don't wear it as much as I should. It looks good with this dress! I was also told that it matched my hair. Well what the heck then.
Here wanna see how cool my scar is?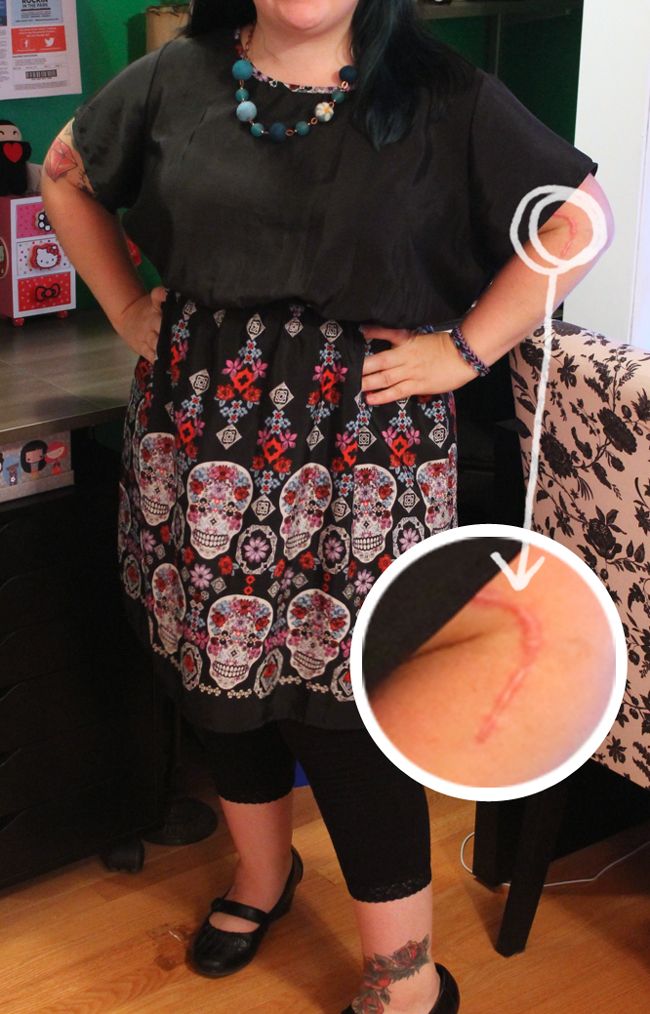 It's like a gross pink worm on my arm. My skin has a tendency to keloid, which is when your body has an overgrowth of scar tissue. I'm an overachiever, what can I say? Also, do not look up keloid online, the pictures are quite disturbing. Don't say I didn't warn you. Also, if my talking about a scar is horribly confusing to you,
the story behind it is here
.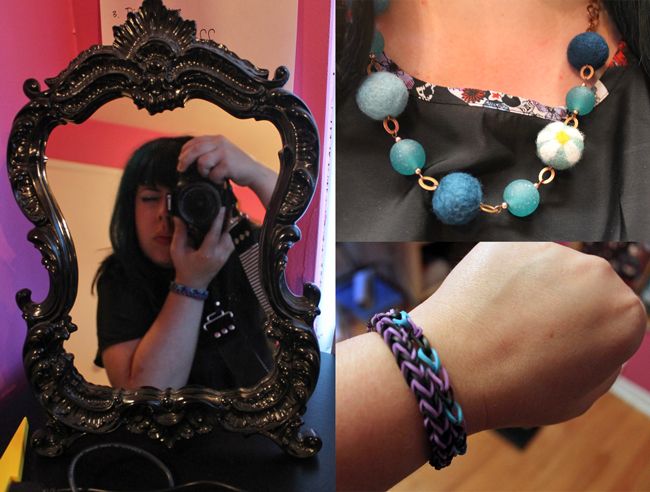 Here is me taking a picture in my studio mirror. Then there's a close-up of my cool yarn ball necklace. I actually bought it several years ago at the now-defunct
Constructor Craft Fair
. That makes me sad.
Also see my rainbow band/rubber band bracelets. The pink, black, and turquoise one was made for me by my nieces. The purple & black one was made for & given to me by one of my seventh grade students. Heck yeah!
Rock on,
Jen @ Hell Razor
p.s. don't forget to
enter our giveaway (posted on Monday) for a free Diamond Candle
!