tray, IKEA - glasses and kitchen towel, Target - pitcher, Crate and Barrel - purple sugar bowl, vintage
Just over a year ago, I gave you a little
tour of my dining room
. We've done a lot of work this summer to update our home spaces and make them feel more finished, so I'd like to share an update with you and show you some of our new changes!
Our paint color (and stripes!), general layout, and tall corner cabinet have remained basically unchanged. I love having a dining room with purple walls! But we have new furniture, curtains, and artwork to share!
Our dining room is at one end of the kitchen, which creates a large open area, great for hosting parties and having friends over.
I'm going to start by talking about the biggest new change in the room: our dining table!
Our dining room table was a little bit of a splurge, since we've never had any "real" grown-up dining room furniture. I wanted to make sure that I got just the right thing. I briefly considered trying to persuade Todd into helping me make a dining room table using old wood for a tabletop, but then we'd have to source it all out, secure power tools, actually do all the work, etc etc etc... OR, I could just buy this beautiful piece that had awesome metal legs that looked very industrial, with a reclaimed wood top all ready to go. This is the
"Flatiron Table" from Restoration Hardware
. And (compared to their other pieces) it's not as expensive as you may have thought.
Our old table was a laminate top fake wood monstrosity - I kept it covered with a tablecloth at all times to hide the ugly. This new table is something I want to show off all the time!
I'd been window shopping for chairs for the last several years, trying to find just the right ones. Our old IKEA chairs had served us well for many years, but it was time to upgrade. The first thing I discovered was - holy crap are chairs expensive!
I knew I really wanted upholstered chairs that were easy to clean (with Iggy and all). I also needed chairs that would look good with our new table, but also fit into my style - slightly retro, non-traditional, fun, and comfortable to sit on!
I decided on these
green upholstered chairs from World Market
. They were within the "reasonable" range of my budget, although I was really sad that they no longer make them in blue or purple. So I settled for green. I think that the green still looks really great in the space.
We can easily fit four chairs around the table in the dining room, but any time we had visitors over, we'd end up dragging some folding chairs up from the basement. I thought that it would be nice to add a couple of small stools to the ends of the table to accommodate a couple of extra diners when the need arose. When we went to pick up our green chairs at World Market, we stumbled across these
short black metal stools
- and they were 50% off! Woo hoo! So, two stools (for the price of one), and we were all set!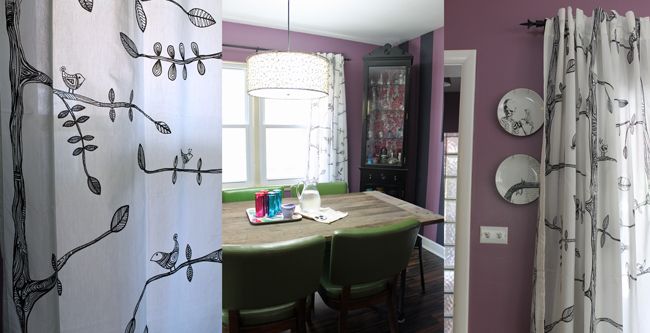 I fell in love with the pattern of
these curtains
when I saw them in my friend Beth's nursery. They're from IKEA (you have to hem them yourself!), and the amount of light it lets into the room is amazing. At night, we still have our privacy. Oh yeah, and they're $14.99 a pair! Bonus!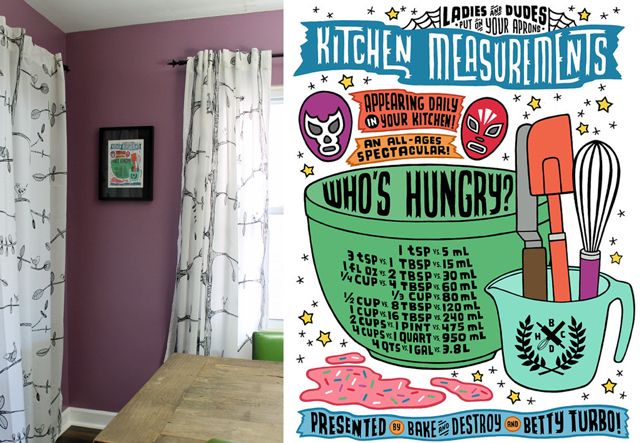 I bought this
Betty Turbo x Bake and Destroy print
via Etsy and it looks really cool in the dining room.
My
Josh Howard tattoo print
was hanging in the dining room already, but I added this
"Strange and Unusual" Beetlejuice print
(via Etsy) in a matching frame, and I think it fills the wall space perfectly.
My
original dining room post
talks more about my corner barware cabinet, if you're interested. You can also read about my
mix-and-match dishes here
.
Rock on,
Jen @ Hell Razor