Several weeks ago, I was contacted by
Diamond Candles
about doing a review/giveaway for their product. Hey, who doesn't like candles, right? Especially free ones?
They're very active on
Facebook
and
Pinterest
(actually, they seem pretty up on their
Twitter
and
Instagram
, too - whoa social media mavens!), so I had seen this concept mentioned before. The special "twist" to their product is that each candle they sell has a ring in it, and your ring will be valued at either $10, $100, $1000, or even $5000!
I'm not usually one to rush out to buy something on a gimmick, but I wanted to be fair and give this a shot. I'm going to go ahead and assume that most of these candles contain the $10 range rings in them...
I selected a "Carnival Candy" scented candle to try out. I was surprised how fast it arrived, within a week or so? And when I opened it up, it smelled really good! Kind of cotton candy-ish, kind of bubblegum-ish. And I should probably mention that I'm a little picky when it comes to scents. Also, Diamond Candles are made from soy.
I was a little worried that the scent would be too strong... but it was nice and mellow. I was surprised by how much I enjoyed it! (If you've read any of my previous reviews, you know I'm
not afraid to tell you if I'm not impressed with something
...)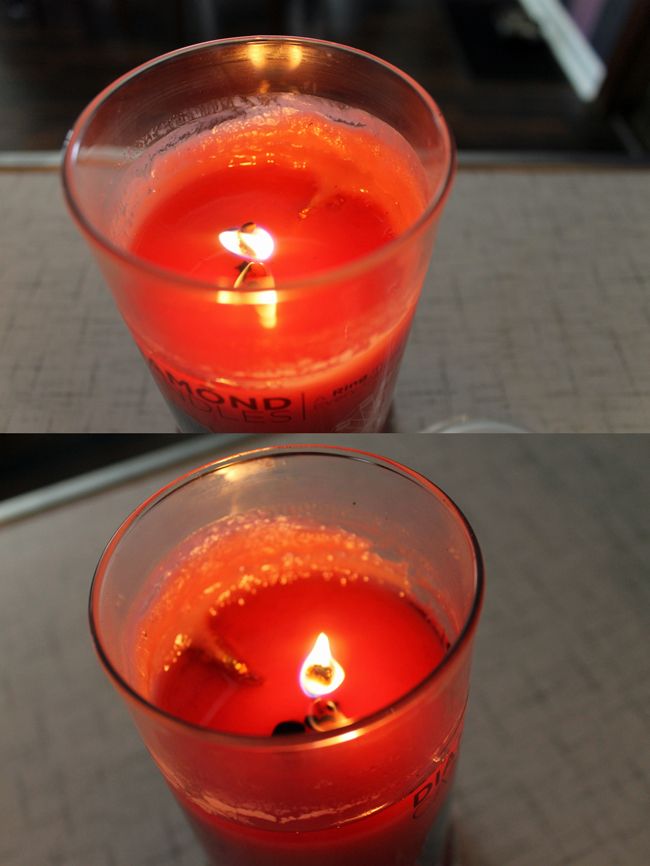 You can see how as the candle burns down, the gold foil of the ring's "packet" begins to show. The wax melts pretty nice and even. I made sure to burn it for at least a couple of hours each time.
Once the wax melted down far enough, I carefully fished out the foil ring packet using a pair of tweezers. Ooh the suspense.
Inside the foil is your ring, wrapped in a plastic bag. Don't burn yourself on the wax, let it cool down first!
My ring was a simple silver band with an orangey-looking gem. No markings. This tells me that it's a $10(ish) ring. It's simple and modern and pretty, but no "jackpot" for me in the ring value department. Eh, no biggie.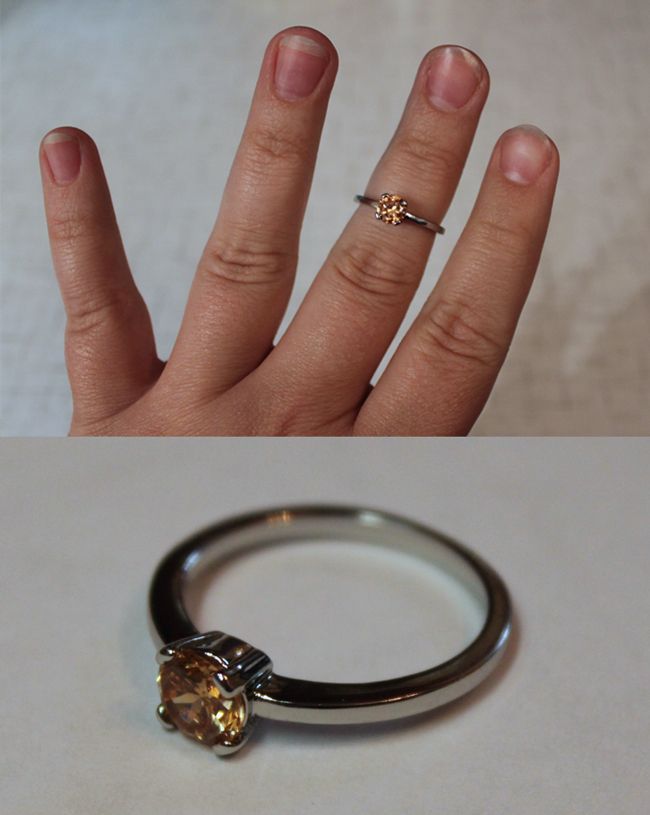 Diamond candles retail for $25 each - not bad at all when you consider that Yankee Candles cost about the same. And honestly, I like the smell of this one WAY better than most Yankee Candles.
For me, the ring concept is just gravy. I don't recommend buying it IF you think you're gonna score big with a fancy ring. But I DO recommend buying it if you're looking for a good candle that smells nice and lasts a while at a reasonable price.
...Or, you could just WIN ONE from me right now! Woo hoo! This contest will be open for the next 2 weeks-ish (official end time on the Rafflecopter widget below). I'll announce a winner here after that time. (By the way, I should mention that this is our first official giveaway hosted here on the blog - ever! How exciting!)
a Rafflecopter giveaway
UPDATE (contest has ended): Congrats to Yolanda R! You are the winner! Check your email for details!
Rock on (& Good Luck!),
Jen @ Hell Razor