I wanted to share a website I found that makes custom board-books with your photos. I made one for Iggy recently, and I was really happy with the result!
For a while now, I had been thinking about making a book for Iggy. Initially, I had considered making an "alphabet" book, using a service like
Snapfish
, which is where I usually order my digital prints. Plus, my mom and mother-in-law are already familiar with the site/service, so it makes it very convenient for them to order photos that I've taken and shared.
The only issue with
Snapfish books
(as far as I can tell, correct me if I'm wrong, but I did search around) is that they all have paper pages. Iggy's at the stage of life where he loves to tear-out the flaps of anything that folds up in a book, so I was hesitant to buy a book where he might possibly rip the pages...
So, with that in mind, I was super excited to discover
Pinhole Press' "Mini Book of Names and Faces!"
For $30, you can create a 25-page (13 photo) book with faces and names of family, friends, pets... anything, really...
The size (5.25"x5.25") is perfect for little hands, and the sturdy board-book pages are sure to last us for a long long time. I took a while to decide on the order of the pages I was laying out, and I also had to combine a few pages (put grandmas and grandpas together on one page) in order to fit all of our family members in one book without leaving anyone out, but I am really happy with the final result.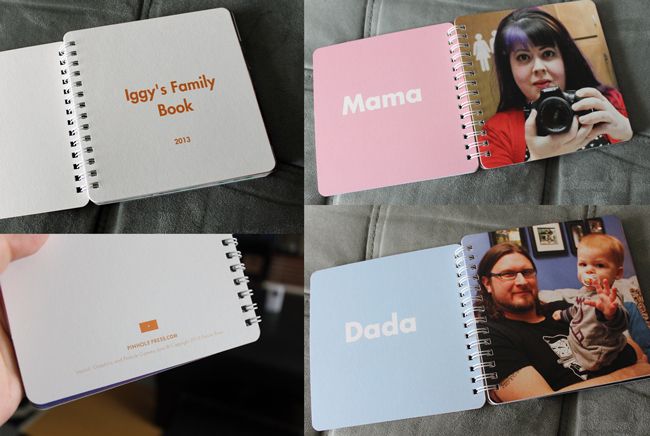 Here are some close-up shots from our final book. The web-based book design process will warn you if your photo quality is not up to snuff for the final printing, so you can choose different photos or find a higher resolution version if need be.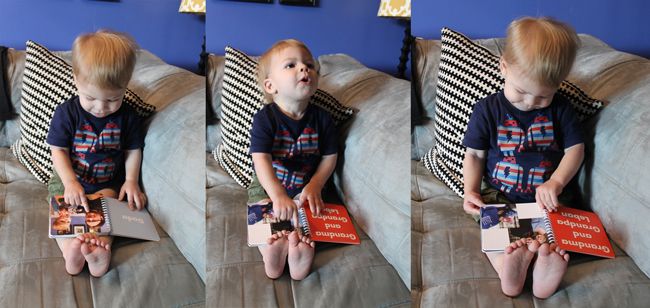 My only complaint would be that I'd like to get to pick the background color of the "names" pages. Or maybe to have the option to change the fonts? But I'd bet that having a pre-set layout is one of the reasons the price is so reasonable for this item.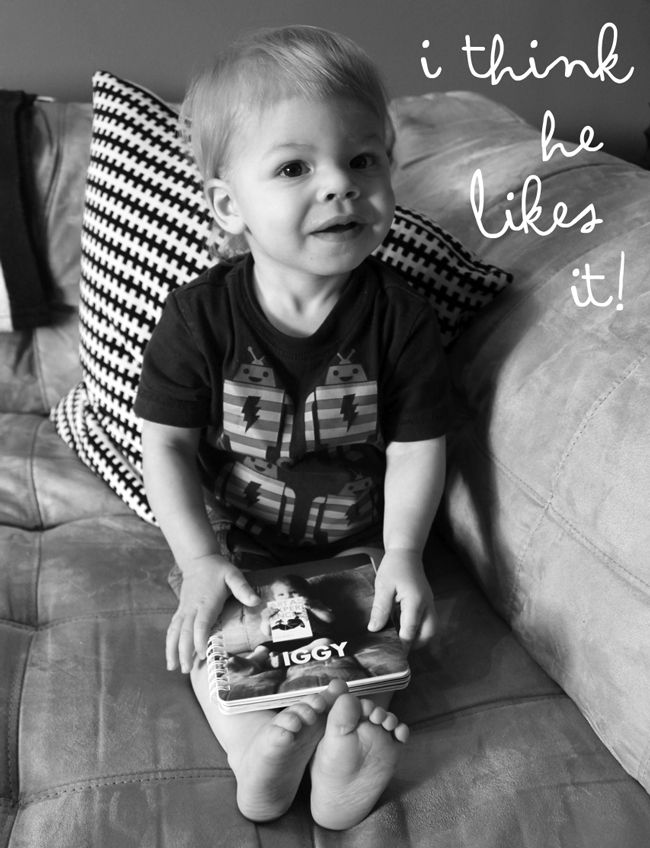 As Iggy is becoming more and more of a talker, it's fun to use the book to practice names of his family members (and impress our friends!).
Also note: I did not receive any items for free, or promotional consideration, nor was I contacted by the company. This is an item I personally purchased and was very pleased with, so I thought I would share!
Rock on,
Jen @ Hell Razor