Hey guys!
If you're anything like me, you probably hate to clean...especially large spaces...Throughout the years I have constantly tried to find shortcuts on cleaning. I've found that there aren't many...(you're pretty much stuck scrubbing and dusting...) BUT I
have
been able to fid some solutions to pesky home maintenance issues! Here are 3 quick tips on some common fixable annoyances!
Jerk Sink or Bathtub Stains VS Clorox Bleach Spray Cleaner
BAM!!!
I LOVE this stuff...I have an old school cast iron sink that gets stained easily. All I have to do for this result is spray down the sink with the cleaner, let it sit while I sweep the kitchen floor, and then take my sink water sprayer thingy (yeah...I'm REALLY domesticated...) and spray down the sink with water... DONE!
**(
NEVER
EVER use this product (or bleach in general) with ammonia because it will kill you (no joke) and do not use it on fabrics because it will bleach your stuff...it IS bleach after all).**
Annoying Sticker Goo VS DW40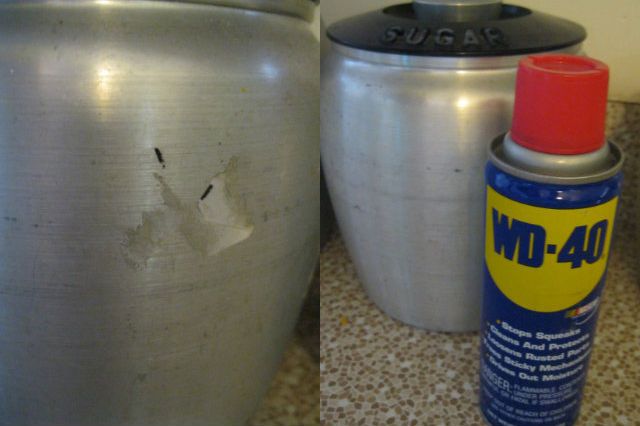 OH YEAH!
DW40 is awesome...It keeps stuff from squeaking AND it beats the CRAP out of Goo Gone. It also doesn't smell as bad OR leave a greasy feeling slime on your stuff. I would spot test your item before you put WD40 on it, but I've had luck with it on many different hard surfaces.
Hellish Heat Stains VS Vaseline
WHAT!?!
(This one's my favorite!) Say your wonderful husband puts his hot coffee cup on your 1940s real wood radio & record player...and it leaves a heat ring / stain. No worries! If it's real wood and is not missing varnish, take some vaseline and slather it over the stain. Leave it there over night and wipe off in the morning (sometimes I will even massage it into the wood grain a little). Your heat stain is USUALLY gone...If that doesn't work, you can try an iron and some steam, but I've never had to try that....Knock on wood...HA! ok...
If you guys have any sweet cleaning or home maintenance tips, PLEASE let me know via comments!
Until next time! Stay clean my friends! ;)
~Steph @ Calamity Layne