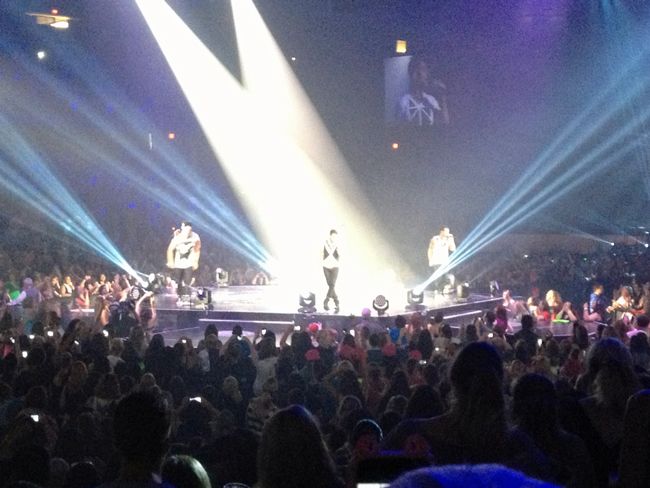 I have a knack for ending up at stuff like this.
Remember when I went to the midnight release of the Twilight movie?
Yeah, it's like that.
Earlier in the year, my sister-in-law was commenting how she had no one to go to the NKOTB concert with this summer. Knowing how much fun I have hanging out with her, I piped up, "I'll go to the show with you!"
She didn't know at first if I was joking or not, so I reminded her of how much fun Twilight was, and said I was totally serious. Although I was also willing to pay my own way, she bought my ticket for me! It was a show with 98 degrees, Boyz II Men, and NKOTB - the "package" tour.
It was several months off, so I marked it on my calendar and semi-forgot about it until the date grew closer. The day before, I received a text from my sister-in-law:
On the day of the show, my sister-in-law picked me up and we grabbed some food before the show. When we walked into the venue (the gigantic All-State Arena), I showed the security guard my ticket, and opened my purse in preparation for having it searched before I walked in.
My ticket was scanned, and I was waved into the arena.
Wait...what?
I looked at my sister-in-law confusedly. Apparently, I must go to concerts with a way more unruly crowd, and NKOTB fans are nothing to be worried about? I'm used to getting my bag searched AND usually succumbing to a pat-down before being granted entry to a venue. Hmm.
Okay.
When the concert started, I was actually stuck in line to buy beverages, but I was only two people from the register, so I stayed where I was. The conversation in line was quite interesting. Girl behind me was whining about how she wanted to get a tattoo but the artist wouldn't do it because it was too small and wouldn't look good for very long. Whining like it was a bad thing. I wanted to turn around and tell her that this is a REAL THING, and that she should be happy that she went to a place that was honest with her and didn't just take her money and give her a crappy tattoo. But I didn't. She didn't seem like the type that would appreciate that.
The crowd was the hardest part of the show. I felt really really out of place, even though I was somewhat in the right age bracket and gender for this show.
But let's talk about the show. Boyz II Men went on first, which confused me a little. I would have thought that the order would be: 98 degrees, Boyz II Men, and then NKOTB, but nope. Boyz II Men played 7 songs or so? I recognized them all (ahh, middle school!) but it seemed like a very short set! Wanna check it out? Here ya go:
Then, 98 degrees went on. They played longer (or maybe it just seemed that way), and I don't think I recognized a single song in their entire set. Eep. A few guys seemed to be a little "off," vocally, but I dunno since I'm not familiar with the band, maybe it was supposed to sound like that? Also, their choreography and lyrics just made the whole set really sad. Like a bunch of guys in their late 30's singing and dancing to their 15-year old compositions? I was kind of embarrassed for them, but no one else in the crowd seemed to notice except me... Then one of them yelled out "Hey how many of you have been fans since 1998?!!!" And the crowd went wild. Well, I graduated in 1997 and I certainly knew as a high-schooler that 98 degrees was lame at that time. Was I older than most of the crowd? Again, confused.
After a short break, NKOTB (if you haven't figured it out, that's New Kids on the Block) came onstage and played a bunch of songs in a row that I DIDN'T EVEN RECOGNIZE! What? Apparently they've been putting out albums and I didn't know anything about it. But many many many of these girls did. Apparently there's a cruise you can go on? Ugh. The whole thing made me kind of sad, like why are these women trying to re-live grade school or middle school or high school like this? Didn't their school experience suck as badly as mine and they never ever ever want to go back to that again?
I must be in the minority.
Okay, but then NKOTB started playing some songs that I did know. Which basically is any song off of "Hangin Tough" or "Step by Step." I was under the impression that that was essentially the end of NKOTB, but (as I stated earlier) they seem to have had quite a bit of success after that. Go figure!
I really wanted them to play "Funky Christmas," but seeing as it was mid-July I knew there was about a zero percent chance of that happening. Wah waaaah.
Overall though, the NKOTB show was extremely entertaining! There was confetti and lasers and balloons and pyrotechnics and stage pieces that levitated and revolved, so there was always a lot to see to keep you from getting bored. I had a great time hanging out (hangin tough?) with my sister-in-law, as usual, and it was really fun to get to see how much she enjoyed it all.
After the show, I had my first ever Cranberry Lime-aid from Sonic. It was yummy.
Rock on,
Jen @ Hell Razor