I've shared some
home inspiration posts about my little bathroom
in the past, but we've never had the money to properly "gut" and re-do our little bathroom. In fact, we still don't! But my husband and I have made a few simple and small changes to really update the space and make it more "us."
The bathroom is covered mostly in vintage pink-ish tile, which I actually don't mind too much. The thing I most dislike is the shower, but since it's our only "back up," we'll deal. The original floor had tiny tiles in shades of pink and such, but the previous owner decided to stick brown stone-effect 12" vinyl tiles all over it, rendering the original floor a sticky mess when we pulled it up.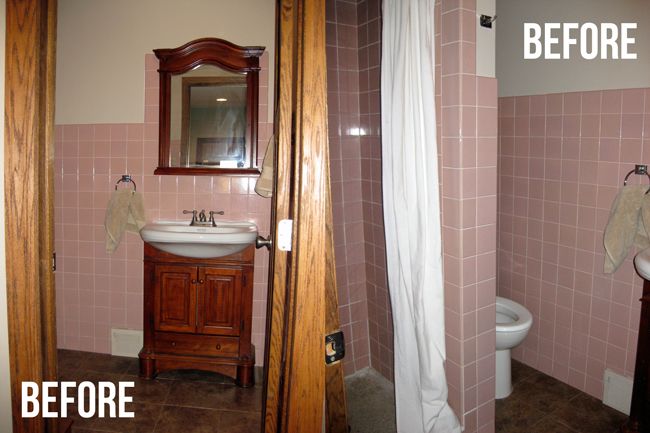 I think brown, pink, and beige might be my LEAST favorite color combination, ever...
We decided on
super inexpensive (less than $1 each) black and white self-stick vinyl tiles
. It's not my favorite flooring material, but since it's such a small room, and I'm just trying to make it look presentable for a few years until I (in my daydream land) have enough money to completely re-vamp it, it works. The price is right. I'm a big fan of black and white checkerboard floors - in fact, I'm planning on using this type of flooring in my laundry room (you know, the nasty side of the basement?) when that gets decorated too... one day.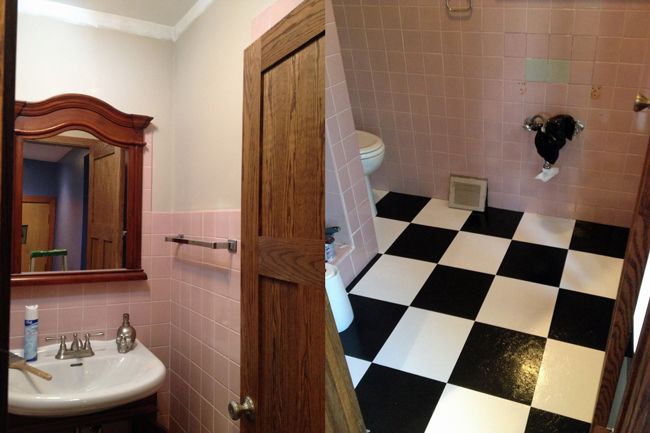 Some in-progress shots of the space. We actually removed and re-set the toilet and sink in order to get the floor done right. I ended up having to replace a few tiles that cracked in the process, but these grey ones (salvaged from the bigger bathroom) actually end up hidden behind the sink once it's re-installed.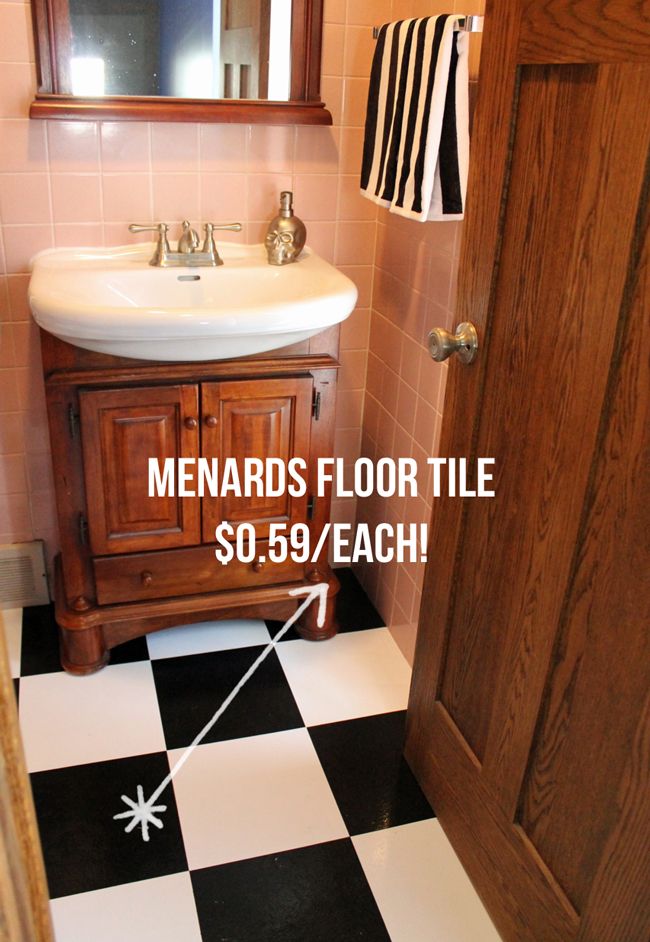 There is such a small amount of actual drywall in this room that I could go crazy with whatever color I wanted, but I was limited by the warm pink tiles and wooden vanity/mirror combo. I decided to go really bold and BLACK. There's a large glass-block window in this tiny space, so I don't need to worry too much about light. This room can handle the color!
I also like to change the look of a room with accessories. I've been slowly but surely collecting items and re-purposing items from other rooms in spaces when applicable. I bought a
Chuck Hodi print
from Etsy and framed it myself (thanks, Michael's inexpensive frame collection and copious coupon opportunities and sales!) - I have to give credit to
Donna @ Goat + Wolf
though for posting this on instagram first. She bought one, posted it online, and I immediately ran to the computer to snatch one up for myself to hang in this room. It's too perfect for us.
I also bought
black and white vertical striped hand towels from JCPenney
, and I've been hanging on to a skull soap dispenser from last year's Target halloween collection for just such a design opportunity. It's not quite the same, but
here's another cool skull-themed set
I found on Amazon, just in case you couldn't stand NOT having a skull soap dispenser. I know I wouldn't be able to.
My point is, keep your eyes open all the time for accessories and things you like. Be open-minded about where you use stuff, because kitchen and bath items are pretty easily interchangeable (towels, soap dispensers, rugs, dishes to hold your random crap, etc...)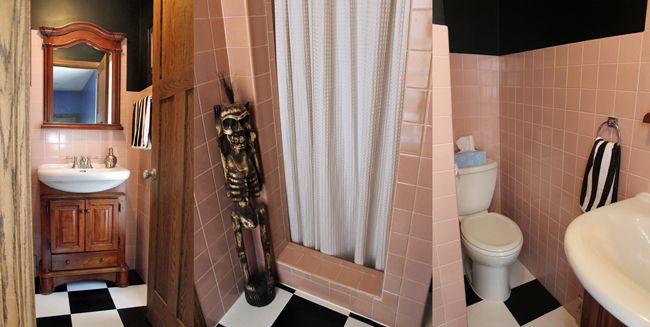 Here are some shots from the rest of the bathroom, from other angles and stuff. The shower is boring, but I put my skeleton friend next to it because it makes me happy. The toilet area is still somewhat lacking. I've been playing with the idea of taking a chalk marker to the walls and writing/drawing/decorating my own designs on them... but I'm still brainstorming. Maybe heavy metal song lyrics or something like that.
Got any ideas for me? Lemme know!
Rock on,
Jen @ Hell Razor
now playing: