This weekend, I was lucky to be a part of the Chicago Pride Parade! My roller derby group,
Derby Lite
, was a participant, and any of us derby girls could come and skate with the group in the parade!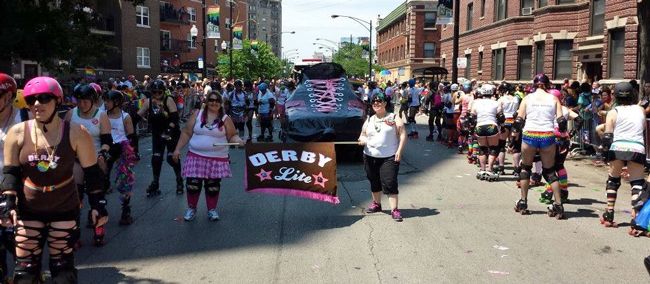 Hey! That's me on the right!
I, of course, am still not cleared to skate just yet, but I still participated by walking with the group and holding the Derby Lite banner (right in front of the Car-Skate-Float of World Domination!). It was one of the most fun things I've ever done. I felt like a rock star!
I even made myself a custom "Pride" Hell Razor flower for the parade.
Ok, here's more of the story for you:
The parade started at 12 noon. Out of something like 204 groups participating, we were in the 170's... so we were told to meet up with the group in our staging area around noon, since we had a bit of a wait before it was our turn to fall in line. I showed up just before noon with my friends Rexy Regicide, Dunk, and Charlie's Paingel (thank you, Dunk, for driving us down!).
The girls got into gear, and we were so psyched to go. Little did we know, we wouldn't actually leave for the start of the parade until around 2:00! But there was plenty of entertainment to be had just people-watching in our small area of staging. We took lots of photos - I even snagged a few from the
Derby Lite Facebook
page, like our whole group shot. Can you find me?
On the way down into the city, I mentioned that we should look out for the
Threadless
float, because I had heard that they would be giving out buttons and t-shirts. Imagine my excitement when I discovered them parked RIGHT NEXT TO US! Whoa! So another thank you goes out to Dunk for speaking up and snagging me both a t-shirt and a button from their float (I get so damn shy in social situations... gotta work on that...)!
So, we finally start moving, and I can't believe how many people are watching from the street! The skaters from Derby Lite were passing out disco ball keychains to women age 18+ who might be interested in joining Derby Lite! People really went insane for free stuff! I was overwhelmed by the response of the crowd to the parade in general - high fives, lots of waving, applause, and most of all, WOOOHOOO OOOHHH YEAAAAAAH overhead everywhere!
People were even watching from balconies, rooftops, and anyplace else that could be climbed up on! And even though our group was pretty far back in the overall parade line-up, it sure didn't seem like the crowd had lost any enthusiasm! It was fun passing by businesses with music blasting out into the parade and watching people dance, have fun, and be silly.
Another awesome part of the parade is to see the number and variety of businesses that come out and show their support for the LBGT community. In just our small staging area, there was a bumpin' float from Sears/Kmart filled with dancing employees waving signs of support, and a van from OfficeMax with balloon creations and t-shirts that read "Come out, come out, wherever you work!" How cool is that?!
Was there a downside? Not much, and it certainly didn't ruin my time, but there were an awful lot of visibly intoxicated people in the crowd - some who thought nothing of walking right down the street alongside us, not even noticing a group of 50+ derby girls skating in a line, trying to pass by them! The other part that makes me a little nervous for next year (oh yes, I will definitely be skating in it next year!) is the amount of stuff on the street that gets discarded, like broken beads, fans, flyers, cups, and cans - can you imagine trying to rollerskate over that stuff? Makes me a little scared! Luckily, there were very few falls (hey, we're not perfect!) and no one was hurt.
It was about 4:00 pm by the time we reached the end of the parade, and I had to be back home by six for another commitment! I even got a little lost on my way back to the El, but it turns out that I just hadn't walked far enough down (if I'd only gone one more block before I called home in a panic!). Once I found the station, I ran across a group of derby girls who helped me transfer to the blue line to get home where my husband picked me up just before six! Made it!
Oh yeah... I forgot to mention my horrible shoulder sunburn, despite gorgeous cool weather and winds and a good application of SPF 50 sunscreen (I borrowed some of Iggy's!) - turns out I forgot the "re-apply" part. And I think I re-ignited my horrible plantar fasciitis because my feet are KILLING me, even more than 30+ hours later...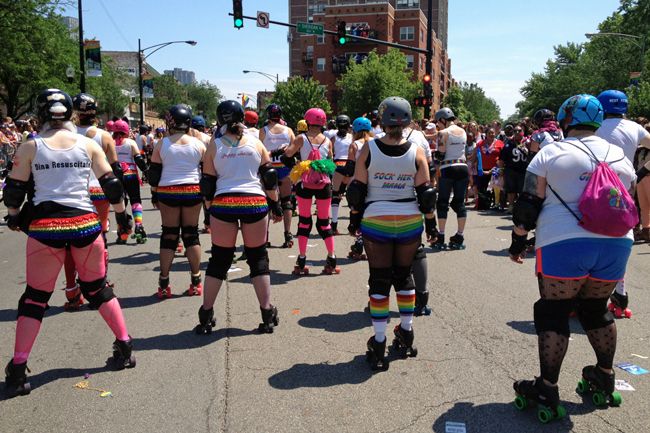 But it was worth it! I don't think I can seriously put into words how much fun I had.
Rock on,
Jen @ Hell Razor