I've often posted about my variety of collections... but what do you do with all of the things you collect once you have a whole bunch? It can get kind of crazy pretty quickly. I think if you're collecting items that bring you joy, you should be able to use them, look at them, and enjoy them as much as possible. So you'll want to keep them accessible - not stored away in boxes. Here are two ideas for displaying your collections of tinier items, like action figures, vinyl toys, and miniature figures, like Lego men.
The first idea is to mount typeset drawers on your wall so that they act as tiny shelves for your items. You can buy typeset drawers at antique marts, or get lucky at a garage sale. You can also buy them online at sites like Etsy or Ebay.
My husband collects Lego minifigures
, so he put them up on display in our living room using this method. He screwed the drawers onto the wall at the four corners, which makes the drawers very sturdy for holding tiny items without worrying about them getting bumped or falling off the shelves. He also interspersed other tiny figures and knicknacks he had tucked away, but now could put on display!
The second idea involves making use of otherwise wasted space along the ceiling of a room by hanging small rail-like shelves along a wall. Here, we used this method along a bulkhead/overhang in our basement.
The part of the wall that hung down was already painted blue, so we chose white "Ribba" picture frame rails from IKEA and hung them end-to-end, which makes the small shelf look more like an architectural detail that already existed in the space.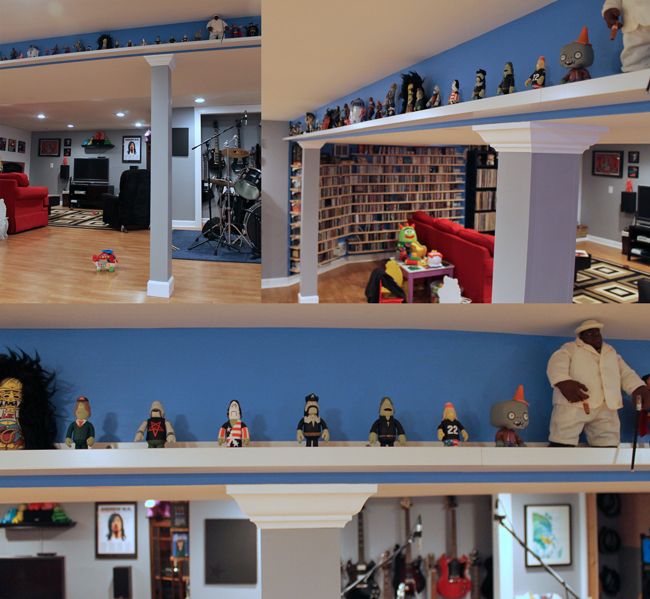 My husband was very excited to pull out his old boxes of action figures and put his favorites up to show off!
The trick to hanging these shelves is to have and use your level religiously! You can see in the detail below where the seams line up, but when the final ledge is viewed as a whole, it's pretty cool.
These Ribba shelves come in two lengths: 45 1/4 inches, and 21 3/4 inches. We ended up using six of the 45 inch shelves, and one 21 inch shelf in order to reach one end of our basement to the other.
What a cool way to decorate your space AND have extra storage!
Do you have any cool display ideas that you've shared? Send me your links!
Rock on,
Jen @ Hell Razor