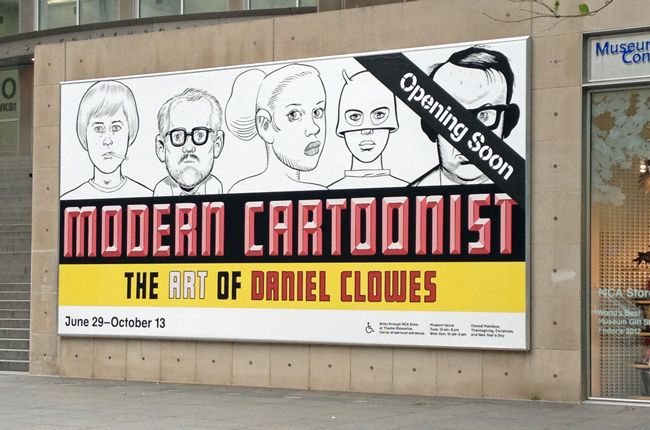 I don't really remember how I found out about the
free program for art teachers at the Museum of Contemporary Art in Chicago
... I think I may have stumbled across a random tweet or something, but when I saw that there was an upcoming exhibition on modern cartooning featuring the art of
Daniel Clowes
, I was super excited - to say the least.
I pretty much immediately signed both myself and my husband up (convenient for carpooling to art teacher things when you and your husband are both art teachers) for the program, which would include entry into the exhibition, which opened to the public that very same day. Then I saw an additional detail: Daniel Clowes himself would be at the museum that day, giving a talk, and that teachers would be given the chance to win tickets to it!
Whoa.
If I had to make a list of my all-time favorite movies,
Ghost World
would be right up top. If I had to narrow down my type of preferred movies/books/art... it would be dark comedies. Almost everything about Daniel Clowes' work is some form of dark comedy, even if it's the nervous giggles one gets when observing an extremely awkward and cringe-worthy situation.
Sometimes I feel like my whole life is one long, dark, comedy.
Yeah, this is NOT Daniel Clowes. Stick with me, here.
So... we took the El down to the
MCA
, and gathered in the education center, which happened to be right outside the theater where Daniel Clowes would be talking later that same day. We had a great time with about 15 other art teachers from the area, creating collaborative comics, and discussing work with our teaching artist for the day,
Corrine Mucha
(also a fantastic cartoonist in her own right!). We got to explore the exhibition and talk about specific pieces together as a group. When we went back down to the education center, we created our own "unlikely/underdog superheroes" which we put into a comic strip of our own.
At the end of the teacher program, it was announced that there were enough tickets for anyone/everyone who wanted to attend the talk to go! I was so excited, I wanted to jump up and down - we had previously been told that there was only space for 10 teachers, and that tickets would be given out via a raffle. This was awesome!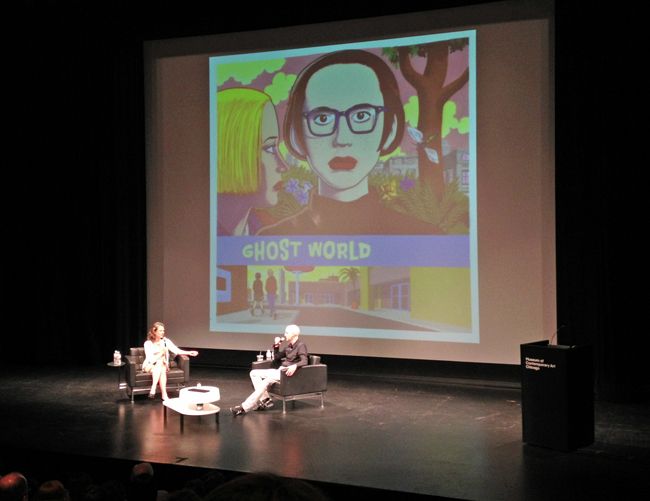 The talk was about an hour long, and was an informal conversation-style talk with Susan Miller, the original curator of the exhibit. Daniel Clowes also took some questions from the audience (no, I didn't get up and ask anything!). But the best part was when they announced that Daniel Clowes would be doing a SIGNING after the talk!
Best. day. ever!
Try not to be so awkward and completely embarrass yourself, okay, Jen?
Todd willingly waited with me for about an hour after the talk to have my copy of "Ghost World" signed by the artist. I was sooo nervous, and spent most of the time trying to figure out what I would say that wasn't completely awkward or boring. I decided to tell him how much I enjoyed the exhibition, and thanked him for agreeing to put his work on display where we could see the artist's "hand" (including mistakes/corrections!) rather than just perfect reproductions. I introduced my husband and I as art teachers, and asked him to write something about "art being cool" so I could show it to my students:
...Isn't that awesome?
Before we left, Daniel Clowes told us that teaching middle school (which my husband and I both do) is the hardest of all levels to teach, and that we were doing "God's work" - ha!
I'm not sure if I agree that middle school is the "hardest" of all levels, but it was kind of nice to get even a little unsolicited recognition for the work we do! This was a great day.
If you're in the area and get the chance to check out
the exhibit
, DO IT! It runs from right now through October 13, 2013 at the MCA.
Rock on,
Jen @ Hell Razor
p.s. Completely unrelated... I just recently made a Google+ page for Betties N Brimstone. Would you mind showing us a little love by adding us to your circles? It looks pretty sad right now! Thanks!
now playing: