We've been busy this summer taking advantage of the time off to do things around the house and update rooms, complete projects that have been sitting for a while now. One of these tasks was our living room floor. We've made a few significant changes
since I last showed you my living room
. One change (not pictured) was that our fireplace is fixed and we've been enjoying real wood-burning fires all winter! So yayy!
One other big change in our house was
the addition of our new puppy, Dio
. Well, if you've ever raised a puppy, you know the challenges of house-training a dog... We used to have a large old shag rug in black on the floor. It was old and needed to be replaced anyway, but I was convinced that there were "puppy accidents" that I never caught still festering away in the shag yarns. Gross. Todd and I decided to throw it away a couple of weeks ago, and we had a big bare wood floor for a while. But at least it smelled better in there!
I'd been window-shopping and dreaming about a new rug for the living room even before we welcomed Dio into our house. You can view some of my daydreaming
on my Pinterest board here
. Oddly enough, my solution came to me in the form of one of my student's parents! I found out that he is the Creative Director for
FLOR
, a company that makes carpet squares, and invited him into my classroom to talk to my seventh graders about art and how he uses art in his job (since I teach art and all...). It was a great opportunity for the kids to see someone out in the "real world" working in an art-related field, and the end of the year was the perfect timing to change things up from our usual routine in the classroom, too!
So, his presentation to the kids wasn't a sales pitch, but he won me over!
FLOR
makes the most amazing modular carpet "tiles" that can be combined in endless different ways to achieve different design effects. They can be cut into smaller sections or left whole. Combining the same squares will give a seamless effect, but you can mix and match (like we did) to create other designs, too.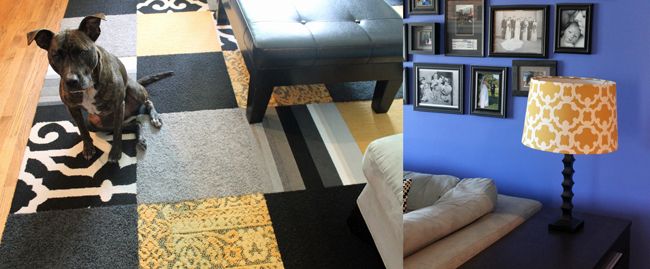 (Motorhead clearly wanted in on the photos.)
We chose a "crazy quilt" style that uses different squares for our living room. The main reason I chose this option was that if we ever needed to replace a square and our carpet style was discontinued, we could easily substitute another pattern (or solid color) in its place. (Did you catch my "pop" of yellow I've added to the room? Totally inspired by my
new yellow lampshades from Target
!)
Yes, you heard me right. You can replace a SINGLE SQUARE if you needed to. You might be thinking, "okay, this looks expensive," but squares average between $8 - $20 each, and they are large size - like 19" square, not just a standard square foot. Plus, there's a summer 25% off sale right now, which makes it even more affordable! If you've done any serious rug shopping recently, you know they're not cheap. So, a rug like this (just under 8'x10') cost us less than $500, which is still less than most area rugs you'll find that size.
The best part is that it is EXACTLY the design and style we wanted, since you get to make it yourself! The squares get ordered and shipped to the customer directly no matter how you choose to buy, but we went to the physical Flor store to check them out before we made our purchase. It was one of the most fun shopping trips ever, because there are sample squares of all the different types of carpeting and you can lay them out right there in the store to see what combinations you like most!
The squares are connected to each other (as opposed to the wooden floor) using special circular "Flor dot" stickers. We've had ours for about a week now, and with two dogs and a baby running around, I can tell you personally that it stays put! Each square has its own rubberized backing, which completely eliminates the need for a carpet pad (an additional cost to consider for traditional rugs).
By the way, this is NOT a sponsored post. I just love this product so much that I had to share! If you'd like more info on Flor, there's a ton of info
on their website here
. Their Chicago store is located at 1873 N. Clybourn Avenue, Chicago, IL 60614. Phone: (773) 325.0201
Rock on,
Jen @ Hell Razor
now playing: