I am in love with this super easy pasta salad combination, and I had to share even though it's NOT my original idea. I have to give credit to my neighbor a couple of houses down - she made this for me during the first week after surgery, and I asked her for her recipe. Well, it's not exactly a recipe. You just dump stuff into a bowl. WHOA my kind of easy cooking!
The trick is finding the ingredients. I know for a fact that you can buy everything at Trader Joe's. I also know how frustrating it is to NOT be near a Trader Joe's, so if you can find similar items at your local grocery store, I imagine they would also work just as/almost as well, too. So I took some close-ups to help you: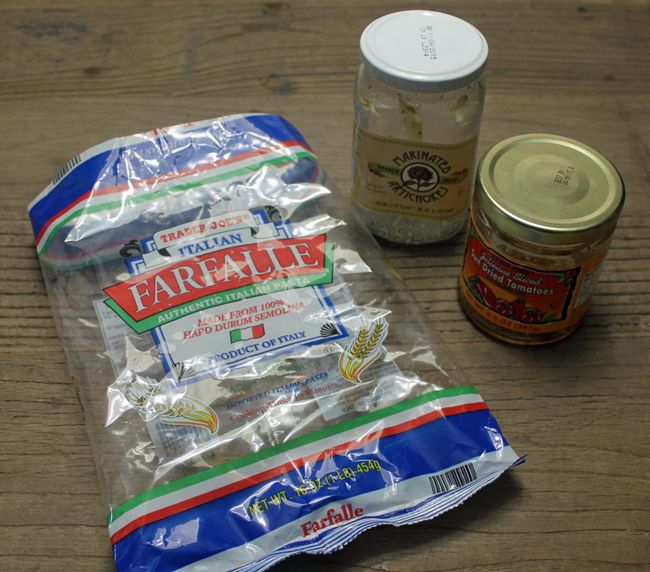 Have you spotted my poor planning? Yeah, I didn't photograph these when they were FULL. But better now than never. I got too excited about the promise of pasta salad.
Okay, for the BASIC recipe, you will need:
A pound of pasta (I chose bow ties, because it's fancy)
12 oz jar of marinated artichokes
8.5 oz of sliced dried tomatoes in olive oil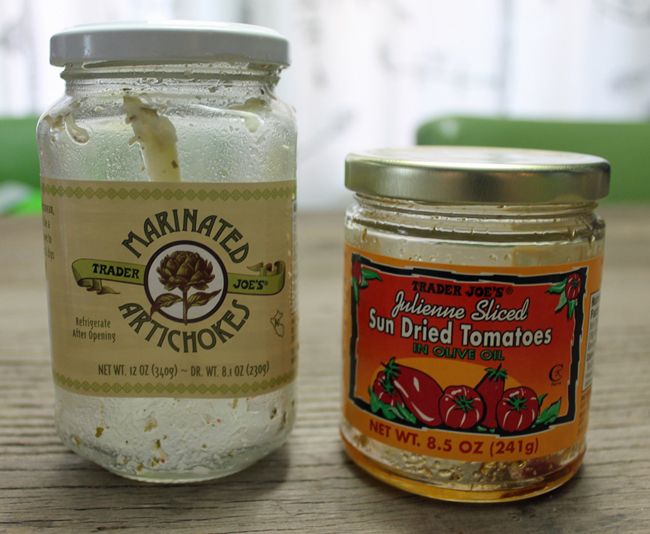 These are both from Trader Joe's, but I think any sun-dried tomatoes in oil and marinated artichokes would do!
Okay, here's the directions:
Cook and drain the pasta. Put into a bowl.
Open and dump contents of both jars (artichokes and tomatoes) into the above mentioned bowl.
Stir it up.
EAT.
Here's my finished pasta, below. Can you spot the difference?
I bought a jar of black olives and drained them before dumping them in, too. Because I love olives. You know what else would be good in here, too? Cheese. Once your pasta has cooled down, I would recommend crumbled up feta, fresh mozzarella, or even chunked up pieces of string cheese (because I'm fancy like that) in there.
But keep in mind, adding stuff means adding STEPS. And more time. Don't have a lot of time? Stick to the three-item combo above. The jars of sun-dried tomatoes and artichokes combined create the "dressing" for the pasta salad, and that's the beauty of it!
I took this bowl of pasta salad to a BBQ with friends. It would make a nice summer side dish for any dinner, or, if you love pasta like I do, you can enjoy all by its delicious self.
Mmmm, pasta...
Rock on,
Jen @ Hell Razor