Yeah...not what you're thinking. Sorry! ;)
The grey I'm talking about is a decorating issue that started when my husband had an idea to paint grey stripes on one of our bedroom walls.
Our bedroom is a constant work in progress. I had been planning on painting the whole room aqua and had the room all planned out in my head. The colors were black, white, red, and aqua and it was going to have something to do with skulls...AND (as always) have a vintagey feel. BUT Dave threw out the grey stripes idea the day of painting and they were great idea so we thought we'd give it a try. However, when we finished painting the room gave off this really interesting French vibe that I was not digging.
Because of this feeling, I have not been spending a lot of time in our bedroom other than sleeping and I sure hadn't tried to fix it until this last weekend when I found out my in laws were coming over soon! ;) I decided to try out some quick and easy fixes to get our bedroom up to par! You can try these at home too!
Change Up the Curtains
Originally, I had some tension rods and solid black curtains up before and I knew they had to go. I had wanted to go with solid grey curtains, but when I got to target they had some printed ones on sale for $6.88 a piece so I thought I would try out 2 different style of curtains in the same room. I ended up really liking it! I also invested in som real curtain rods and that made the whole look a little more streamlined.
Mirrors!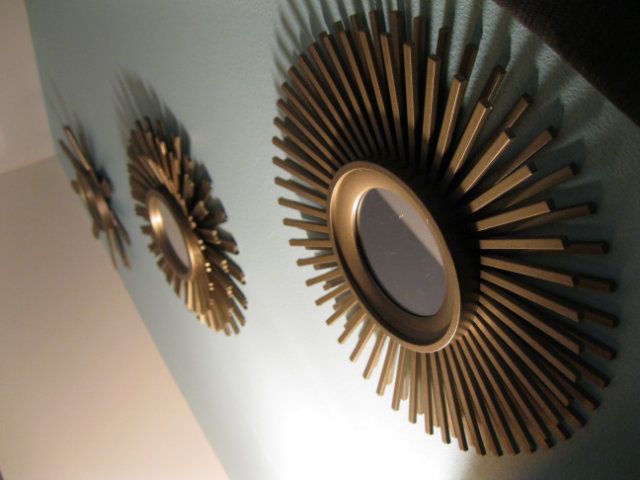 Another trick you can try is a statement piece (if you haven't noticed...I love them). I had been looking for some gold vintage pieces to put above our tables-side lamps, but I was not having any luck. I ran across these mirrors at Target and HAD to get them! I think they worked out well. I got 3 for each side.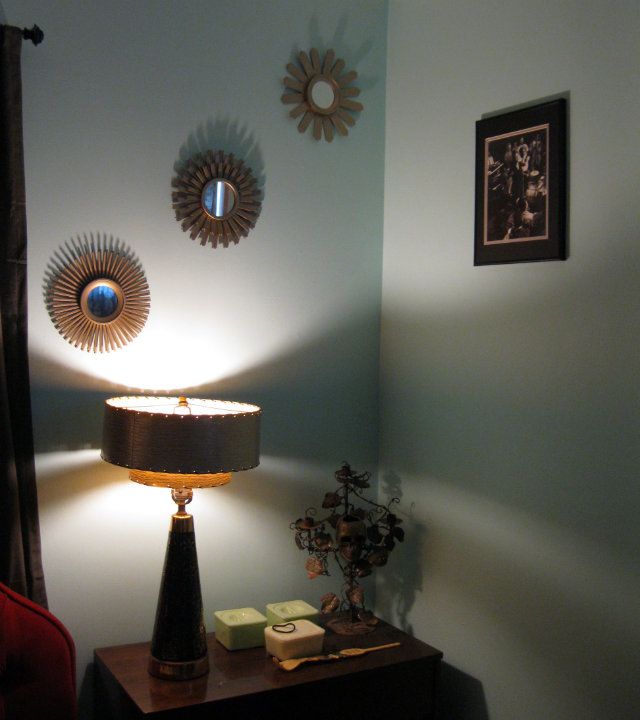 Throw Pillows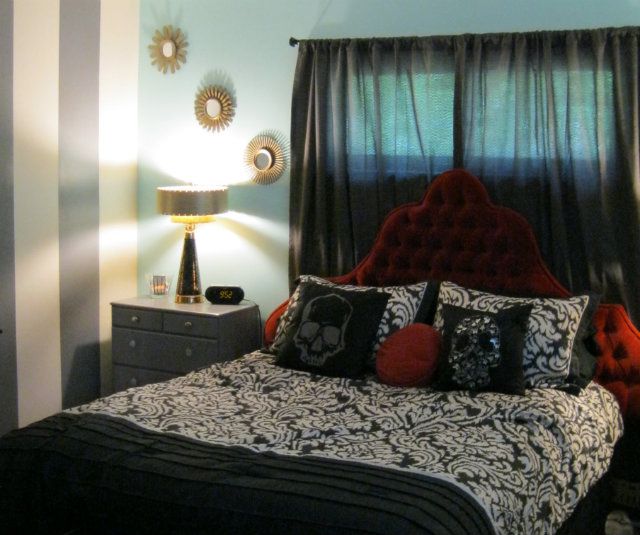 I really wanted to incorporate skulls into our bedroom decor and I am still working on how we can do that (maybe a big painting or skull drawer pulls...we'll see). One way I was able to accomplish was through these throw pillows for now. Throw pillows are a great quick fix for sprucing up a tired bed spred or couch!
Our bedroom is still coming along...We are looking for a different dresser and a different side table for me...but it's at least presentable enough at the moment! What kind of tricks do you use to spruce up your home?
Steph @ Calamity Layne