I was working in the kitchen last week and I realized how many fun kitchen tools I have, and thought it might be fun to go through and share a bunch of them with you. Most of these I've purchased via Amazon (I recently sucked it up and bought myself a Prime membership - now I'm going crazy with the window - and sometimes actual - shopping!).
Above are my measuring cups and spoons. I saw the set of
Matryoshka doll measuring cups
at Target during the holiday season, and when I went back to get them, they were gone. Thankfully, and Amazon search quickly fixed that problem. The sets of
heart-shaped cups
and
spoons
are also thanks to Amazon. I bought them shortly after I received
my pink KitchenAid mixer for my birthday
. I figured that new measuring utensils were in order.
I also like to shop on Amazon when I'm looking for an unusual kitchen item, just to see if there are any "fun" versions available. For instance, Todd and I were looking for corn holders (we love corn on the cob via the grill!) and I didn't want those boring ones I always see in stores. I was really excited to find these colorful
Butter Baby holders
that looked like tiny men - and they fit together to store when you're not using them! How cool! While shopping for these holders, I also stumbled upon the
Cherry Chomper
, a little guy that pits your cherries by pressing down on his head! Iggy's going to have fun with this one once he's a little older, I'm sure!

Traditional Father's Day gifts include stuff like ties, sports equipment, and tools, right? So for Father's Day this year, I bought Todd this
pizza cutter
that looks like a table saw! (Don't worry, he also got a LEGO set, so he's cool.) The
magic hat toothpick holder
is also one of Todd's items - we bought it at a little store (now closed) in Oak Park, but you can (of course) find it on Amazon, too.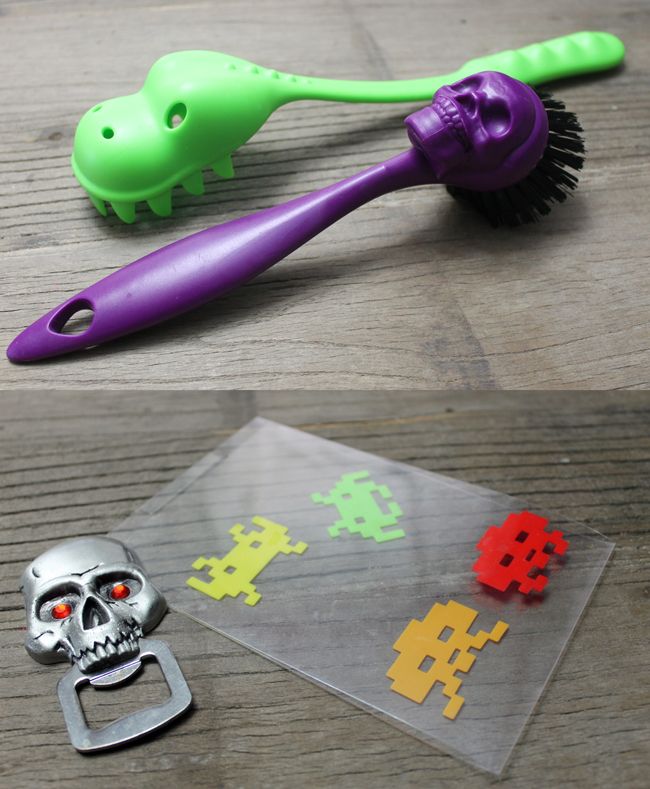 Once again, proving that you can buy pretty much anything on Amazon... I bought the purple dishwashing brush at HomeGoods during Halloween. I just looked on Amazon, and
hey - here it is!
The
pastasaurus
green pasta scoop was something I just couldn't resist...
We have a large collection of snazzy bar items, too, but I grabbed only a couple to share here. The first is our skull bottle opener (I'm pretty sure this was Target Halloween), you can find a
similar opener here
. The second are
space invader colorform glass markers
- I'm sure they're intended for wine glasses, but we use them on all kinds of glasses. BONUS - they stick to our tile backsplash in the kitchen when I have to take them off to wash the dishes!
Lastly, even if you can't find an oddly-shaped "fun" kitchen item, you can still usually find kitchen tools in fun colors! My personal favorite is PURPLE. So far I've accumulated a
purple tea kettle
, a
purple spatula
, a
purple cake cutter/server
, and a
purple turner
.
Do you have a favorite kitchen item color?
Rock on,
Jen @ Hell Razor